Model Elsa Hosk Reported For Sharing 'Child Pornography,' New Mom Defends Posting Nude Photo With Baby Girl
Elsa Hosk has just come out in fierce defense of herself and a photo she posted of her baby girl that one Instagram user reported for what they felt was "child pornography."
On Tuesday, the 32-year-old Swedish model – a former Victoria's Secret Angel who's worked with Dior, Dolce & Gabbana, Guess and more – shared three pictures of her and her infant, both nude.
Article continues below advertisement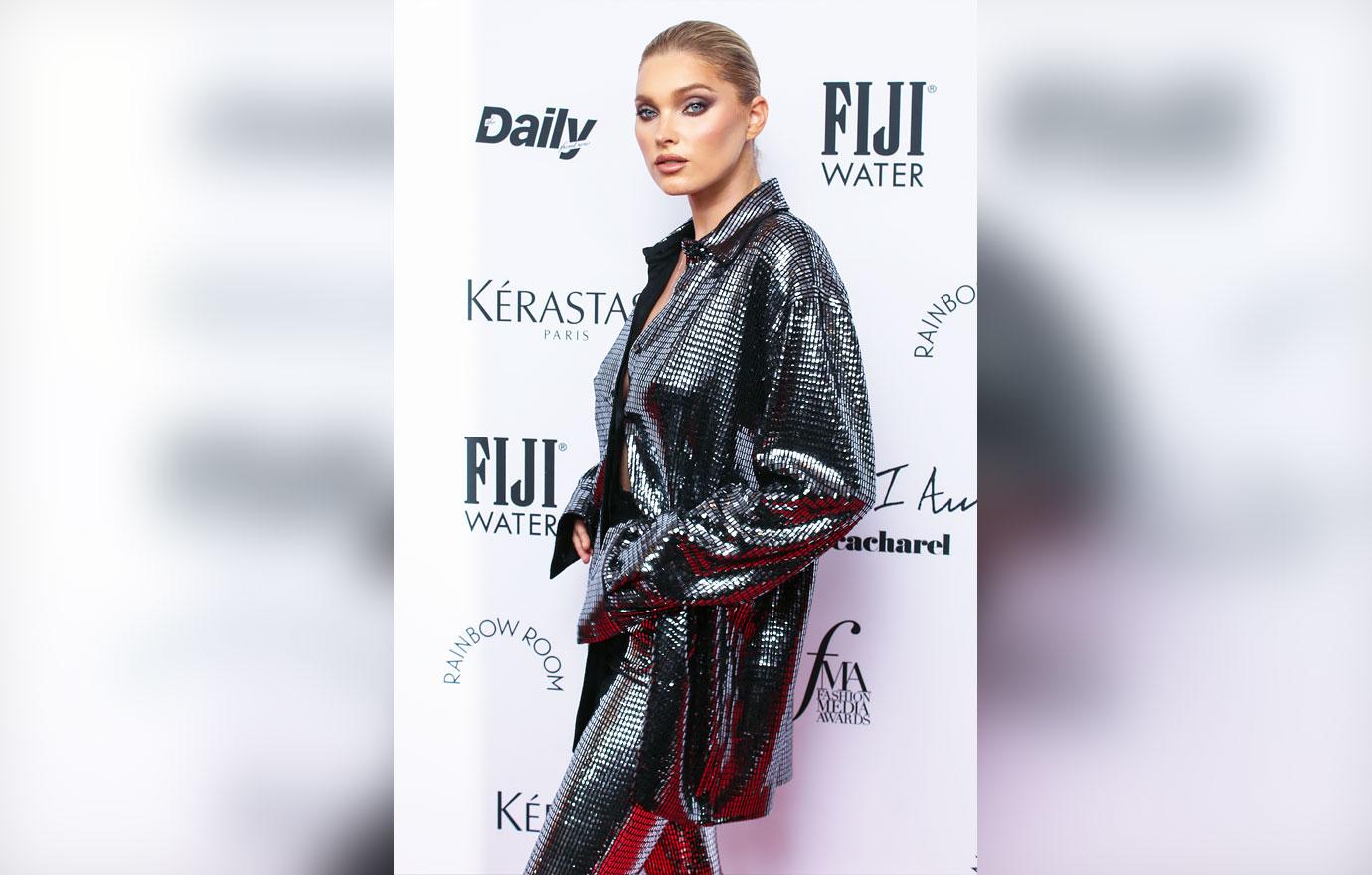 In the first image, Hosk was seen standing at a large window inside a hotel room, facing a beautiful cityscape while holding 7-month-old Tuulikki Joan Daly in her left arm. The next image showed the mother-daughter duo sitting on the bed, facing the same window. The third image showed the model lying in the bed, covered with a sheet, while her daughter lied next to her face down on her tummy.
"Let me tell you about the city where I fell in love with your dad..." she captioned the post. Elsa and boyfriend Tom Daly welcomed Tuulikki in February.
Article continues below advertisement
While the majority of the comments left on the photos were from her model friends and fellow celebrities gawking over her beauty, her daughter's beauty, the beauty of the shots themselves and even the sentimental caption, some critics felt the runway vixen should know better than to purposefully subject her child to all the "sick" and twisted "pedophiles" who surf the web in search of nude images of minors.
One vocal dissenter, in particular, went so far as to let the new mom know that they flagged the picture to Instagram.
"Reported this for the baby's safety and yours," commented the concerned internet user. "You know you can get in serious trouble for posting child pornography right? I know youre a new mom but this is like basic knowledge."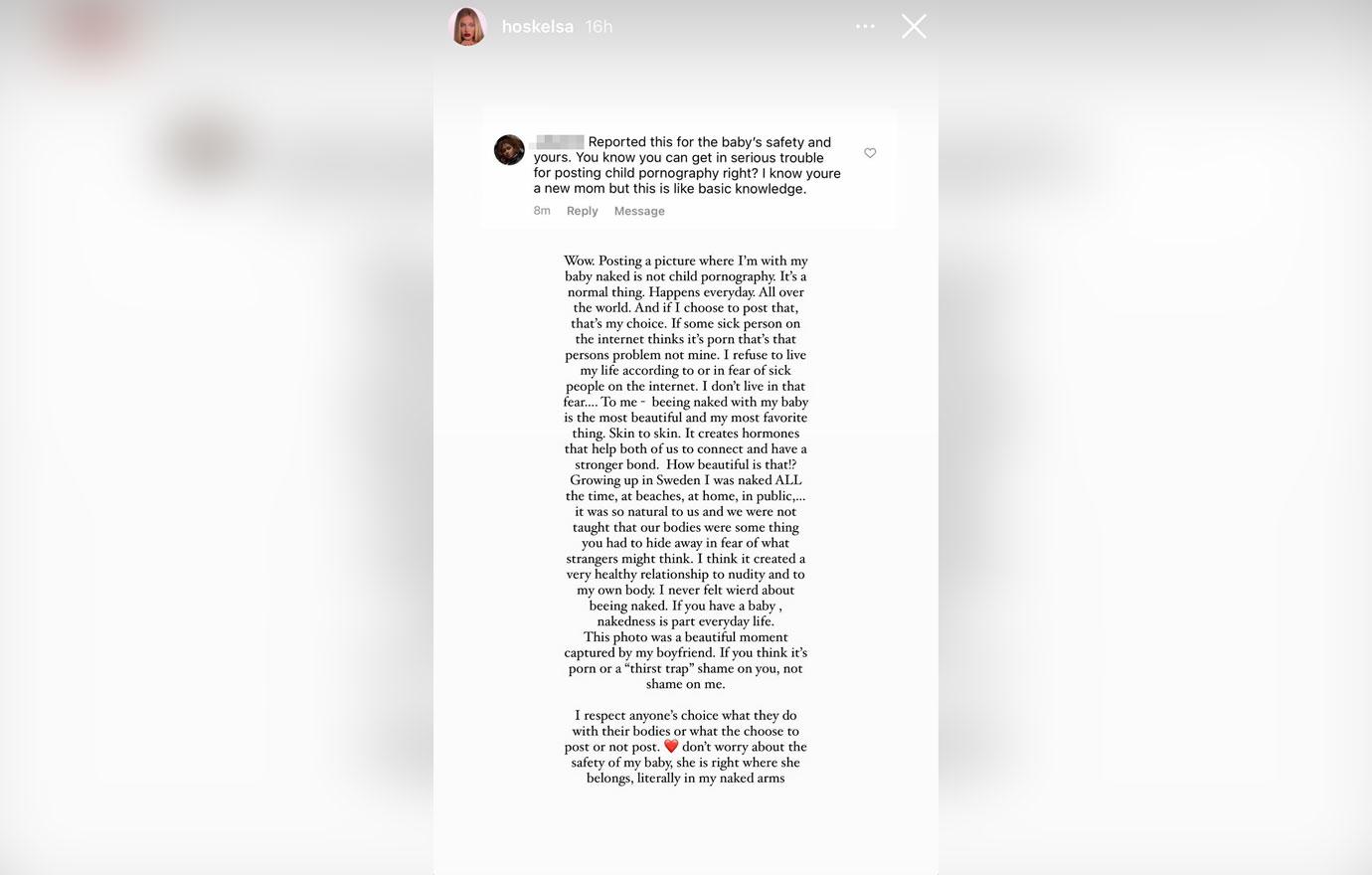 Article continues below advertisement
Hosk posted a screenshot of the message and shared it to her Instagram Story, adding a lengthy explanation.
"Wow. Posting a picture where I'm with my baby naked is not child pornography. It's a normal thing. Happens everyday [sic]. All over the world," she wrote. "And if I choose to post that, that's my choice. If some sick person on the internet thinks it's porn that's that persons problem not mine."
"I refuse to live my life according to or in fear of sick people on the internet," she added. "I don't live in that fear.... To me - beeing [sic] naked with my baby is the most beautiful and my most favorite thing. Skin to skin. It creates hormones that help both of us to connect and have a stronger bond. How beautiful is that!?"
Elsa went on to say that when she was growing up in Sweden, she was "naked ALL the time, at beaches, at home, in public" because "it was so natural to us and we were not taught that our bodies were some thing [sic] you had to hide away in fear of what strangers might think. I think it created a very healthy relationship to nudity and to my own body. I never felt weird about being naked."
"If you have a baby, nakedness is part [of] everyday life," she noted. "This photo was a beautiful moment captured by my boyfriend. If you think it's porn or a 'thirst trap' shame on you, not shame on me."
Article continues below advertisement
"I respect anyone's choice what they do with their bodies or what they choose to post or not post," the model ended her statement, making sure to add, "Don't worry about the safety of my baby, she is right where she belongs, literally in my naked arms."
Fellow new mom Shay Mitchell reposted the Instagram Story and added, "EXACTLY."