Leah Remini Gets Into NYU Amid Claims She's Meddling In Rape Case Of Scientologist Danny Masterson
Nothing's going to bring her down, not even the allegations that she's meddling in the rape case of actor and Scientologist Danny Masterson.
With "tears" in her eyes, Leah Remini – fellow actor and ex-member of the same "cult"-like church – took to Instagram Thursday evening to announce she had been accepted to a prestigious school: NYU.
Article continues below advertisement
"I am so excited, in tears and wanted to share this with you guys," the 50-year-old star captioned a screenshot of her acceptance letter confirming her admission to the AA in Liberal Arts program at the New York University School of Professional Studies (NYU SPS) Division of Applied Undergraduate Studies for Fall 2021.
Article continues below advertisement
"For someone like me, a person who desperately wanted a higher education and options in my life, coming from a cult and a family who didn't value an education, this is a very big day for me," she went on in the emotional caption. "This didn't come easy. This is one of the last chunks of my life that I am taking back for myself from Scientology. It took a lot for me to take this step, for fear that I was not smart enough, not worthy enough, not able to do the work that will be required, my age."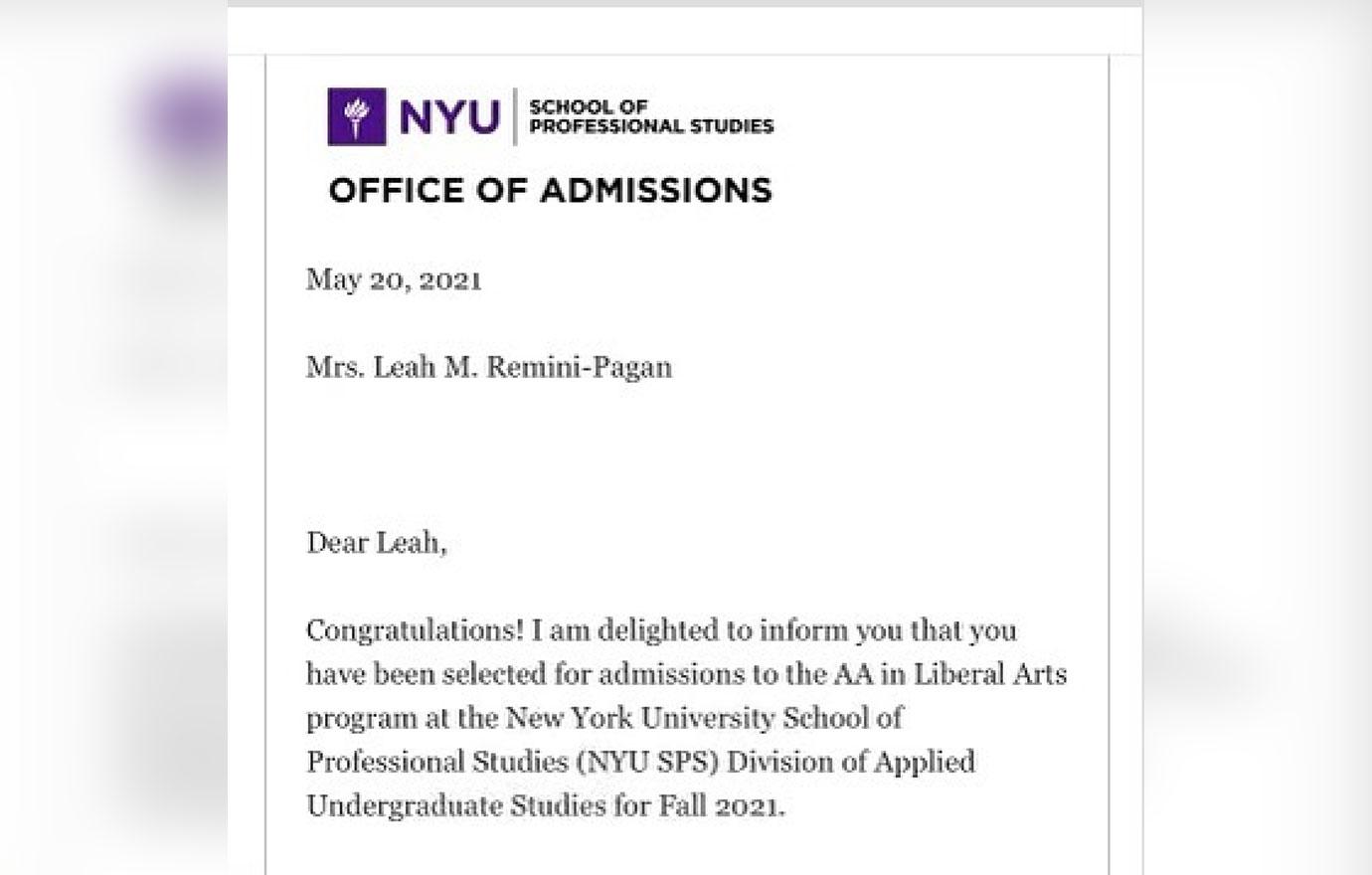 Article continues below advertisement
Remini expressed her immense gratitude for the "encouragement from a very special person" in her life, noting that she is "ready to do the work" but admittedly "scared s--tless!"
Above all, though, she is "excited to start on my journey. It's just never too late is it?"
As her 51-year-old bestie Jennifer Lopez confirmed in the comments section, "#noitsnevertoolate."
Article continues below advertisement
"Thank you to NYU @nyuniversity for believing in me. And thank you John @iescentralmass, you are an amazing man and anyone needing someone to cheer them on, to walk them through this (sometimes) intimidating process, who are scared to take this first step, should choose you!" Leah concluded her touching post. "Thank you from the bottom of my heart. #goafteryourdreams #dreambig."
Article continues below advertisement
Noticeably missing from the flood of supportive comments was one from embattled That '70s Show star, Danny Masterson, who's headed to trial for the rape of three women.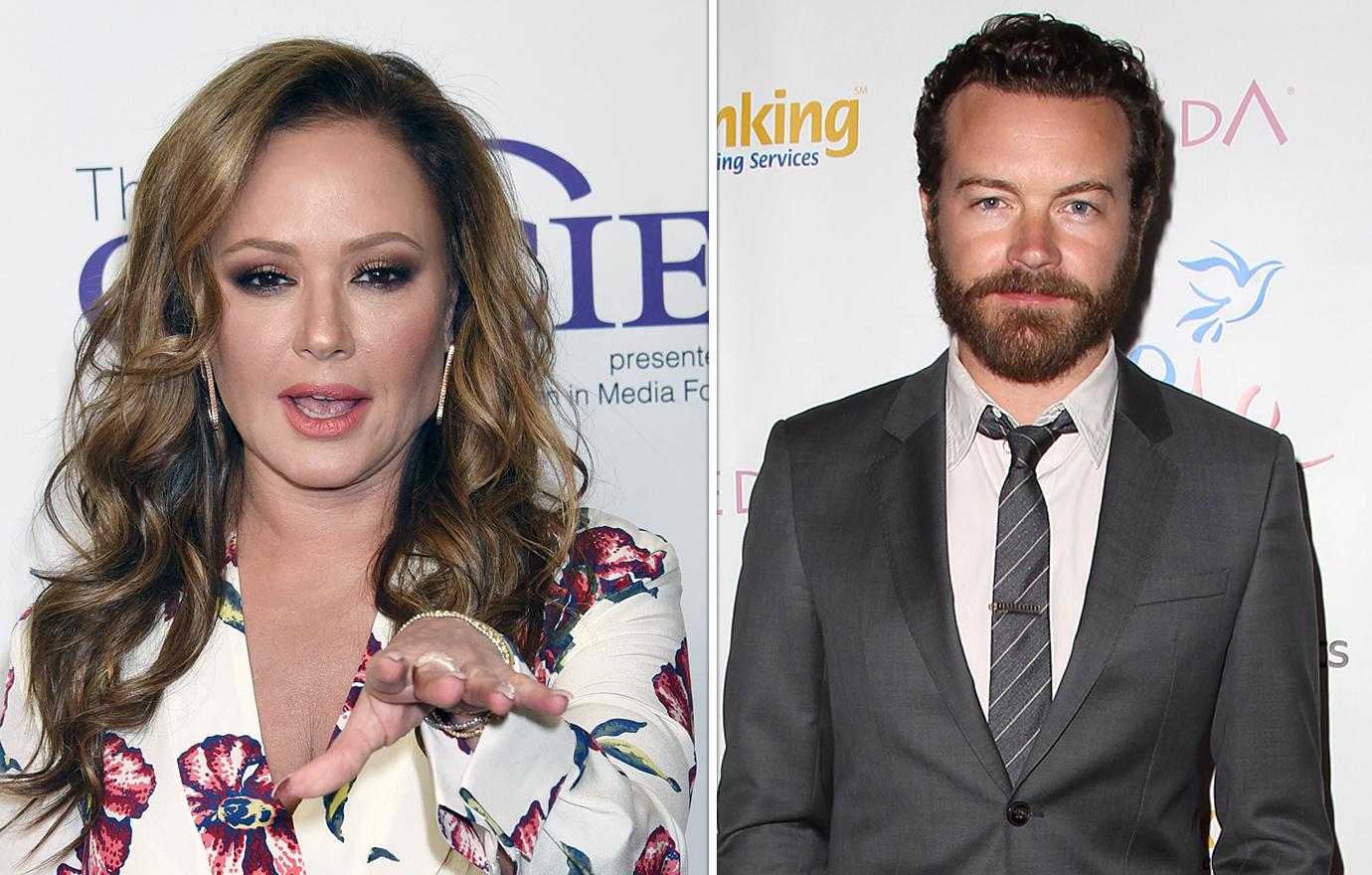 Article continues below advertisement
One day before former Scientologist Jennifer B. testified in court that Masterson drugged her, raped her and held a gun to her head in 2003, Danny accused Leah of pushing the Los Angeles Police Department to get him prosecuted. He alleged she threatened to put the department "on blast" if investigators did not comply and claimed she also hired an LAPD officer to double as her bodyguard and place calls regarding the case on her behalf.
Masterson believes Remini's had it out for him since he publicly accused her of "religious bigotry" following the 2016 debut of her tell-all docuseries, Leah Remini: Scientology and the Aftermath.
In what seems to be a common response to anyone who speaks out against Scientology, Jennifer B. testified that Church leaders forbade her from reporting the alleged sexual assault to police and/or talking about it with anyone outside their community.