Kylie Jenner Pregnancy Speculation Continues To Surge After Billionaire Makeup Mogul Celebrates Her 24th Birthday
Social media users are still convinced Kylie Jenner is pregnant with baby No. 2 and that she is trying to fool us all – again.
Article continues below advertisement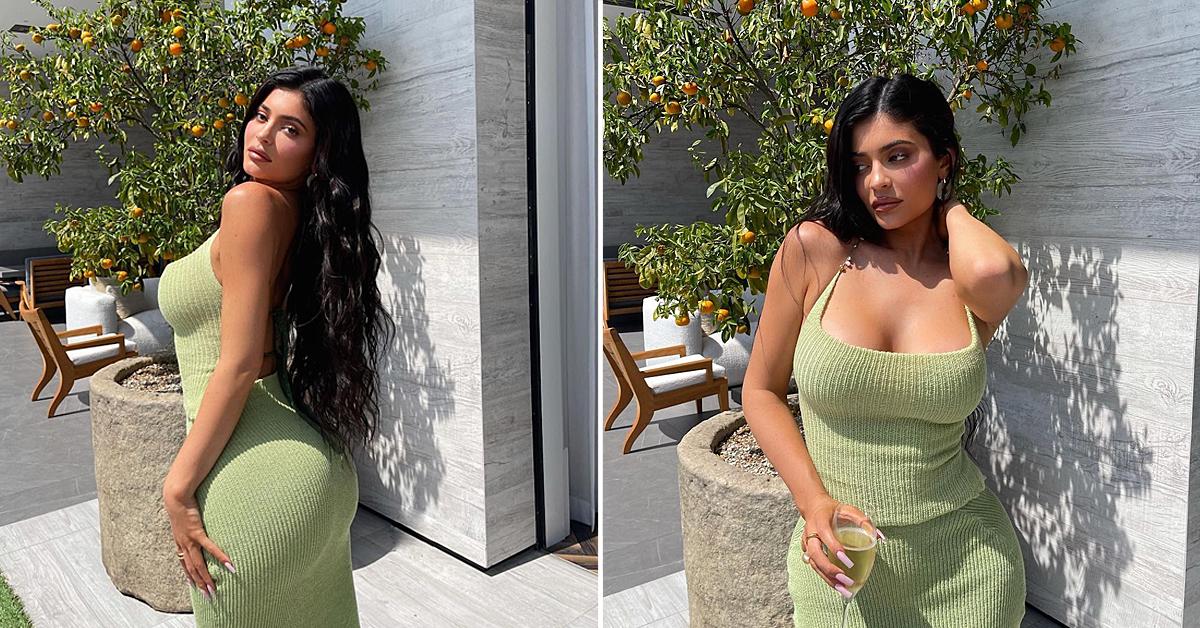 Following weeks of speculation that the freshly turned 24-year-old billionaire makeup mogul is with child (examples listed below), Kylie seemed to shut down the rumors by posting photos that she touted as having been taken yesterday – on the day of her birthday – with a champagne glass in hand.
"See, guys? There's no way I can be pregnant! I'm drinking champs and showing off my perfectly taut tummy!" is what the photos were giving, but it's not necessarily what internet sleuths were receiving.
Article continues below advertisement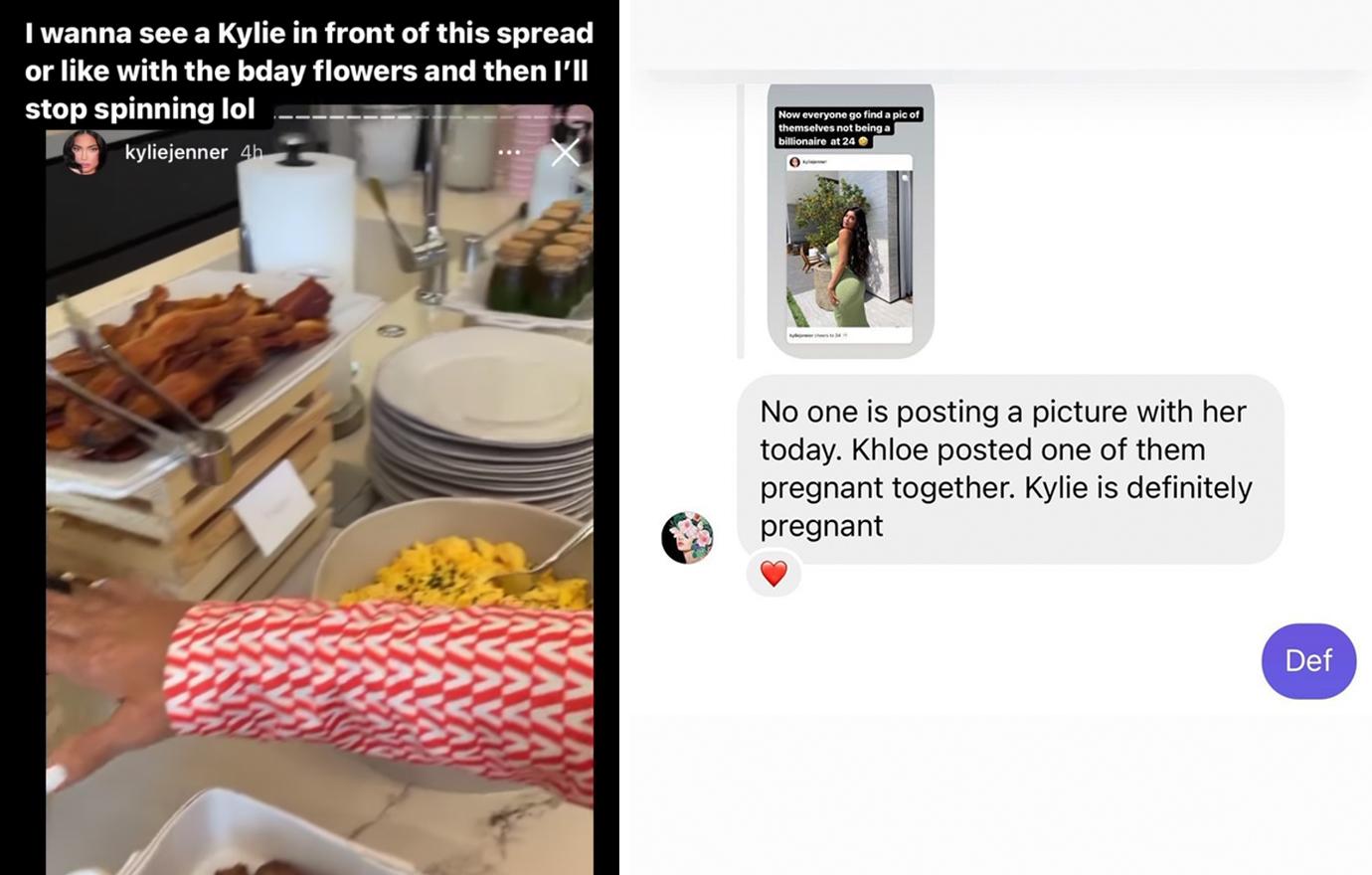 Jenner's birthday pictures come on the heels of many of her eagle-eyed followers being under the impression that her Instagram pictures and videos over the past several weeks (selfies, promo shots, "workout" pics and vids) were taken earlier this year and not on the day they were posted.
In what felt like an attempt to show skeptics that her green goddess birthday images were taken Tuesday, Kylie posted a few selfie-style videos to her Instagram Story, and – as we all know – things posted to the Story are accompanied by the assumption that they were taken in that moment. In the videos, she was even seen sporting what appeared to be the same green top as the one she was wearing in the photos.
So the birthday pictures could not possibly have been taken weeks or even months ago, right?
Not so fast.
Article continues below advertisement
Later in the day, Kylie and her famous sisters documented her birthday celebrations, which included a hands-only shot on Kim Kardashian's Instagram Story that showed all the girls – including Kylie – holding beverages in martini glasses.
Half the crew had one style of drink, while the other half had another.
Interestingly, though, the flower in Kylie's was different from the ones in the hands of the rest of the others, leaving some people to speculate that her purple flower signified that her beverage was nonalcoholic. There was one other drink that looked exactly like hers, but it was not accounted for.
Hmmm...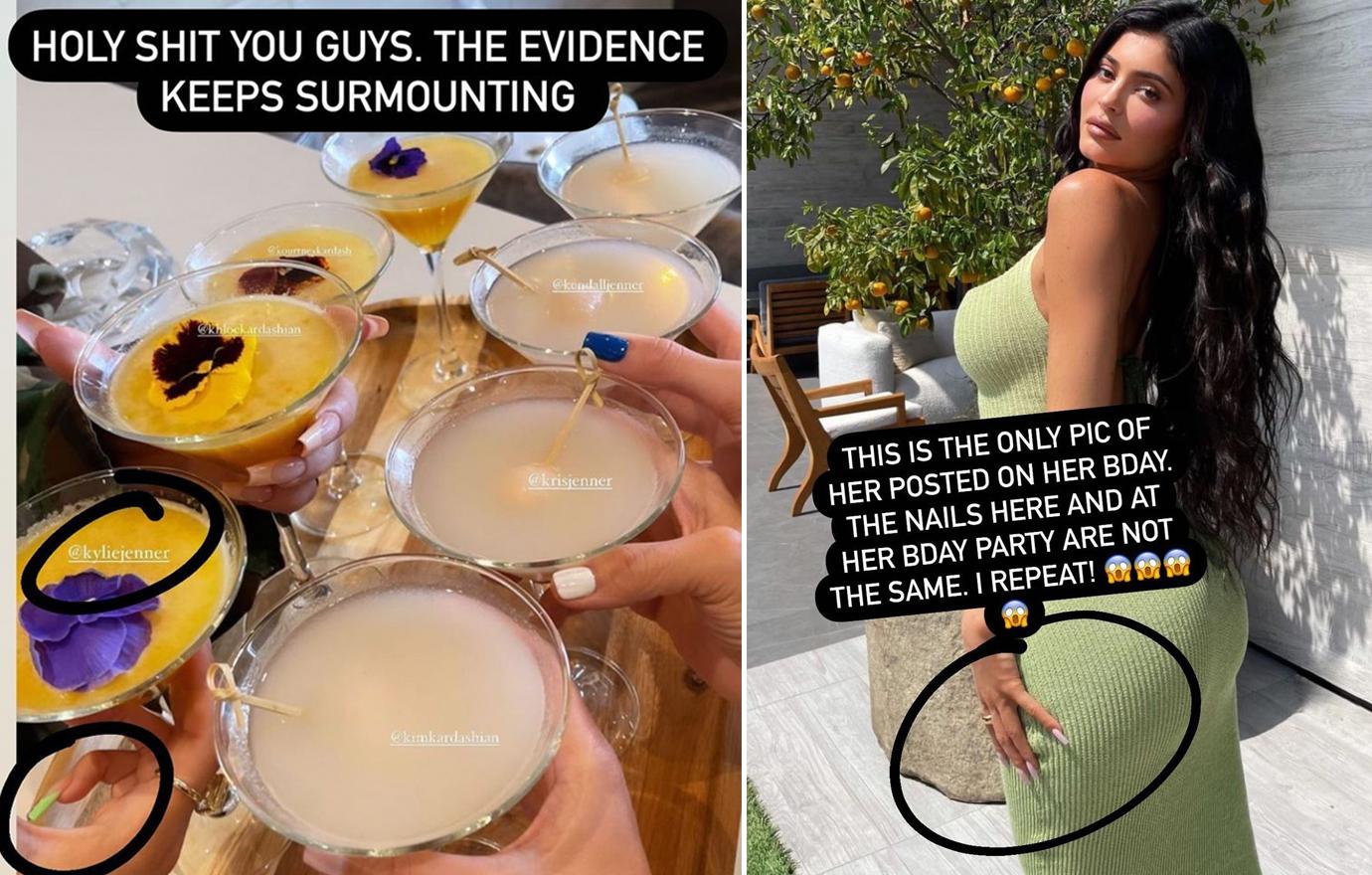 Article continues below advertisement
Here's the biggest giveaway from Kim's photo: Kylie's nails!!! The nails of the woman tagged as Kylie in the drink pic did not match the manicure she was seen wearing in the green-getup birthday photos she shared hours earlier on her grid.
Additionally, Jenner's gaggle of siblings and friends seemed to share only throwback photos of the star for their social media birthday tributes.
We have Instagram account @notskinnybutnotfat and its very committed followers to thank for their screenshots and attention to detail.
Fans first started speculating that Kylie could have another bun in her oven in late June after the two-part Keeping Up with the Kardashians reunion aired
During the Andy Cohen-led special, the Bravo boss grilled the youngest Jenner about why she kept her first pregnancy with her 3-year-old daughter Stormi Webster a secret until after she gave birth.
Article continues below advertisement
"I shared so much of my life," she replied. "I was also really young when I got pregnant, and it was just a lot for me personally. I didn't know how I would bring that to the public, too, and have everyone's opinion. I think it was just something that I needed to go through by myself."
When asked how she'd managed to keep the entire pregnancy mostly under wraps, Jenner said she simply stayed home.
"I stayed in my house and around my neighborhood," she explained. "Then, towards the end, there would be helicopters every day. I couldn't even go outside because they'd be shooting all my deliveries."
"I remember people thought it was a crib, but it was this piece of furniture showing up at my house," she added. "It was crazy, all day, so I just didn't even leave."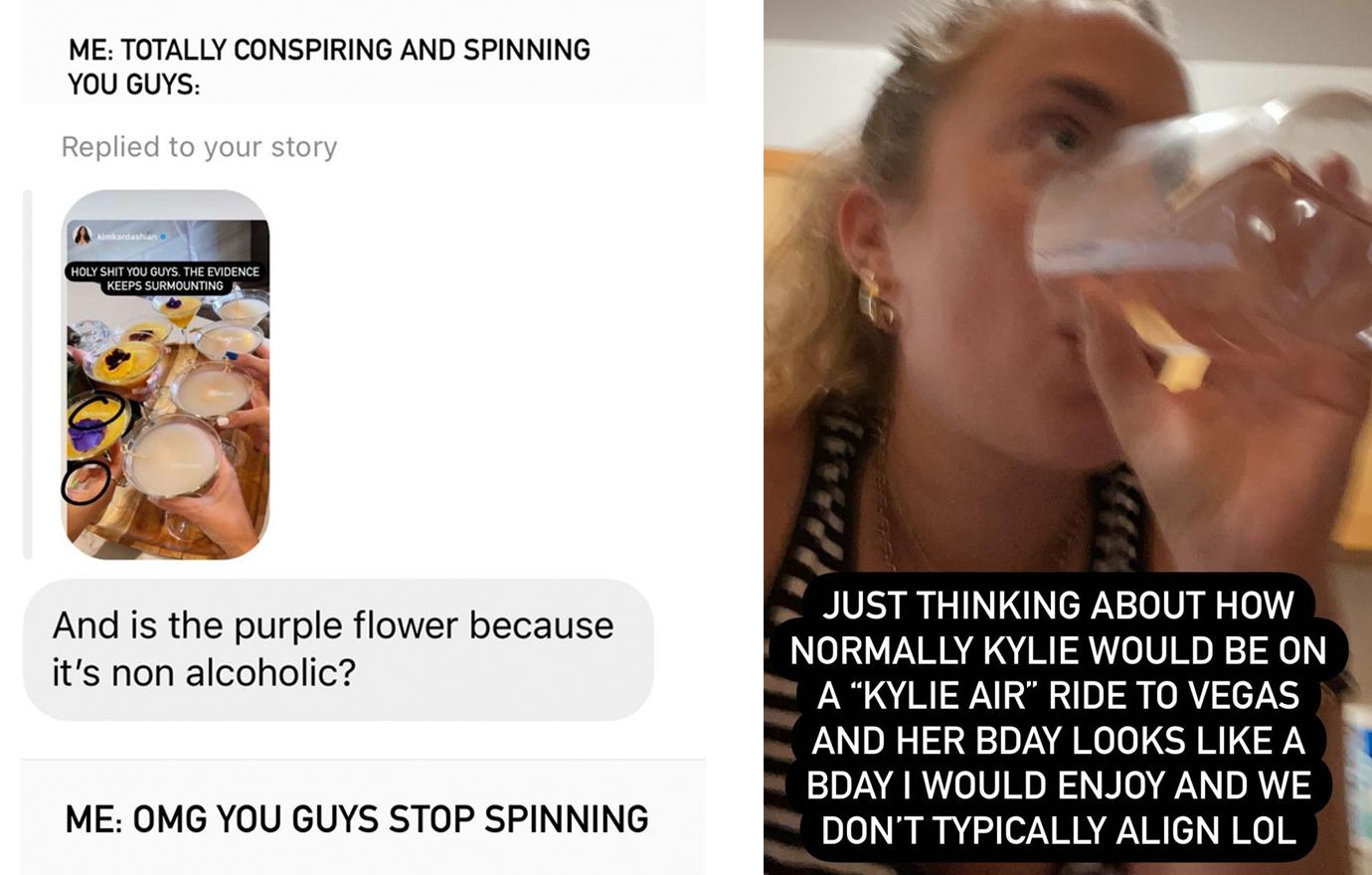 Article continues below advertisement
As for her relationship with her baby daddy (who has since gone back to being her boyfriend) – 30-year-old rapper Travis Scott – Kylie was rather tight-lipped; however, when Cohen asked if she'd like to get married, she replied, "I'm not thinking about marriage right now, but I would hope to get married one day."
The response prompted Kim and Khloé Kardashian to shoot each other suspicious smirks.
Then later, when Cohen asked the ladies about what they'd learned in the 20 seasons their show had been on the air, Kim said she realized that she and her siblings are "so lucky" to "have all these experiences together." Khloé added a concrete example, like "have our babies together," and stared lovingly at Kylie, who was sitting next to her.
Khloé – who was pregnant with now 3-year-old daughter True Thompson when Kylie was pregnant with Stormi – has been vocal about wanting to expand her family via surrogacy.
But back to Kylie. Viewers noticed the brunette beauty's face appeared more full than usual and that she showed up to the shoot in an uncharacteristically non-form-fitting gown. The dark brown number looked like it was made of a thick material and was bunched up or ruched throughout.
Article continues below advertisement
At the end of the special, Cohen offered the Kardashian-Jenner clan a round of Kendall Jenner's tequila. Some eagle-eyed viewers pointed out that Kylie only took a sip of hers, while others seemed to think the liquid in her shot glass was perhaps apple juice.
This all came on the heels of Kylie and Travis confirming their rekindled romance at the 72nd Annual Parsons Benefit in New York. The outing was a family affair, as Stormi joined her parents on the red carpet, where Scott was photographed with his hands on Jenner's stomach.
Kylie, herself, also placed her hands in front of her midsection at times.
Then during his acceptance speech later that night, Papa Bear reportedly said, "Stormi, I love you, and wifey, I love you so much."
And fans have pointed to all of these reasons and more as to why the mother of one may be expecting.
Thank you for coming to our Ted Talk.