Exclusive
Josh Duggar's Longtime Neighbor Writes Emotional Note To Judge Pleading For Soft Prison Sentence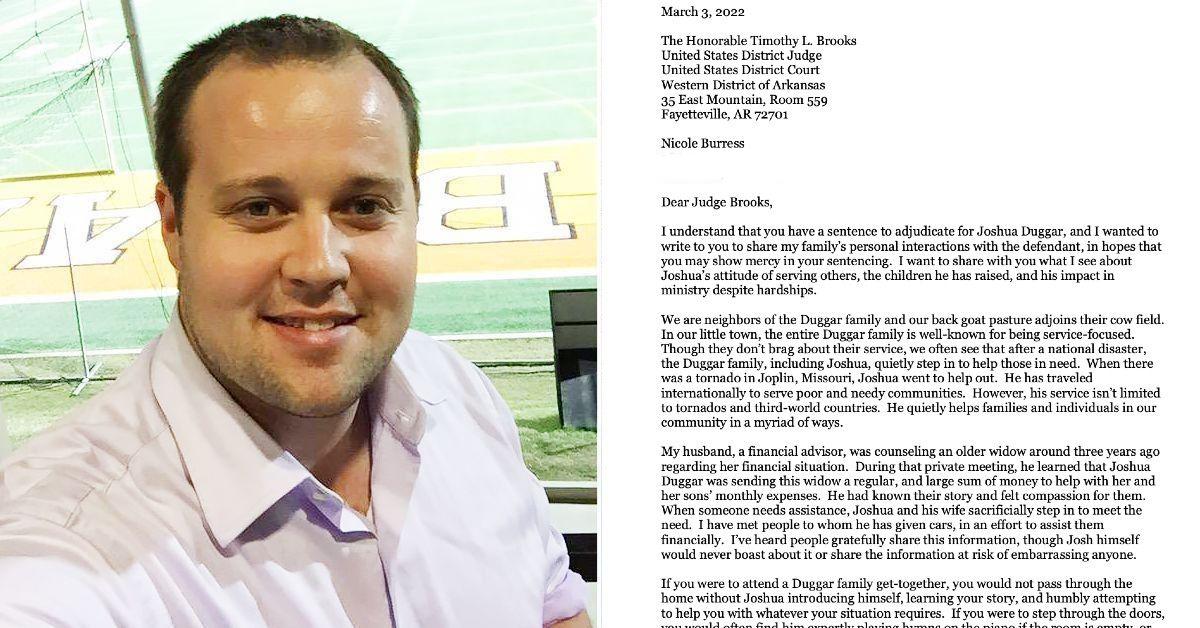 Josh Duggar's family friend wrote an emotional letter pleading for leniency at his upcoming sentencing — even detailing a time that the disgraced reality star risked exposing himself to COVID-19 to deliver her medicine.
RadarOnline.com obtained a letter written by the Duggar family's longtime neighbor in Arkansas. Nicole Burress said she hoped the judge would go soft on the disgraced reality star at his sentencing on Wednesday.
Article continues below advertisement
Duggar has been in custody since being found guilty of two counts related to possessing child pornography. Prosecutors said the files downloaded showed horrific acts of child abuse.
During a court hearing, a Department of Homeland Security agent testified that the material found on Duggar's work laptop was "in the top five of the worst of the worst that I've ever had to examine."
The ex-TLC reality star is facing up to 20 years in prison. To convince the judge to not throw the book at him Duggar submitted glowing letters from friends and family.
Burress clearly was not fazed by the allegations against Duggar and laid it on thick in her letter to the judge.
Article continues below advertisement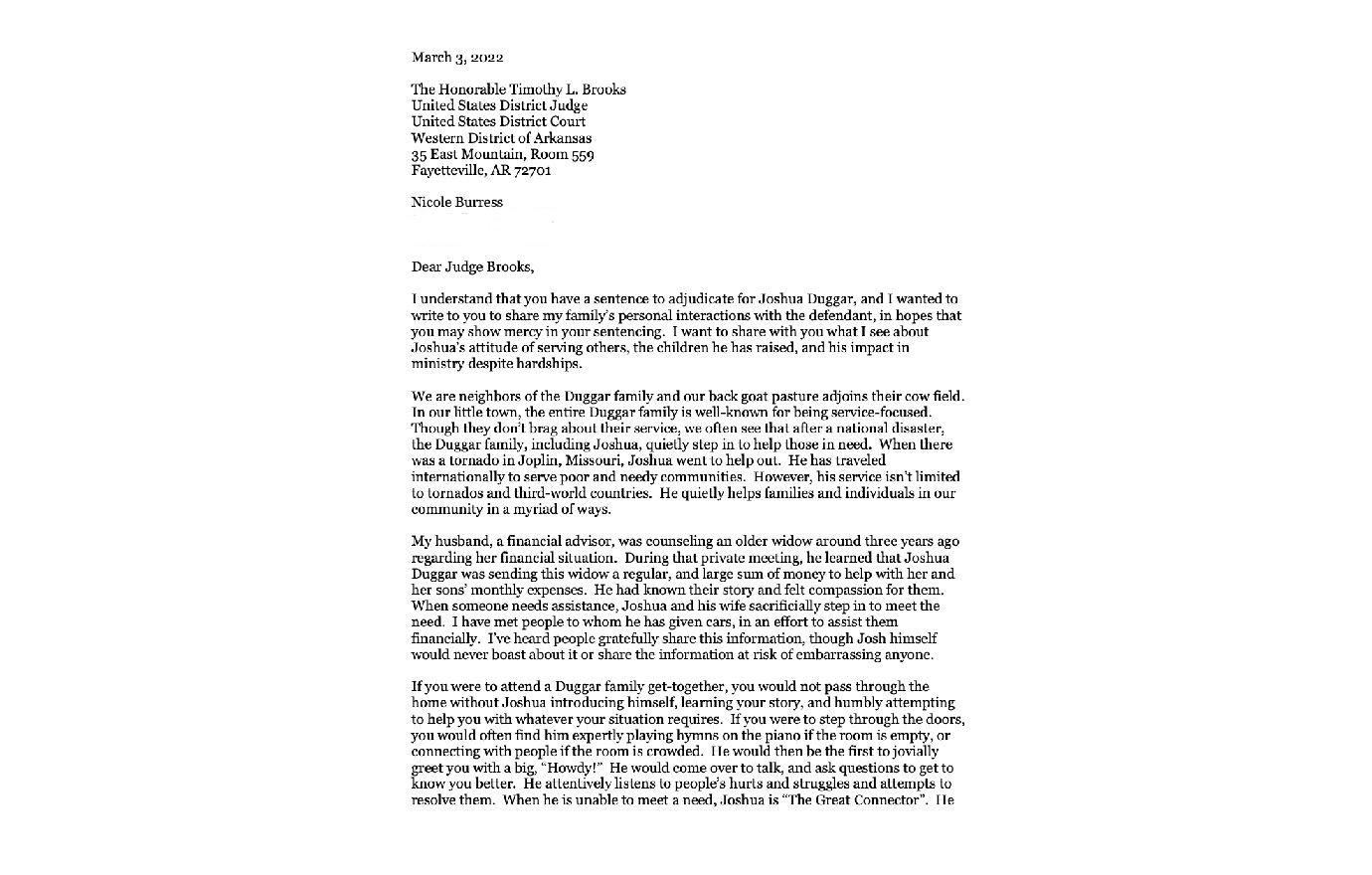 She said her family is "neighbors of the Duggar family and our back goat pasture adjoins their cow field."
"In our little town, the entire Duggar family is well-known for being service-focused. Though they don't brag about their service, we often see that after a national disaster, the Duggar family, including Joshua, quietly step in to help those in need," she wrote.
Article continues below advertisement
Burress described incidents of Duggar helping others including assisting the victims of a Mississippi tornado and traveling to serve poor and needy communities.
The friend also claimed Duggar had been helping a widow with monthly expenses after losing her husband.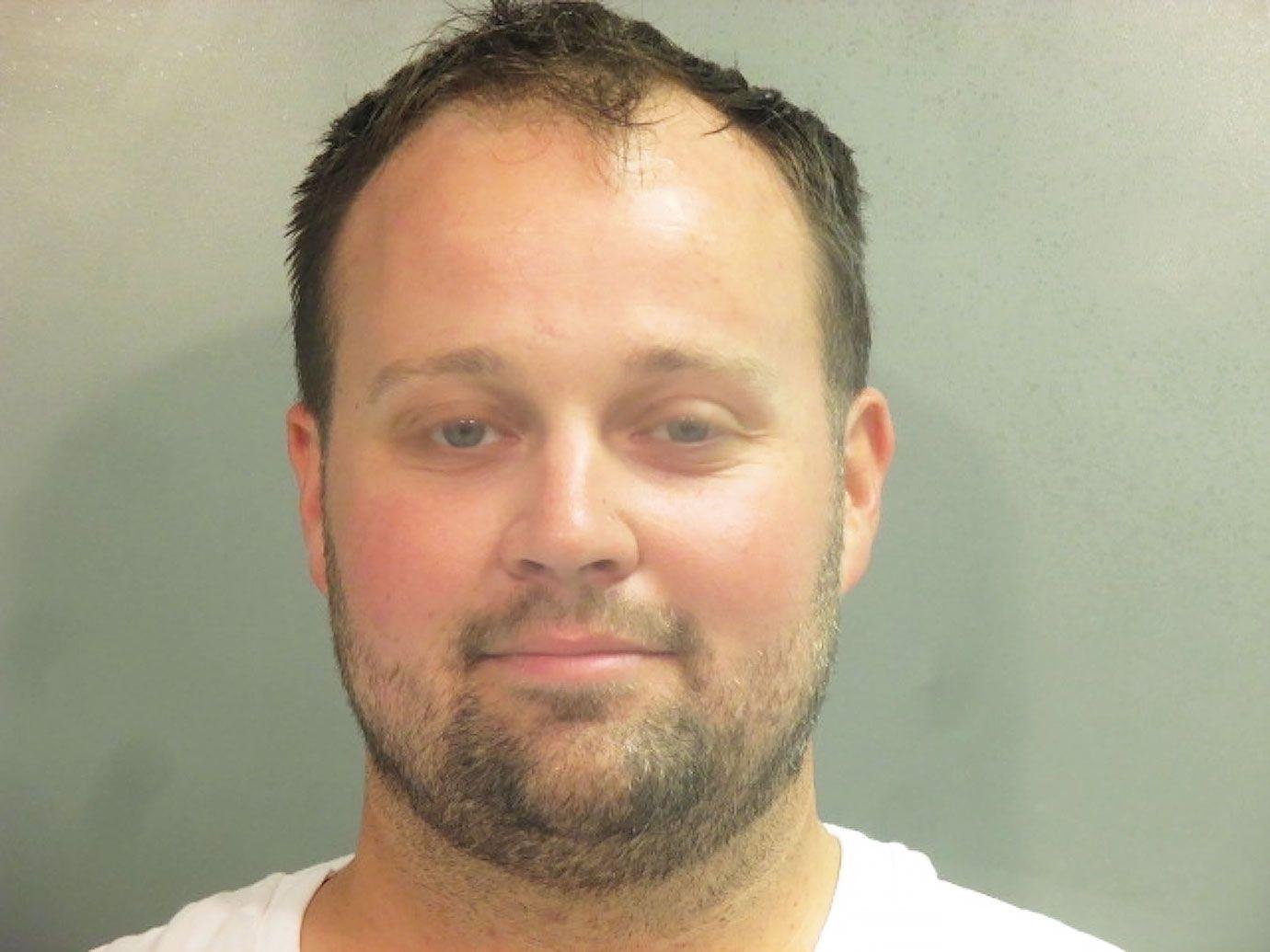 Article continues below advertisement
"When someone needs assistance, Joshua and his wife sacrificially step in to meet the need. I have met people to whom he has given cars, in an effort to assist them financially," she said. "I've heard people gratefully share this information, though Josh himself would never boast about it or share the information at risk of embarrassing anyone."
Another act of kindness she felt compelled to point out happened in early 2020 during the pandemic. She contracted COVID and needed anti-diarrheal medicine. Burress said her husband called Duggar who found the meds at his home and rushed over at 2am.
"Joshua had willingly risked exposing himself to a pandemic disease that everyone feared, and that I was miserably suffering from," Burress explained. "Even though my gown-donned doctor stared at me from behind a door, Joshua drove to my door to compassionately hand over medicine to ease my dehydration and end my contractions. My baby was safely born at term because Joshua stepped in that night, during a most humiliating moment, and did it without a second thought."
Burress revealed Duggar told his wife Anna that while in jail he's been harassed by another inmate. However, she claimed days later the inmate apologized to him because he knew that "Joshua was innocent."
Article continues below advertisement
Duggar's friend is pleading for the judge to consider Duggar's character during sentencing.
As RadarOnline.com previously reported, Duggar's mother Michelle and his wife Anna also wrote passionate notes on behalf of the convicted criminal.