'You See Nothing. You Hear Nothing.' Jeffrey Epstein's Twisted Rules For Sex Den Staff Revealed In Ghislaine Maxwell Trial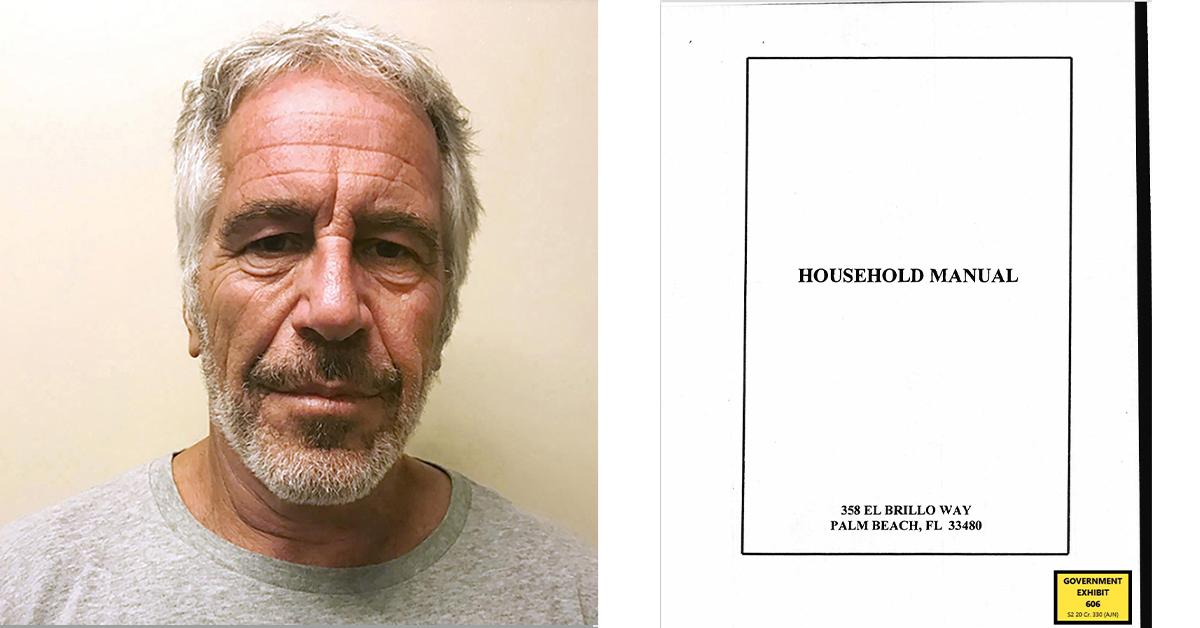 Jeffrey Epstein's twisted sex den went way beyond his alleged victims. RadarOnline.com has obtained the late billionaire-turned-exposed pedophile's official "Household Manual" that details every creepy and demeaning task he asked of his employees.
Article continues below advertisement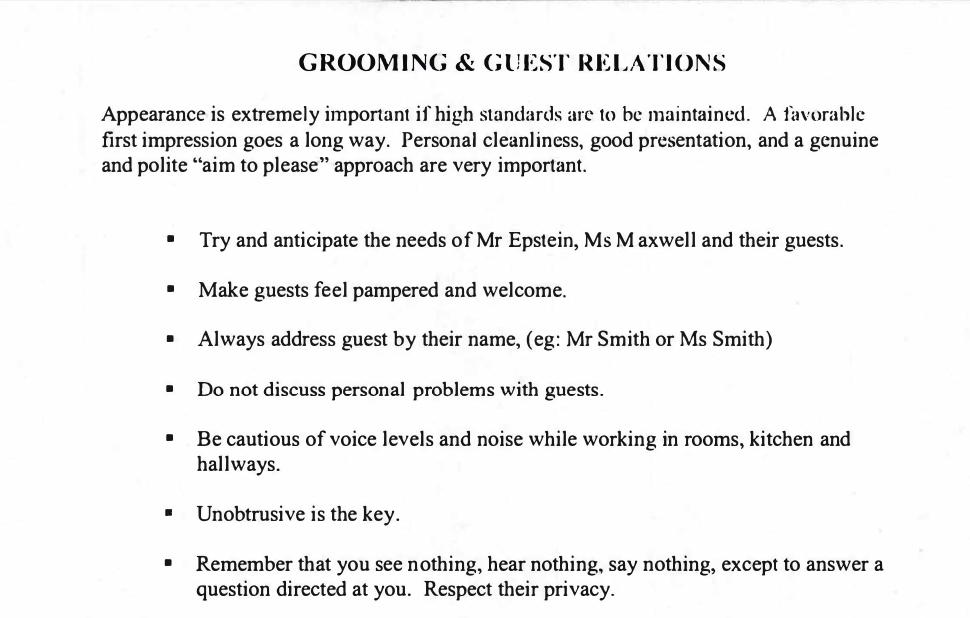 Article continues below advertisement
His employees were recommended to ignore most things unless it had to do with their appearance, guests, or the two alleged sex abusers. As the manual states, "Personal cleanliness, good presentation, and a genuine and polite 'aim to please' approach are very important."
"Try and anticipate the needs of Mr Epstein, Ms Maxwell and their guests," the list of rules ordered. "Make guests feel pampered and welcome."
He didn't want to be hassled by his staff members, instructing them to "use your judgment when conveying information to Mr Epstein." They were told to "leave a note for him" if the matter wasn't urgent.
When it came to uniforms, it "must be appropriate." What did Epstein find appropriate, you might ask? "Dark blue trousers with white golf shirts to be worn daily" and "long sleeve white shirts for dinner service."
Article continues below advertisement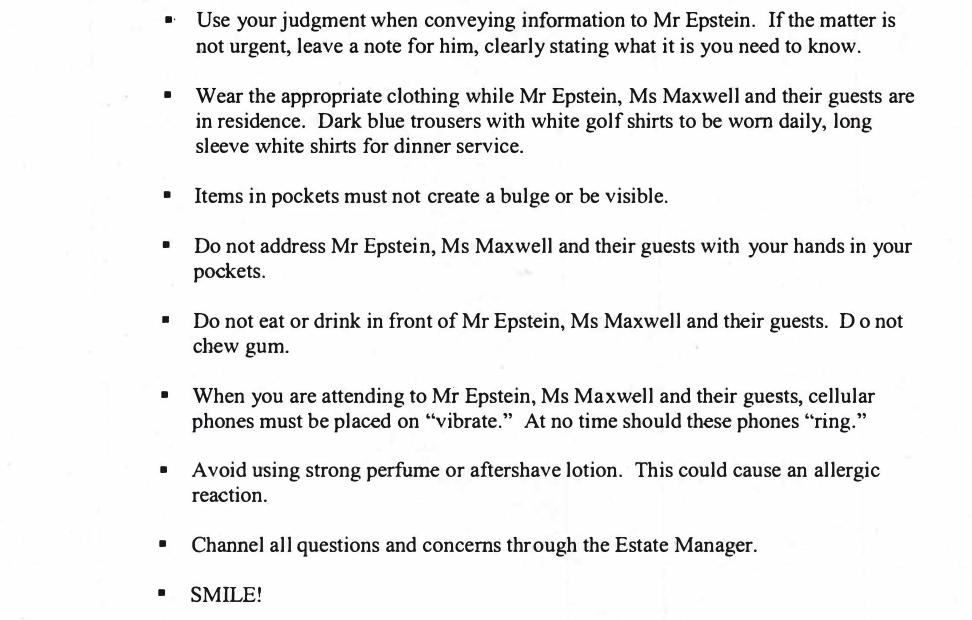 One eye-raising rule was about pant bulge. "Items in pockets must not create a bulge or be visible," the manual stated. Employees were not allowed to address Epstein, Maxwell, or guests with their hands in their pants either.
The most disturbing rule from the "Grooming & Guest Relations" section included the terrifying almost threat of: "Remember that you see nothing, hear nothing, say nothing, except to answer a question directed at you. Respect their privacy."
Many of the alleged sexual abuse reportedly went down at Epstein's homes — that's why this rule is especially cringeworthy.
Article continues below advertisement
Other instructions were "do not eat or drink," "phones must be placed on 'vibrate,' and "avoid using strong perfume or aftershave." The section ended with one word in all bold letters: "SMILE!"
The staff manual was released on Friday in connection to Maxwell's ongoing sex trafficking trial. She's accused of recruiting and grooming young girls for the billionaire and his rich pals to abuse. The British socialite was arrested in July 2020. She pled not guilty to 6 counts of sex trafficking, enticement of minors, and other crimes.
If convicted, Maxwell could face up to 80 years in prison.
As for Epstein, he committed suicide by hanging in August 2019 while awaiting his own sex trafficking trial. He was 66 years old.