Exclusive
HGTV Star Nicole Curtis' Drama With Baby Daddy's New Girlfriend Exposed In Custody Battle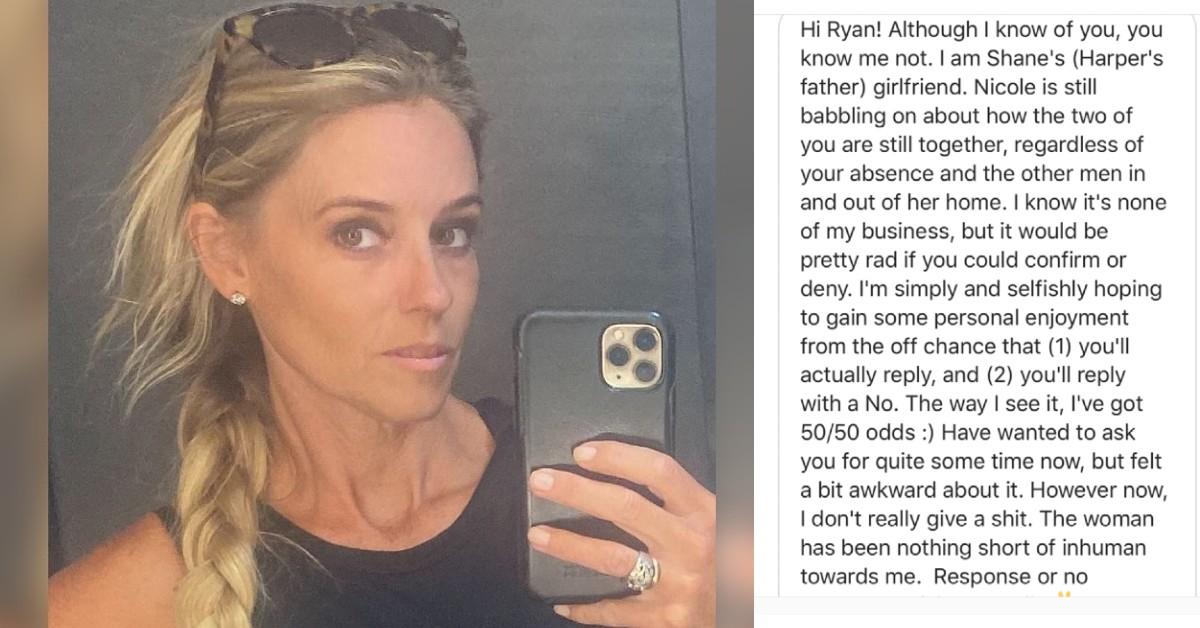 HGTV's Nicole Curtis accused her baby daddy's new girlfriend of attempting to gain information on her by reaching out to her ex-boyfriend, Radar has learned.
According to court documents obtained by Radar, the 45-year-old Rehab Addict star dropped the bombshell as part of her ongoing custody war with her ex, Shane Maguire.
Article continues below advertisement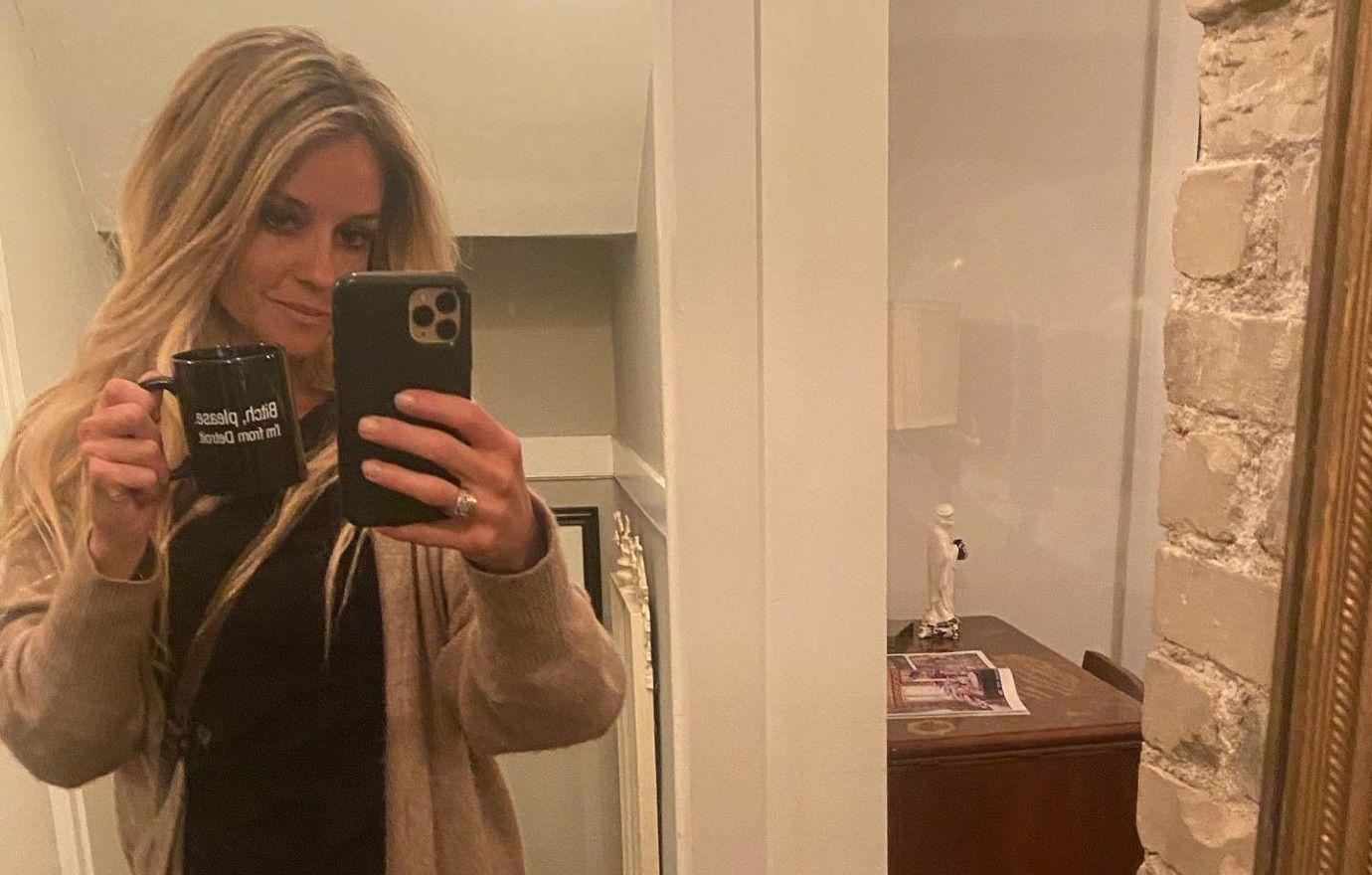 As RadarOnline.com first reported, Shane recently demanded their custody agreement for their 6-year-old Harper be modified.
The two fought in court for years before reaching a deal in 2018 when their son was 3. The agreement had them sharing joint physical and legal custody. Nicole — who had recently moved from Michigan to California — also agreed to help her ex find a new place closer to her.
Article continues below advertisement
In his new motion, Shane said things have changed drastically since Harper enrolled in school. He asked the court to add specific restrictions to their deal. He wants a provision that neither party can leave the state without prior written consent.
Shane said Nicole "travels with Harper during her custodial time, often taking red-eye flights, and returning Harper home in the late night/early morning hours the eve of a school day. This is not good for our soon and he has expressed to me on numerous occasions that he does not like getting him [sic] so late before a school day."
In court documents, he accused Nicole of often informing him Harper was traveling minutes before they boarded a plane.
Also, he said all social media restrictions in place should be removed. He claimed Nicole did not follow the rules.
Article continues below advertisement
In response, Nicole said she worked hard to follow every provision in the original agreement.
The HGTV star said, "because I frequently have to travel for work, every single member of my team, from my assistants to my agent, has a copy of the Stipulation, which we refer to as "the bible," so that they can coordinate my schedule."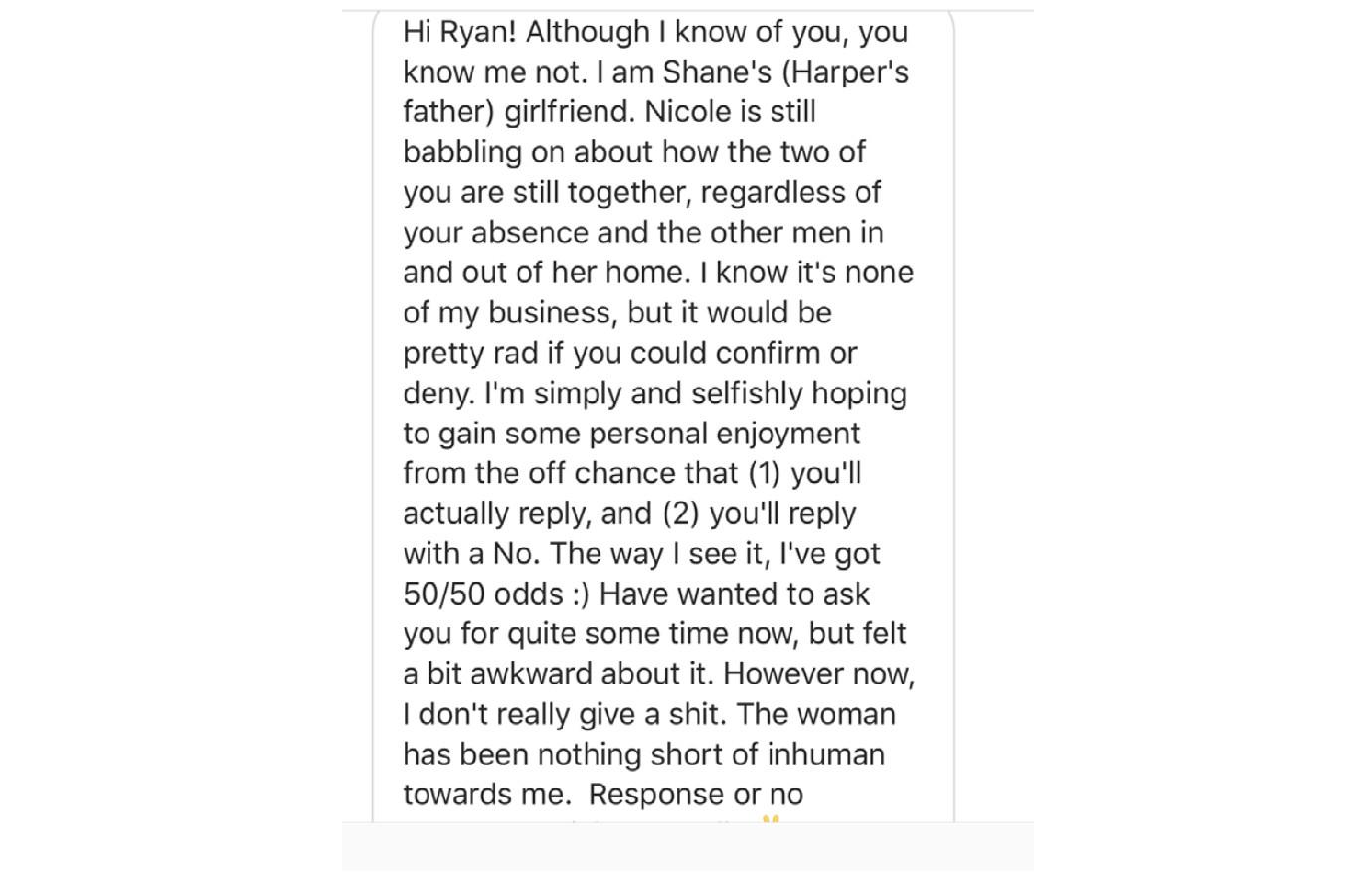 Article continues below advertisement
She said it had been "difficult to have a healthy co-parenting relationship with him." Nicole denied the accusation she didn't provide Shane with her travel schedule and said Harper never missed any school.
The television star said she believed Shane was trying to "control and stop Harper from traveling with me."
In regard to the social media restriction, Nicole wants them to remain. She said they agreed to a gag order in 2018 as part of their deal. She said despite it still being in effect, Shane and his new girlfriend "have repeatedly posted private and personal information about me, Harper, and [Shane's] custodial matter on social media."
Nicole said Shane's girlfriend has "even gone so far as to send messages to people I know about me. The television star included a message that was allegedly sent to her ex-boyfriend.
Article continues below advertisement
"Hi Ryan! Although I know of you, you know me not. I am Shane's (Harper's father) girlfriend. Nicole is still babbling on about how the two of you are still together, regardless of your absence and the other men in and out of her home," the girlfriend wrote.
"I know it's none of my business, but it would be pretty rad if you could confirm or deny. I'm simply and selfishly hoping to gain some personal enjoyment from the off chance that (1) you'll actually reply; and (2) you'll reply with a No. The way I see it, I've got 50/50 odds :) Have wanted to ask you for quite some time now, but felt a bit awkward about it."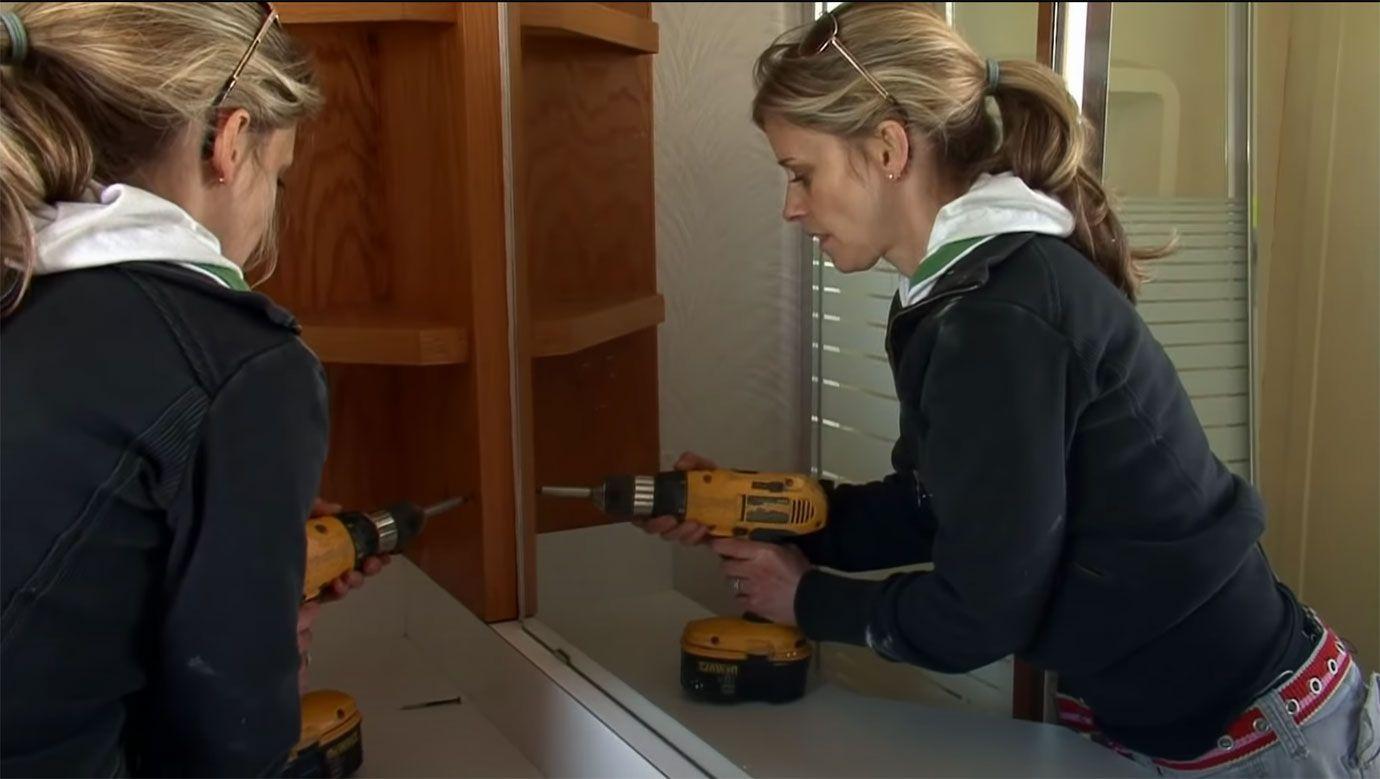 She ended, "The woman has been nothing short of inhumane towards me."
Nicole wrote about the text messages, "Because of my career, privacy and safety are my top priorities for Harper, and everyone in my life has signed a Nondisclosure Agreement so that I can ensure Harper is protected. However, Respondent's wife has repeatedly endangered Harper by sharing his and my private information publicly."
A judge has yet to rule on Shane's motion. The parties will face off in court this September.