Gwen Stefani's Ex-Husband Gavin Rossdale Appears Down And Out While On Solo Stroll, Days After No Doubt Singer Married Blake Shelton
Article continues below advertisement
Walking the dog he once shared with the No Doubt frontwoman, the 55-year-old Bush frontman sported an oversized olive green T-shirt containing the Playboy Bunny logo, and black ankle-length Adidas workout pants with the brand's signature triple white lines shooting down the sides, gray Nike sneakers with bright orange laces, a camouflage bag hanging from his shoulder, a black choker around his neck, and dark shades over his eyes.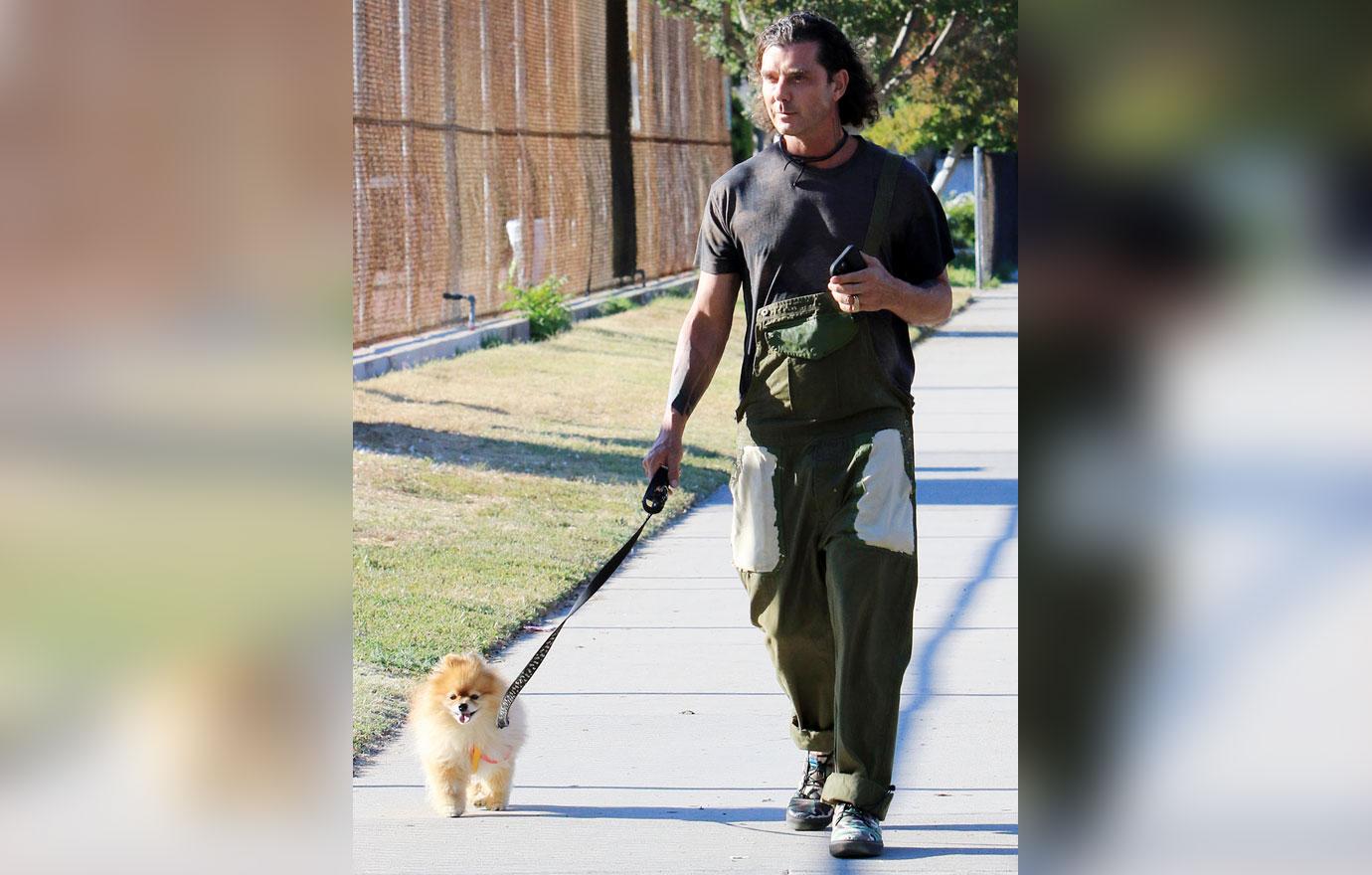 Article continues below advertisement
Rossdale's long, dark locks were down and combed back, falling loosely above his shoulders. While he kept one hand in his pant pocket, the other was holding onto the leash of his fluffy Pomeranian named Chewy.
Chewy was Gavin and Gwen's pet together until she filed for divorce in August of 2015 after 13 years of marriage and 20 years of dating. Though Gwen cited irreconcilable differences, there were reports that Gavin had cheated on his then-wife with their then-family nanny, Mindy Mann.
Article continues below advertisement
At the time, the pop star admitted she "tortured" herself for months, wondering if her then-husband had been unfaithful to her. She told Harper's Bazaar in 2016 she felt like her dreams had been "shattered" when she finally learned the truth.
"It was the beginning of hell. Like six, seven, eight months of torture, trying to figure out this big secret," she said, adding that she tried to keep everything under wraps and remain composed "because I have children. As a famous person, you start to think, 'I can't say all that because I'll embarrass them or hurt them in some way.'"
Article continues below advertisement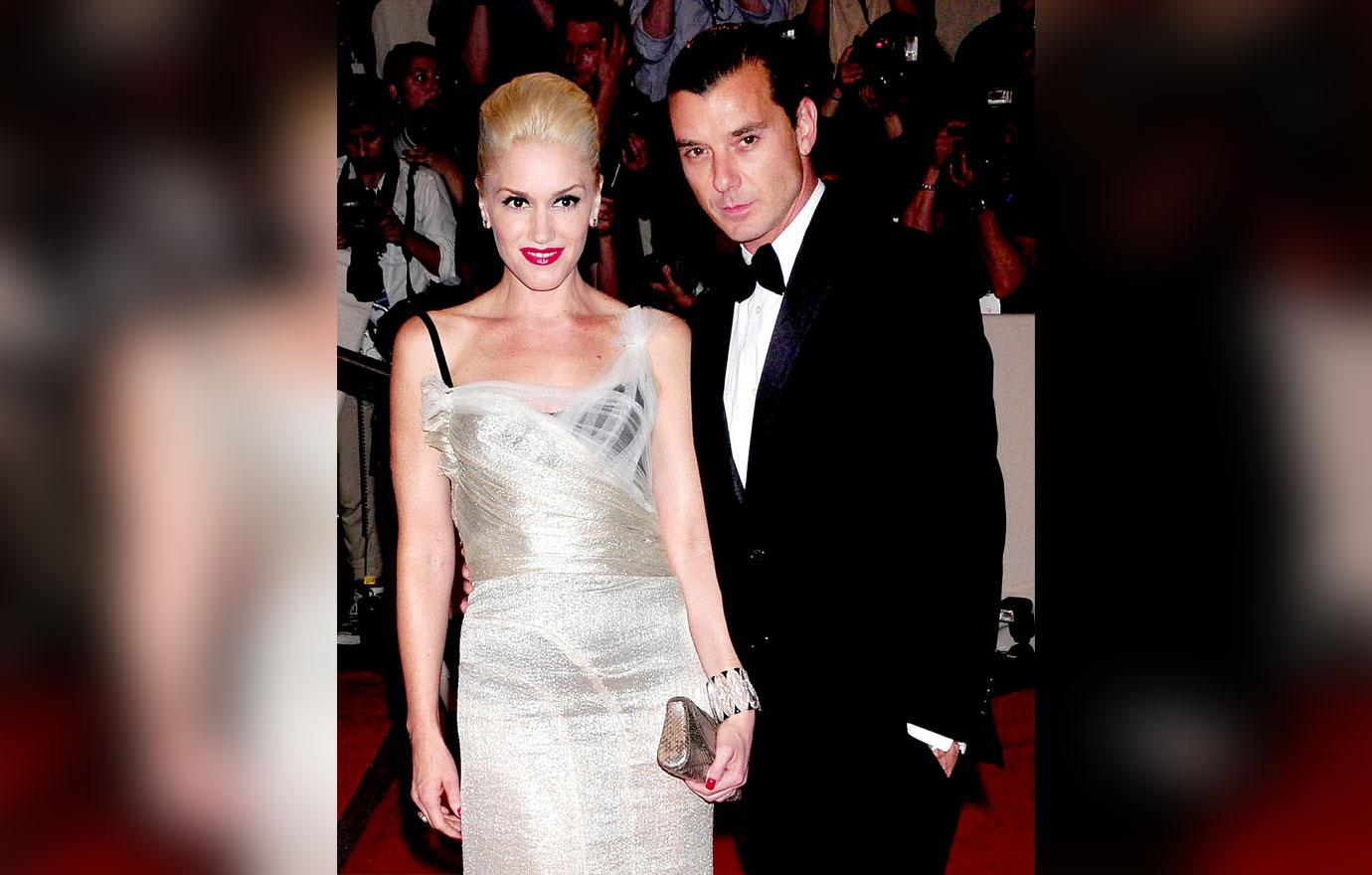 But after she healed, and after Blake and Miranda Lambert closed the chapter on their own marriage – also in 2015 – Stefani and Shelton finally got their happily ever after.
Article continues below advertisement
Wearing a custom Vera Wang gown during an intimate reception at a chapel on the country star's Oklahoma ranch, the musicians said "I do" on July 3.
They tied the knot in front of just 40 guests – including officiant Carson Daly – because they "didn't want a circus."
"They purposely kept the wedding simple. In the end, they just wanted to have this moment with their loved ones," an insider told People, adding that the couple of six years is "very family-oriented" and "that's exactly what the wedding was about. Family was at the center of everything."
Article continues below advertisement
In fact, the Maroon 5 frontman found out about his co-stars' ceremony like everybody else – online.
"Adam had no idea when Gwen and Blake [were] going to get married," sources told us. "Adam wasn't invited to the wedding and was not given the heads up despite the fact that Blake and Adam used to be as close as brothers when they were both onThe Voice together."
Article continues below advertisement
Stefani and Rossdale – and now Shelton – share three sons: 14-year-old Kingston James McGregor Rossdale, 12-year-old Zuma Nesta Rock Rossdale and 7-year-old and Apollo Bowie Flynn Rossdale.