George Floyd's Emotional Sister In New Interview: 'My Brother Is Not On Trial, Derek Is On Trial'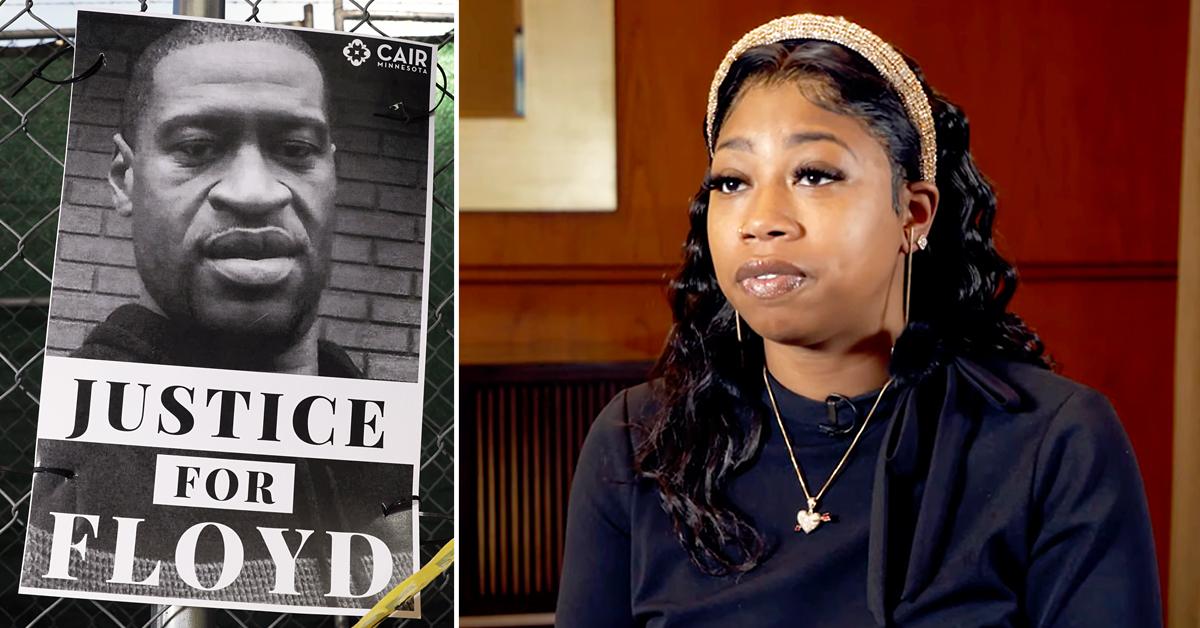 "My brother is not on trial. Derek is on trial," Bridgett Floyd stated strongly during an otherwise emotional mid-trial interview.
Article continues below advertisement
"So I would love for them to keep it the way that it's supposed to go. They're bringing my brother up – day after day after day – as if he'd done something wrong. He hasn't done anything wrong. The officer is the one who killed him."
Article continues below advertisement
The sister of George Floyd – whose accused murderer, ex-cop Derek Chauvin, is on trial for killing Floyd last May – sat down with The Shade Room to reveal how she and her family are coping while also addressing all kinds of misconceptions that have been floating around since proceedings began on March 29.
She argued that George, who she lovingly called Floyd, was "not the kind of guy that they're trying to make him to be."
Article continues below advertisement
Chauvin's defense team has been trying adamantly to convince the jury that Floyd died of drug-related causes and/or underlying health conditions, and not because of the pressure Chauvin's knee applied to Floyd's neck for nearly 10 minutes while the latter lied prone on the street, handcuffed behind his back.
When asked about concerns over a miscarriage of justice, Bridgett said, "Every time I think about it, I shake it off because I know that God is not gonna let justice fail us. We will get justice. And I have a good, good feeling about this 'cause there was witnesses on that stand that felt the pain that we are feeling. And the jury sees that. And all I want them to know is – be smart, be wise, make great decisions. Make the right decision. But we will get justice."
Article continues below advertisement
Chauvin is charged with second-degree murder, third-degree murder and second-degree manslaughter in the death of Bridgett's brother, who died while Chauvin was detaining him outside a convenience store in Minneapolis, Minnesota, on May 25, 2020.
"Nine minutes and 29 seconds," she said. "We thought it was eight minutes and 46 seconds, which was long enough – too long – but now they have said nine minutes and 29 seconds. Almost 10 minutes."
Article continues below advertisement
"Every time I think I'm ready to hear my brother cry for help, I have to get up and leave out [the courtroom] because I'm just not ready," she explained, fighting back tears. "But I want to be ready so bad because I want to hear what that officer did to him. I want to see what really happened, but my heart just – every time I think about it, my stomach gets cramping up, my heart starts fluttering. I get weak because that was a man that loved me, he loved his family, and to see him on the ground like that – I'm just not ready."
When asked if there was something related to her brother or the trial that no one had bothered to ask her about thus far, Bridgett immediately jumped to the topic of jury duty.
Article continues below advertisement
"When you are called to jury duty, a lot of families are not getting justice because the jurors are not wanting to do their job that they are called to do," she said. "We need the jurors to stand up, be that impact that we need, be that the voice that we don't have. Because [the courts] hear us, but it's not going to go off our decision; it's going to go off the jurors' decision. And if people come in and do their job the way that they are asked, a lot of families – a lot of families – would have gotten justice the same way my brother will get justice. But because they did not get justice, when this trial is over, and Derek is found guilty, we are getting justice for all families that did not get justice for their loved ones."
Bridgett also advocated for the George Floyd Policing Act, which she said would help hold police officers "accountable for their actions." From her understanding, the act would ban an officer from being able to put a suspect in a chokehold, "because once you do things like that, you're using deadly force. You're no longer being a protective police officer to the community; you're being looked at as someone who's trying to hurt another person, and the title of a police officer isn't that title. The policemen are here to protect and serve."
George Floyd Said 'I Ain't Do No Drugs,' Not 'I Ate Too Many Drugs,' Clarifies Investigator
Though devastated herself and knowing her brother's death has "touched the world," Bridgett believes the loss will affect her niece/George's daughter, 6-year-old Gianna, more than anyone – even more so if justice does not prevail.
Though she's "hoping and praying" for a guilty verdict, Bridgett believes "God has the last say" because "he sees everything."