Mother Of Fetty Wap's Late Daughter Furiously Disputes 4-Year-Old Lauren Maxwell's Cause Of Death Report: 'Her Autopsy Isn't Done Yet'
The mother of Fetty Wap's late daughter is absolutely furious over the fact that her baby girl's cause of death has been revealed publicly, even going so far as to say that it's not totally accurate.
Article continues below advertisement
Turquoise Miami – whose real name is Lisa – took to Instagram shortly after TMZ claimed to have obtained 4-year-old Lauren Maxwell's death certificate Thursday morning to clarify its reporting and rip into the outlet for invading her privacy.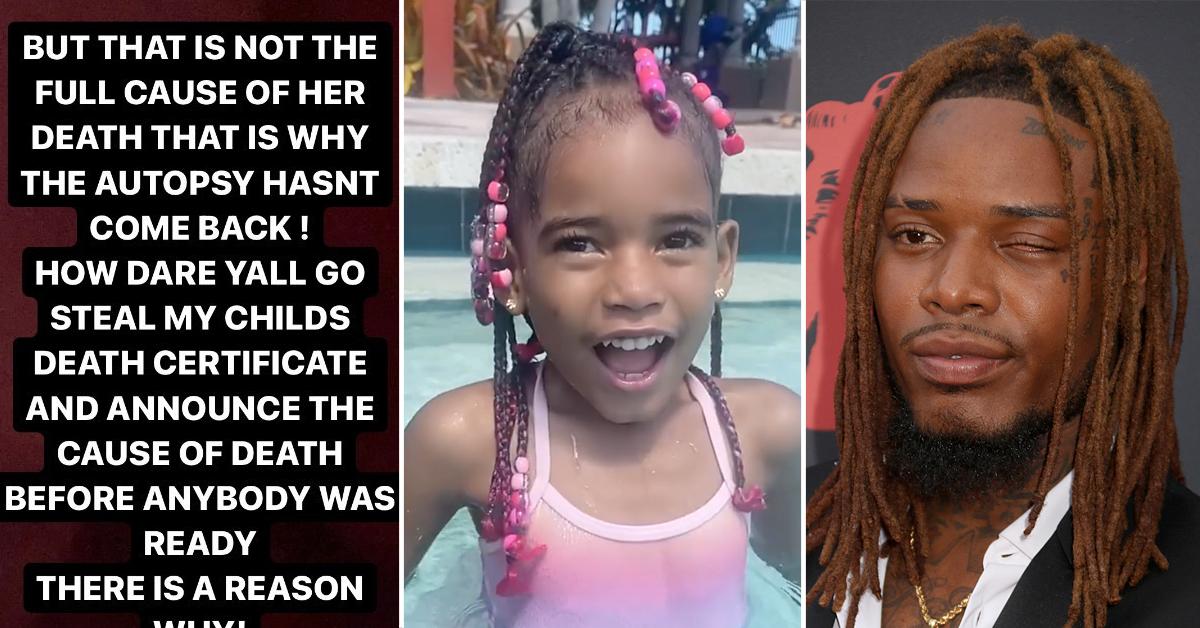 Article continues below advertisement
"I'm tired of my privacy being invaded. I'm tired of people lying on my child. I'm tired of people reporting lies about my child," Lisa wrote in a series of scathing Instagram Story posts.
"This what ya'll people do for fun. F--k all y'all," she went on, before confirming, "Her death certificate says cardiac arrhythmia due to congenital heart defect."
Basically, she'd had an irregular heartbeat since birth.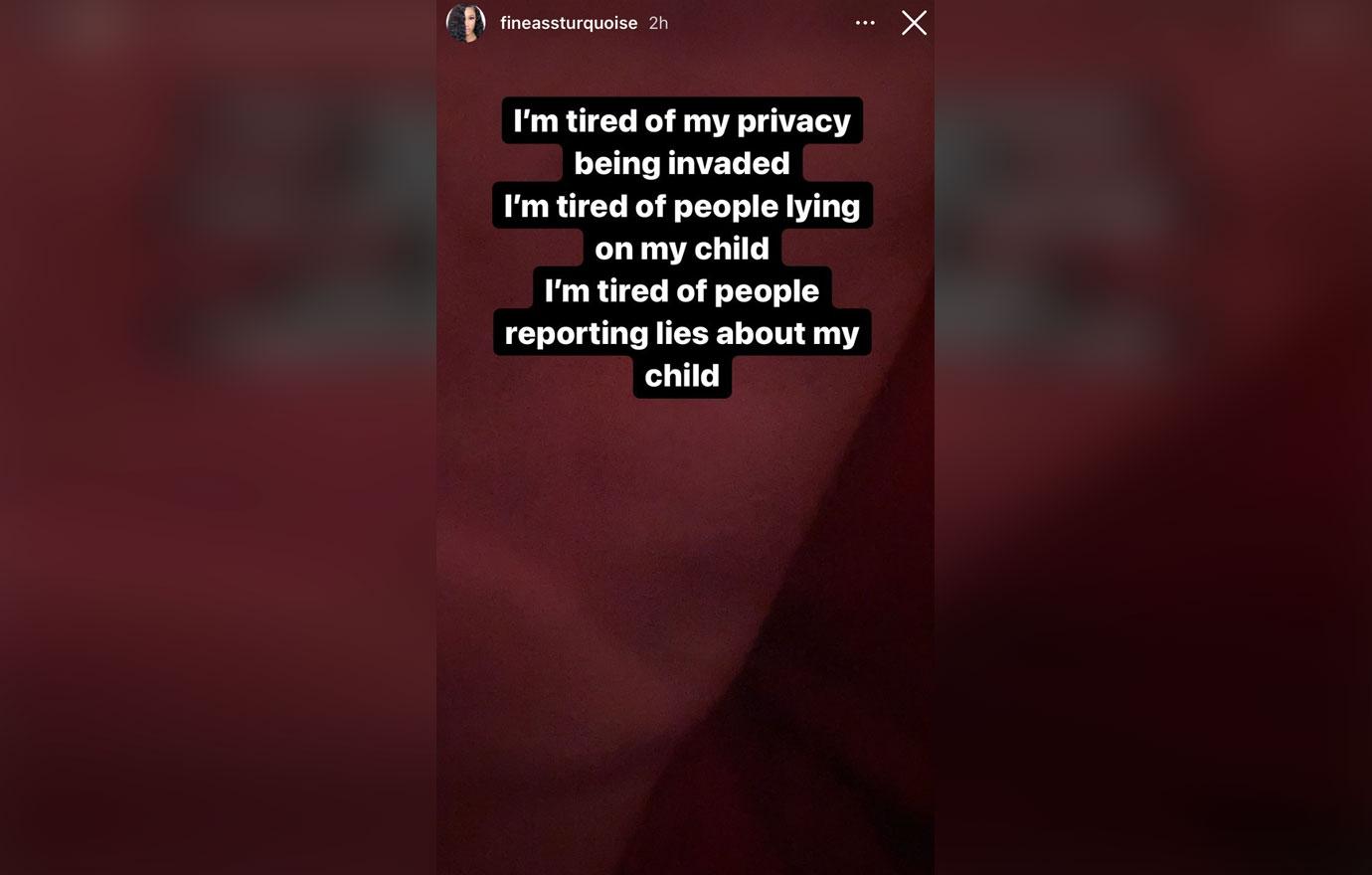 Article continues below advertisement
However, Lisa noted, "BUT THAT IS NOT THE FULL CAUSE OF HER DEATH. THAT IS WHY THE AUTOPSY HASNT COME BACK! HOW DARE YALL GO STEAL MY CHILDS DEATH CERTIFICATE AND ANNOUNCE THE CAUSE OF DEATH BEFORE ANYBODY WAS READY. THERE IS A REASON WHY! HER AUTOPSY ISNT BACK YET ASS---E." She went on to tag both TMZ and Hollywood Unlocked.
"Y'all love Breaking news so bad but this is my life and it's me without my daughter not non of y'all!" she continued. "I feel the loneliness every night not none of y'all! Y'all so f--kin Thirsty to report a 4 year old. This is my trauma, that is why I posted and moved HOW I FELT COMFORTABLE!"
The mourning mom went on to add, "Before y'all say they removed it, only Hollywood Unlocked did. TMZ got this as their main article on their www page and ig blogs is grabbing the stories! The disrespect is already done."
Article continues below advertisement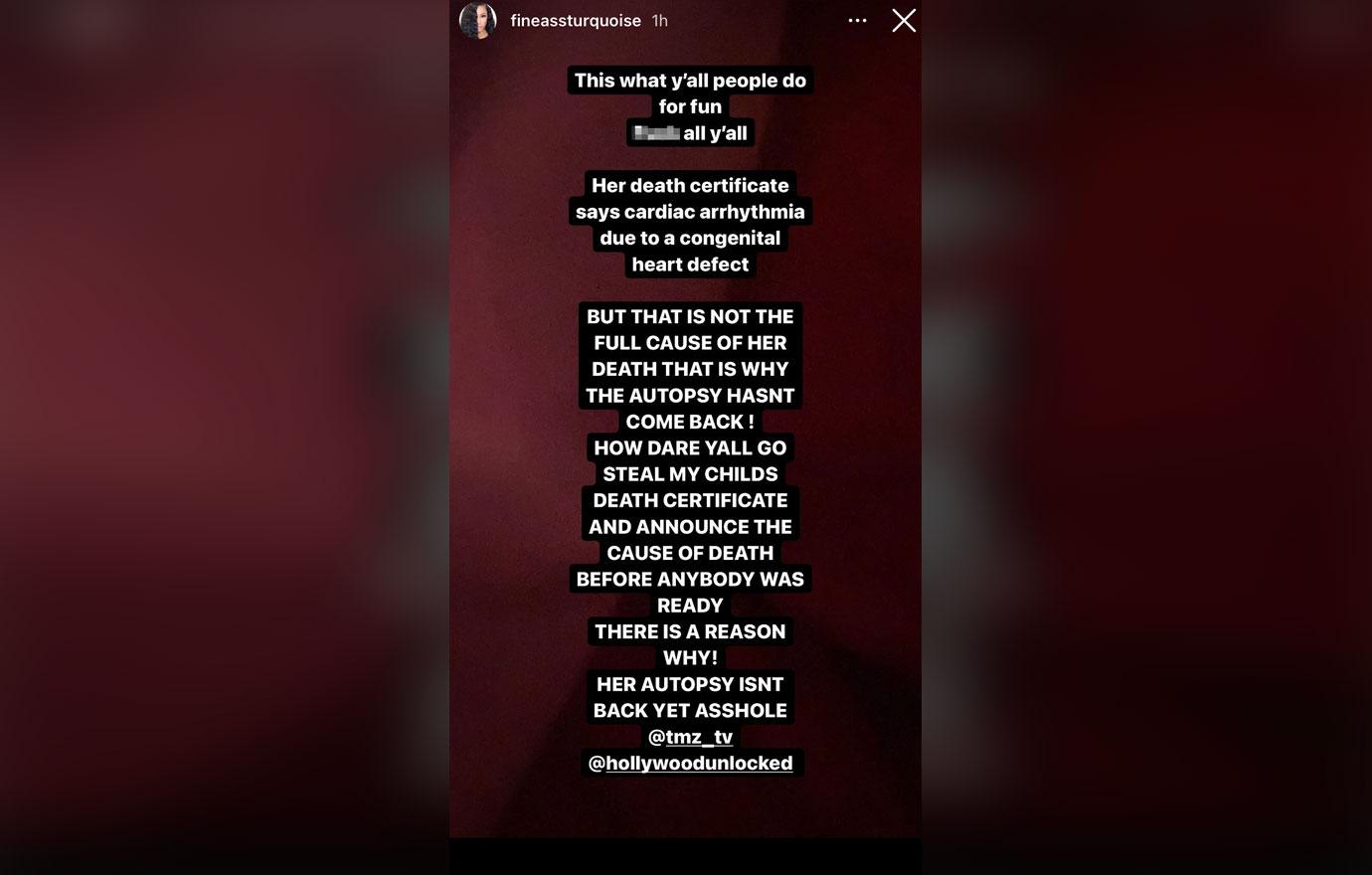 "Now @tmz_tv wanna play like they just made the article. Ur www.tmz.com article been sitting there since 1am this morning according to the article time and date," she wrote. "So stop playing innocent. Y'all posted about her death at 1am not 9:49am before ANYBODY DISCLOSED HER DEATH. And enough blogs took it where I became aware of your article through @hollywoodunlocked article!"
Article continues below advertisement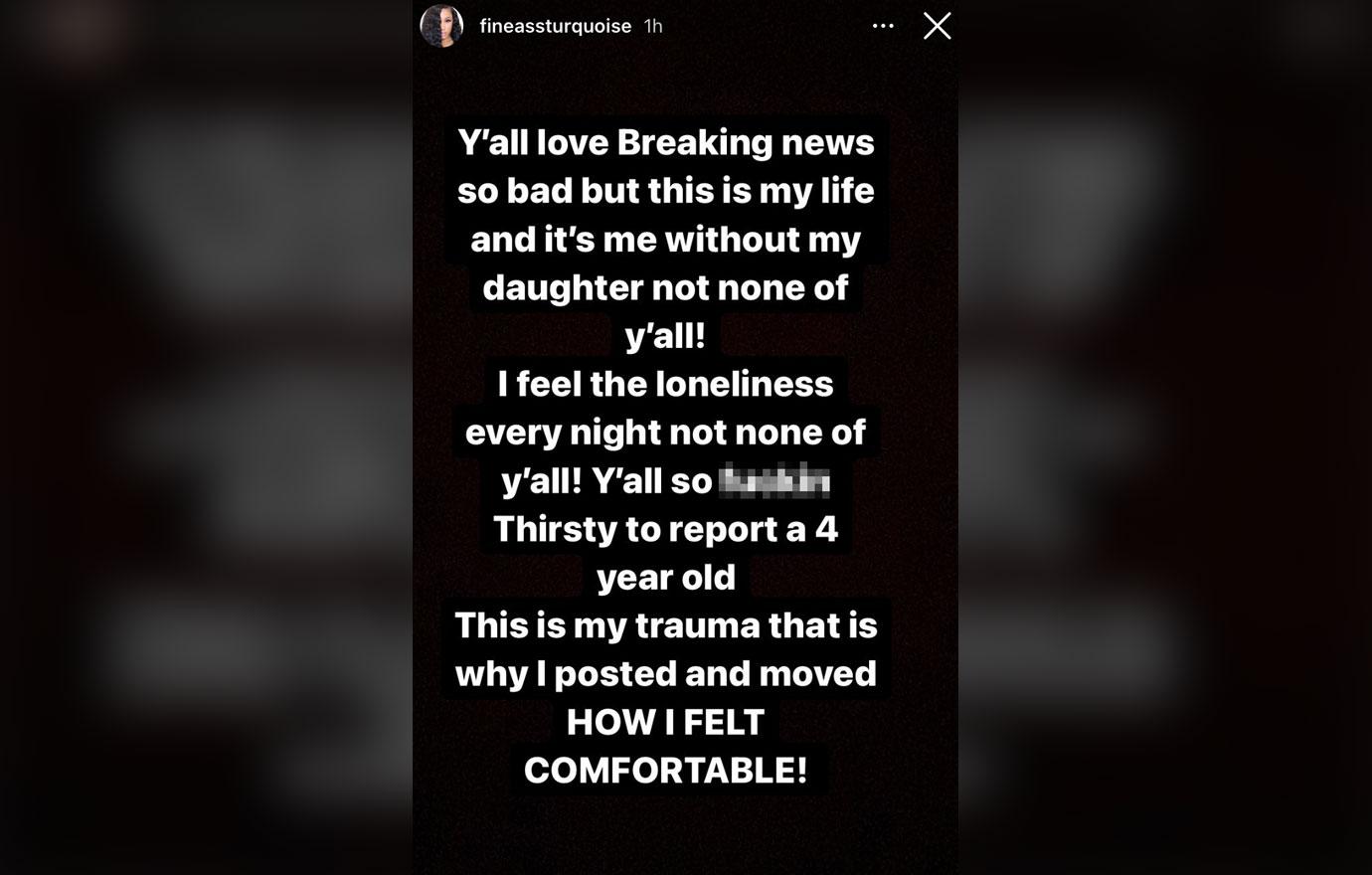 Sharing one of the aforementioned Instagram Story messages to her actual page – which has been wiped clean with the exception of the one-second clip of Lauren that she used to announce her passing last weekend – Lisa added, "THE MOST DISRESPECTFUL S--T YALL COULD EVER DO TO A HUMAN BEING @hollywoodunlocked @tmz_tv I hope if y'all [ever] met with this type of situation that people show y'all the same disregard that y'all 2 blog owners have shown me! And [they] have the audacity to PUT MY GOVERNMENT NAME that has not been on the internet, on the Internet DO YALL SMOKE CRACK!?"
Article continues below advertisement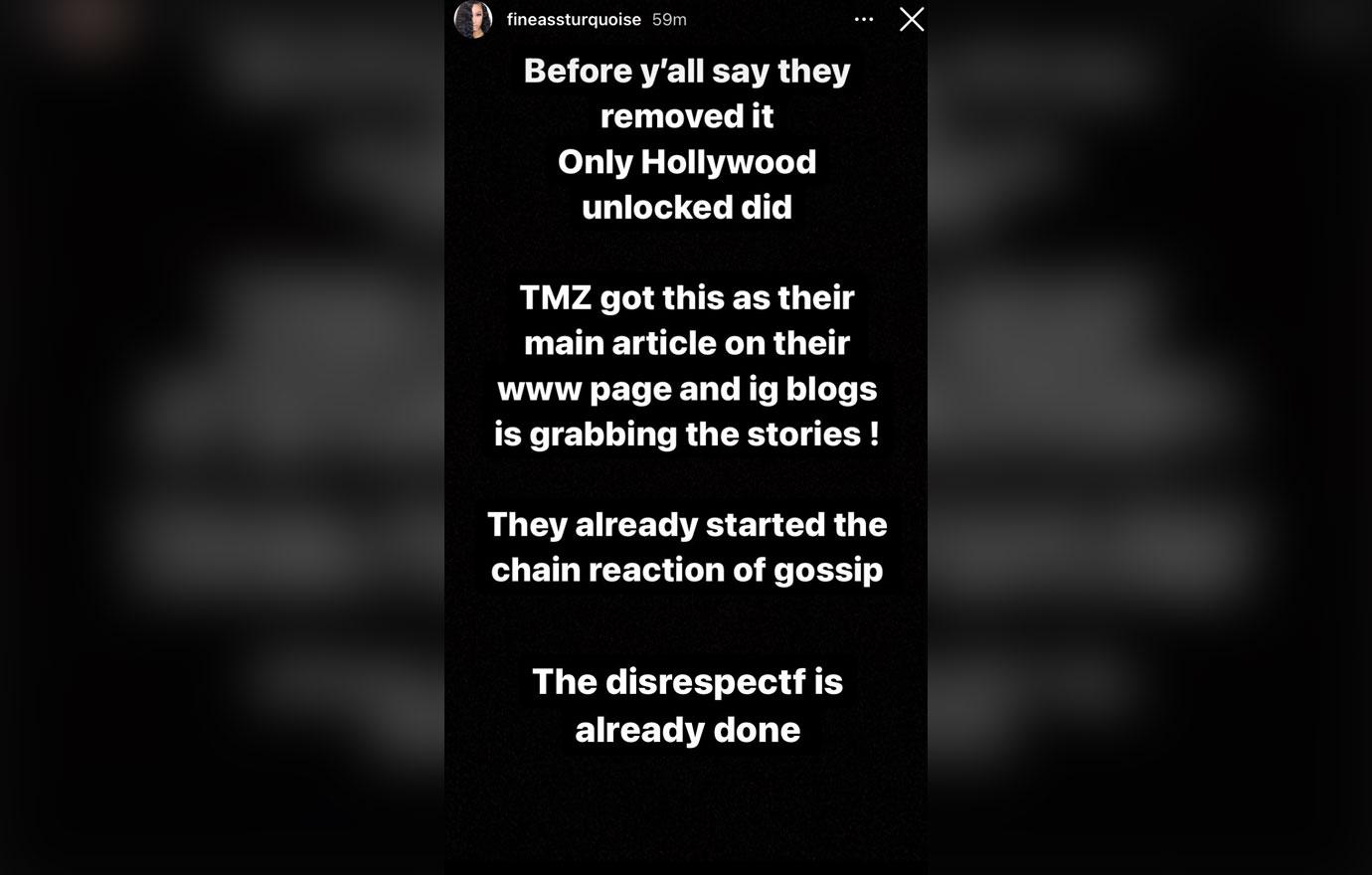 Lauren's death certificate reportedly states that she died on June 24 at her home in Riverdale, Georgia, but Lisa did not make any announcements until Aug. 1.
Fetty posted a discrete message that day, too, but neither parent commented on what might've led to their little girl's tragic passing.
The musician went on to mourn with fans in an emotional Instagram Live, then shared a sweet photo of his baby girl cheesing hard at the camera. "Hey mini me (My Twin)...'I love you to the moon and back forever and ever bestfriend'…" he captioned the image, accompanied by a heart emoji, two blue butterflies (her favorite), a dove and a teddybear.
Article continues below advertisement
Lisa had previously asked social media commenters to show her and Fetty respect by keeping their negativity over the grieving parents' past drama to themselves.
"The internet had very negative energy towards our child which bought me distress reading," she wrote in a post separate from her initial announcement. "So please stop any negativity towards [Fetty]. Lauren love her daddy too just like she love me and he mourning hard just like me."