Exclusive
Faye Resnick Threatens Legal Action Over Bravo Blogger's 'Morally Corrupt' Merchandise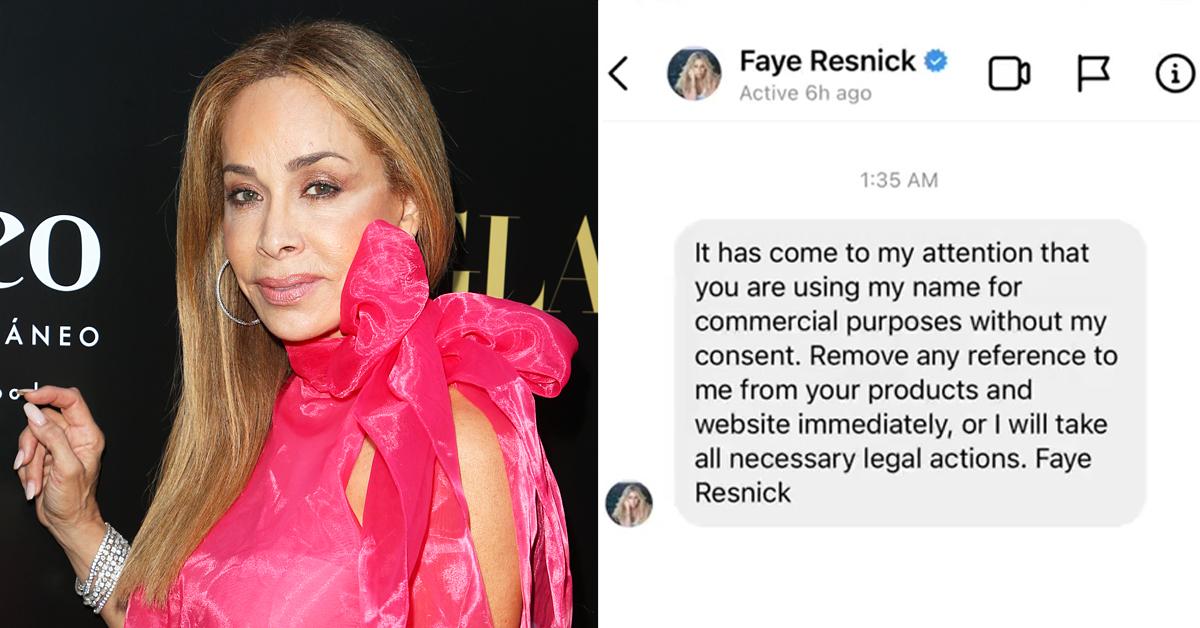 Article continues below advertisement
The 63-year-old Beverly Hills socialite purportedly sent a direct message via Instagram to Christian Gray Snow, ordering him to stop selling stuff using her name and likeness on his online store, The Slut Pig, or else.
"It has come to my attention that you are using my name for commercial purposes without my consent," the DM read, according to the shop's Instagram post, which showed it came from Faye's verified account. "Remove any reference to me from your products and website immediately, or I will take all necessary legal actions. Faye Resnick."
Article continues below advertisement
Faye has not yet replied to RadarOnline.com's request for comment.
As for Snow, he told us, "I understand her being upset as this was a comment that probably hurt her feelings back in the day when it originally aired. However, we're all just fans commemorating and celebrating the lines that made us laugh over the years from TV shows we love. We're laughing with her, not at her. Faye is iconic. And who said being morally corrupt is bad?"
Christian also wrote the following statement on his personal Instagram account Thursday morning: "Hope y'all got your F*ye Resn*ck merch (let me not say her full name don't wanna get sued) before I had to take it down or ask Jen Shah for some legal advice. I once loved F*ye's spread... now, not so much. 💅🏼 @theslutpigshop #RHOBH #MorallyCorrupt."
Resnick found Bravo fame on The Real Housewives of Beverly Hills as a close friend of series original Kyle Richards.
Article continues below advertisement
While she continues to be the forthright, entertaining, unapologetic "friend of," her most memorable moment occurred on a Season One episode back in 2010 – when then-cast member Camille Grammer referred to her as "the morally corrupt Faye Resnick" during The Dinner Party from Hell. The comment was a dig at Resnick's nude cover story and photo spread in Playboy magazine's March 1997 issue.
In the age of social media, the iconic moment has become even more iconic, with Bravo fans across the board using the famous line to decorate shirts, hats, mugs, magnets, greeting cards, you name it.
Article continues below advertisement
It's unclear whether Resnick actually has a case against Snow, and/or whether Snow will stop selling his "morally corrupt" merch. But as of now, all of it remains advertised and for sale.
Resnick is famously linked to Nicole Brown Simpson, the murdered ex-wife of O.J. Simpson. She is also a longtime pal of Keeping Up with the Kardashians star Kris Jenner.