Drake's Son Adonis Shows Off His French, As Rapper Honors Rarely Seen Baby Mama Sophie Brussaux On Mother's Day
Drake might actually love more than just his lit and his maman after all!
(That's French for bed and mama, respectively.)
Article continues below advertisement
Don't mind us, we were just trying to find a creative way of tying in the fact that Drake's son – 3-year-old Adonis Graham – speaks French, with the other fact that the rapper actually showed some love to his baby mama – Sophie Brussaux – on Mother's Day.
So many feels.
Though the two have had a contentious co-parenting relationship since the jump, it would appear Sunday's holiday brought out the best in the OVO CEO, who took to Instagram to celebrate the mother of his only child.
Article continues below advertisement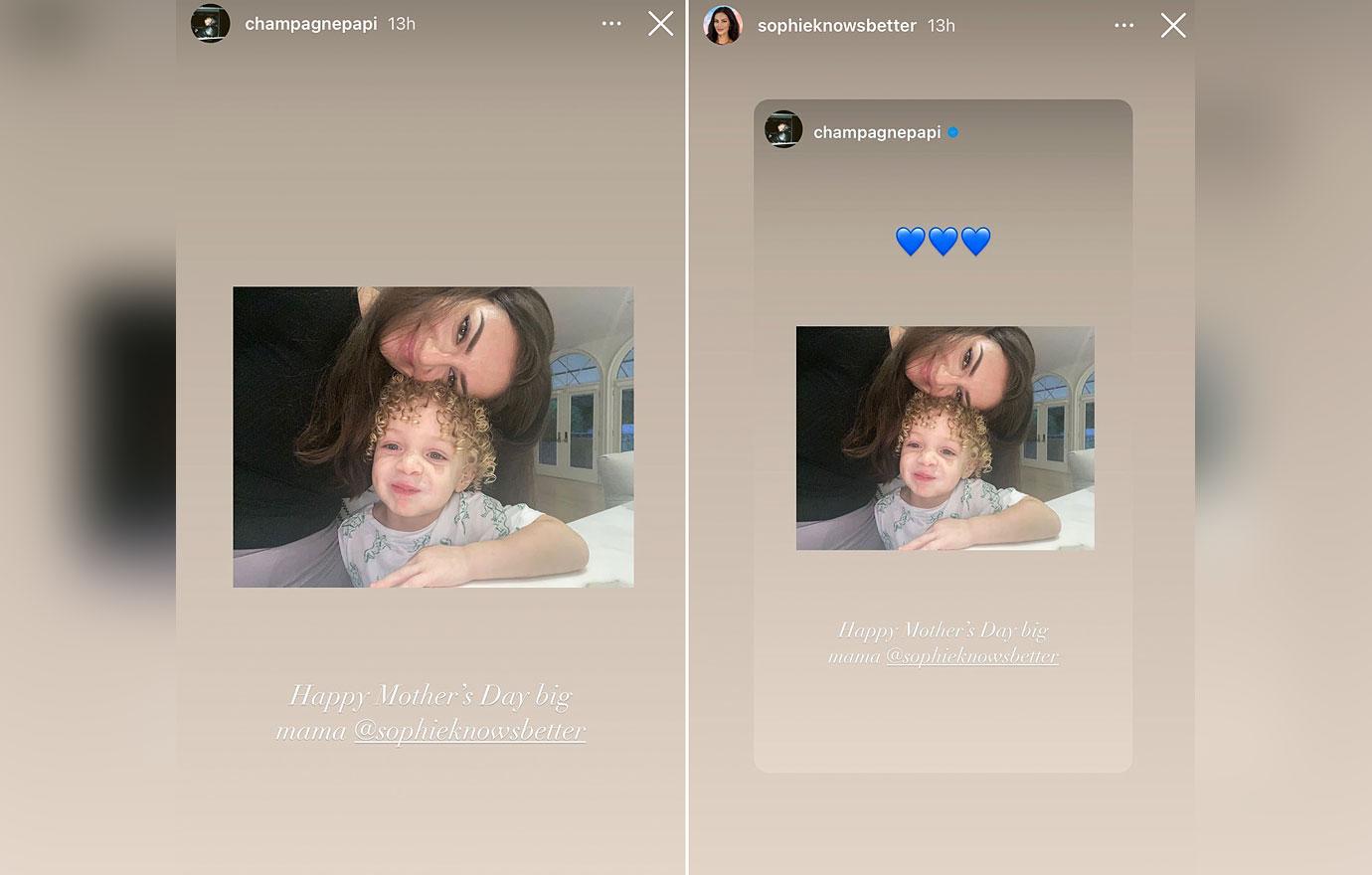 Posting to his Instagram Story a selfie of the French vixen-turned-painter and his blue-eyed, curly-headed cutie, Drizzy wrote, "Happy Mother's Day big mama," and tagged Sophie.
She quickly reposted the image and added three blue hearts.
Article continues below advertisement
A few hours later, Sophie – who is reportedly 30 – shared a photo of a stunning arrangement of "coral sunset peonies." Yes, she totally could have bought them for herself, but based on the day of the year and her surrounding Instagram Stories, we're thinking they were a gift...from Adonis' father, perhaps?
Sophie was evidently thrilled with the lush bouquet, as she adorned the post with two heart-eyes emojis.
Article continues below advertisement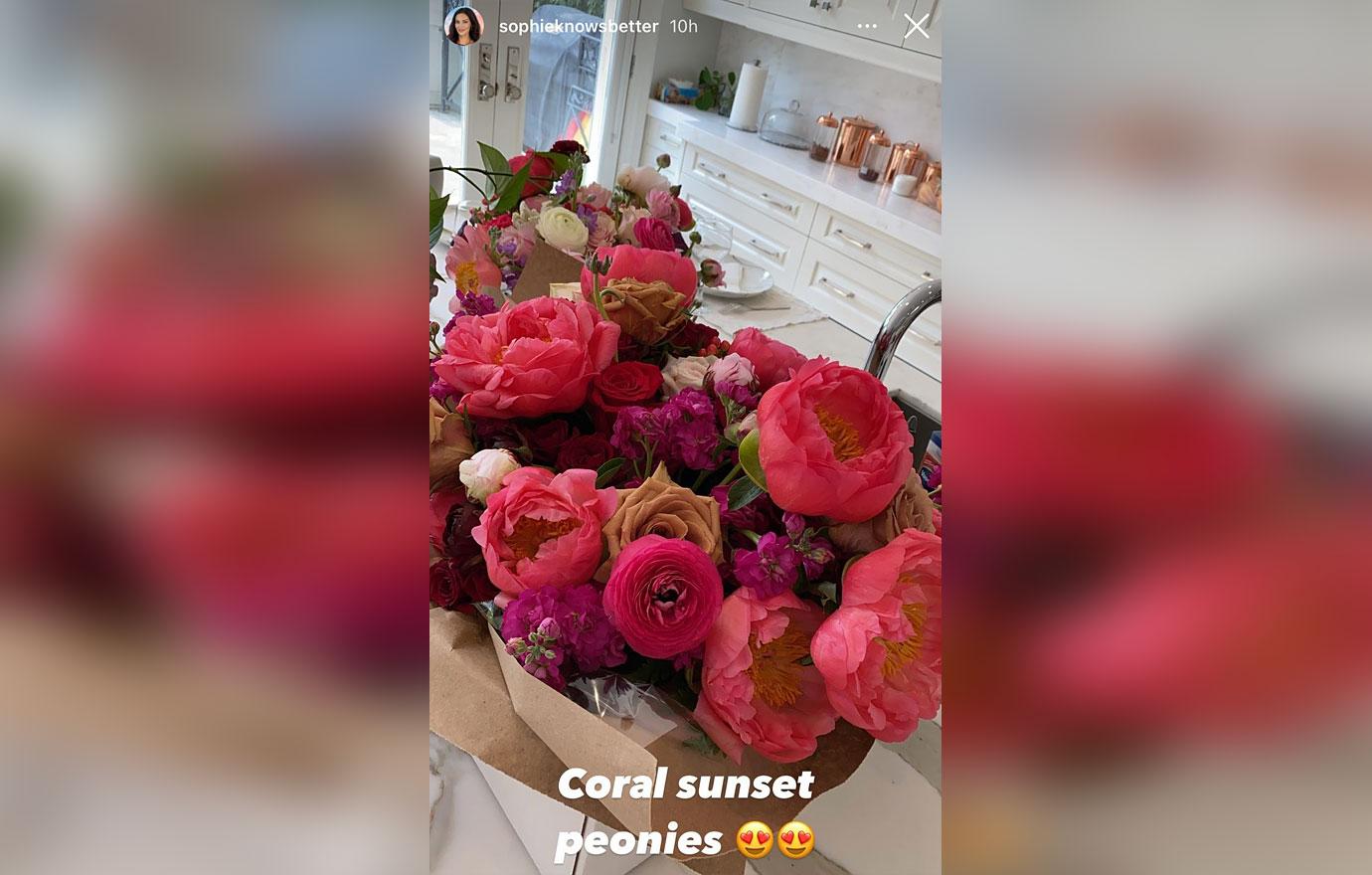 Her next Story was a hilarious drawing from her precious baby boy. "An accurate portrait by Adonis of my face, in the morning," she captioned the sweet illustration made up of scribbles and something resembling a person, which was done on pink construction paper and cut out into the shape of a heart.
Article continues below advertisement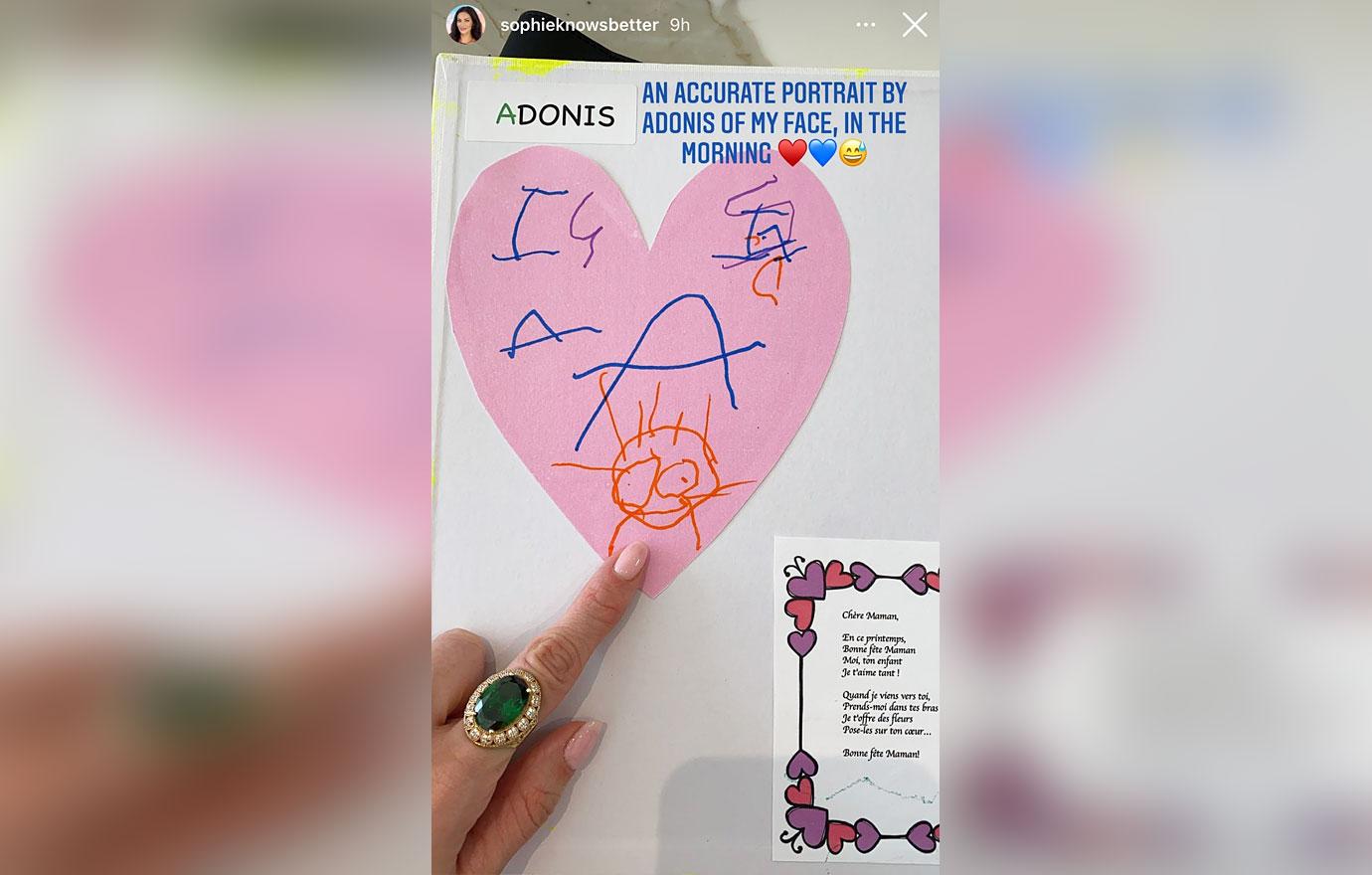 And now to make this article's opener make sense!
The next Story on Sophie's Instagram was a selfie-style video of her speaking to Adonis, who was seen walking toward her while holding up a tiny, gingham-printed jacket. Though we don't speak French (or mumbled French from the mouth of a chatty toddler), we can't totally make out what was being discussed. However, we do know it was adorable! And Sophie thought so, too.
"3 [years old] and already telling me what to do," she captioned the heartwarming footage. Perhaps Adonis had places to go and people to see?
So stinking cute!
Article continues below advertisement
Meanwhile, Drake is still caught up in an alleged home-wrecking scandal.
As RadarOnline.com previously reported, the rapper allegedly broke up an eight-year relationship and engagement following a recording session with Naomi Sharon that is believed to have turned steamy.
More on that saga here.