Con Woman With Dwarfism Living With New Family As Adoptive Parents Face Jail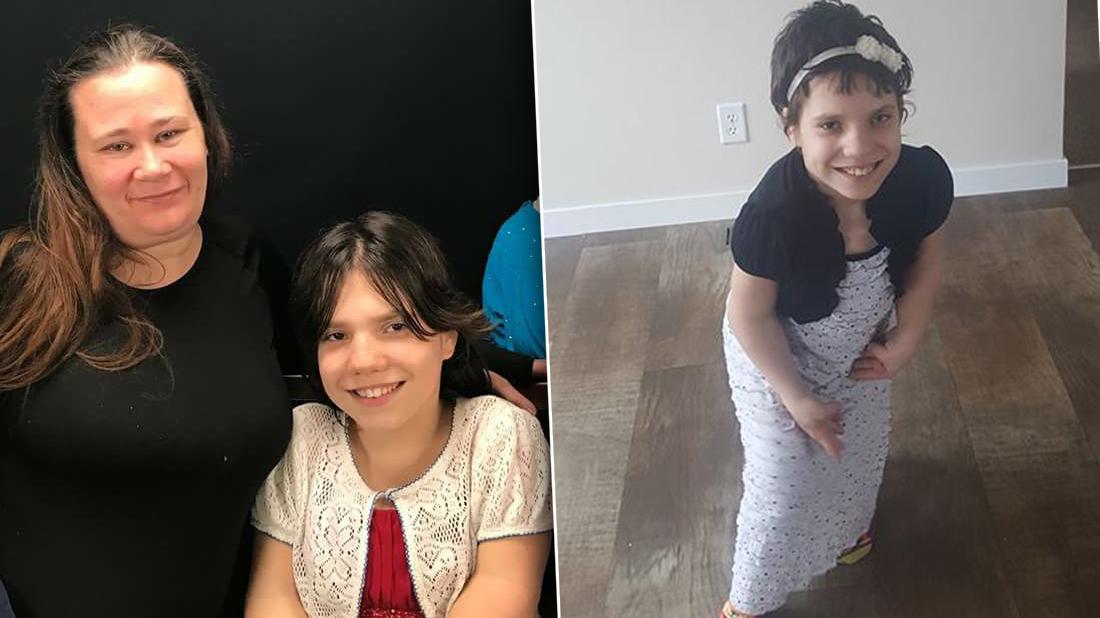 Another bizarre twist!
The woman with dwarfism at the center of a con scandal has been located living with a devout Christian family with five other children as her case heads to court.
Natalia Barnett, whose adoptive parents have been arrested for abandoning her, is now living with a new family where the father is a minister and the mother is a former manager of McDonald's.
Antwon and Cynthia Mans have taken in Natalia, who is at the center of a controversy surrounding her age.
Article continues below advertisement
Photographs of Natalia with her new family published by DailyMail.com show her living as a little girl in youthful clothes with her new family.
Michael and Kristine Barnett claim that they adopted Natalia from Ukraine in 2010 believing she was an eight-year-old child, but they soon came to believe that she was actually an adult masquerading as a child.
Kristine told DailyMail TV that she gave Natalia a bath and noticed she had pubic hair and was getting her period, not typical for an eight-year-old. Kristina also revealed that Natalie tried to poison her drink and push her into an electric fence.
Kristine and Michael had a court rule that Natalia was actually a 22-year-old adult and they rented her an apartment and moved away to Canada with their other children.
Michael appeared in court in Indiana on September 24, 2019 via phone and requested that all medical records pertaining to Natalia be released to the court. The judge agreed and set a future court date in October, but due to the sensitive nature of the records the hearing would be closed to the public, RadarOnline.com confirmed with the court.
Article continues below advertisement
Now Natalia is living with the Mans family, who tried to adopt her but were unsuccessful after being told she was an adult, according to the DailyMail.com.
Antwon was recently ordained as a pastor and lives in a former church parsonage.
According to the website, Antwon, 36, and Cynthia, 39, are aware of the controversy surrounding Natalia, but they treat her as a child in their family.
A friend of the family said they consider the Mans "Good Samaritans."
"The Mans care for Natalia and she likes being there," the friend told the website.
"There's nothing crazy going on or anything. These are good people."
Michael and Kristine have been charged with abandoning Natalia and are is due in court on September 27 in the case.
The new family taking care of Natalia met her while she was living in the apartment the Barnetts had rented for her, the friend said.
"They just so happened to come across this person that was not being treated right and cared enough to put in the effort to make sure something was done about it. If it's true that her parents had abandoned her, it's horrible."
Article continues below advertisement
While the Barnetts maintain that Natalia is an adult, the family friend who has spent time with her disagrees.
"I'm not a doctor or a psychiatrist but I've spoken with Natalia and I believe her. If you're asking me if I think she is 30, that's ridiculous."
The Mans family posts photos of Natalia on the social media pages and treat her like another child in their family.
They applied to become legal guardians of Natalia in 2016 but withdrew their petition as the court ruling had stated she was not a child, having been born in 1989 and not 2003.
Kristine told DailyMail TV about her harrowing experience with Natalia, who claimed she was from Ukraine but neither spoke the language nor had any knowledge of her home country.
"She was standing over people in the middle of the night. You couldn't go to sleep. We had to hide all the sharp objects," Kristine said.
"I saw her putting chemicals, bleach, Windex something like that, in my coffee and I asked her, what are you doing? She said, I am trying to poison you.
"The media is painting me to be a child abuser but there is no child here."
Michael is expected in court on Friday, September 27.
Stay with RadarOnline.com for updates to the story.