No Regrets! 'Bachelor's Amanda Stanton 'Wouldn't Take Back' Domestic Violence Arrest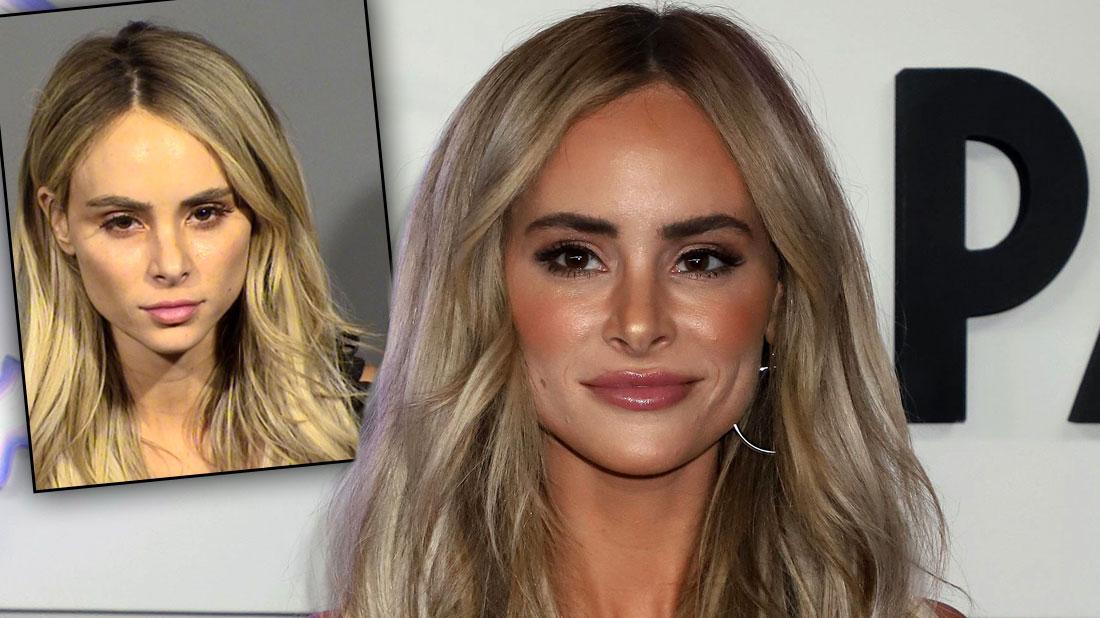 Amanda Stanton shocked fans when she was arrested for domestic violence against her then-boyfriend back in September 2018. But in her new book, The Bachelor star admitted doesn't regret the incident!
In the Bachelor in Paradise star's book, Now Accepting Roses: Finding Myself While Searching For The One… And Other Lessons I learned From 'The Bachelor,' she opened up about her September 2018 arrest for domestic violence against then-boyfriend Bobby Jacobs.
Article continues below advertisement
Stanton, 29, explained how she was celebrating a friend's Bachelorette party in Las Vegas. On Sunday night, the women went to a Magic Mike Live show. They decided to take the party back to their hotel room, where Jacobs joined them.
"With Bobby there and a group of my closest friends, I allowed myself a night off," she wrote. "We weren't in public and we weren't planning on driving or going anywhere. I felt that I was in a safe place, to be to honest, I never let loose."
She explained how she had a couple more drinks than usual, which she explained is two more than her normal glass of wine.
"We were all kind of being loud in the hotel room," she admitted. "We were there to celebrate, but never did we mean to cause a huge disturbance."
She claimed a hotel neighbor called security, who went to their room.
"Bobby, who rarely, rarely drank, opened the door to speak to them and apologize on our behalf for being so loud," she wrote. "I don't know what got into me, but I suppose liquid courage happens to the best of us in the worst moments sometimes."
Article continues below advertisement
She continued that she "barged up to the door and 'pushed' Bobby aside to get in front of him" to speak to security.
"I don't even know what I said at this point, if I'm being completely honest," she said. "And because I made the action of pushing myself in front of Bobby, hotel security called the police, claiming domestic violence abuse."
Stanton penned that she never expected to be in the situation she was in, and that she is "still devastated and confused by what happened that night."
She then explained how everyone assuming they had a "terrible, toxic relationship" couldn't be further from the truth.
But the Las Vegas Metropolitan Police Department Domestic Violence Report told a different story.
"He was sleeping in his room when his girlfriend entered the room and started yelling at him," the report read. "She was intoxicated when she entered the room, and was upset he was not answering his phone and ignoring her."
Article continues below advertisement
Stanton allegedly "started to hit him while he was laying in bed."
The couple "continued to argue for hours," and Jacobs allegedly called Stanton's girlfriends for help. The argument continued when the girlfriends left.
"While Jacobs was lying in bed with Stanton, she started to argue again," the report read. "Stanton took the room phone and swung it at Jacobs hitting him in the body. When Stanton and Jacobs started fighting again, Stanton tried to kick Jacobs, causing her to fall."
She allegedly then continued to scratch and pinch Jacobs on his arms and body. Her friends allegedly called security about the disturbance after noticing his injuries.
According to the report, Jacobs' injuries included "a small abrasion on his left knee, small abrasion on his right knee, small abrasion on his right arm, reddening, small mark on right bicep."
She was arrested and taken into custody. The Clark County District Attorney's Office dismissed the case in December 2018.
Article continues below advertisement
Stanton, who insisted she doesn't have a problem with alcohol, explained how she doesn't regret the incident.
"Despite everything, if I could take it all back, I wouldn't," she wrote. "I'm lucky that my friends and family know me well enough to stand by me, and their love and support really showed through this incident. I faced no judgment from my closest friends when I got back and no one made me feel less than for a careless situation that happened in Vegas. I'm so grateful to know and love the people who have my back through everything. This incident has made all my relationships stronger."
Stanton and Jacobs split in April 2019.