Tori Spelling Pokes Fun At Financial Woes On 'BH90210': 'I Can't Pay My Rent!'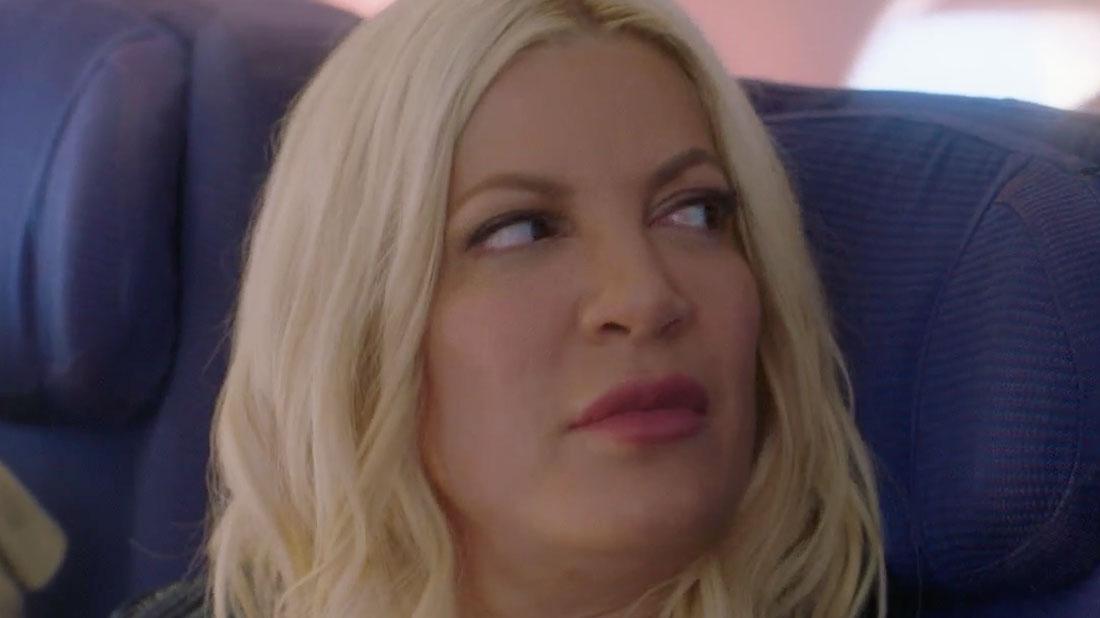 Tori Spelling may have blown off questions about her financial woes in a recent interview, but she was all too eager to poke fun at her infamous money problems on the Beverly Hills, 90210 reboot premiere!
On the August 7 kick-off episode, the actress, 46 — who plays a fictionalized version of herself on the new series — makes her show debut by complaining to costar Jennie Garth about her financial stress.
Article continues below advertisement
When the TV Spelling insists on posting photos of herself on Instagram during a flight to the Las Vegas 90210 reunion convention, Garth says her pal is "out of her mind."
"What I'm out of is money!" Spelling whines.
The next scene brings the viewers to Spelling and her fictional husband Nate's reality show, Tori & Nate: Spelling The Beans.
"All these bills! $842 for Mommy & Me yoga?" she complains. "Great, now I can't do that anymore. Namaste here!"
A director then tells the star her reality show is cancelled.
"Stuff just keeps happening to me!" Spelling tells Garth back on the flight, before taking a jab at her 2015 lawsuit against Benihana restaurant. "And just when I think things are slowing down, boom, I fall on a hibachi."
She then says she needs another season of her reality show.
"I need that paycheck. Mama's got six kids! Do you know how much college bribery money I'm going to need?" she tells Garth. "At least this reunion is going to cover our bills for a month!"
Article continues below advertisement
Spelling's jokes about her family continue when she complains the stars don't receive any commission from show merchandise sales at the reunion.
"No wonder I can't pay my rent!" she exclaims.
As RadarOnline.com has extensively reported, the mom of five and her real-life husband, Dean McDermott, have suffered from money problems in recent years. They are currently in a lawsuit with City National Bank after allegedly failing to pay back a $400,000 loan.
Though the bank was awarded a judgement of over $200,000 in 2017, the bank claims the couple has yet to pay up.
A bench warrant was issued after she failed to appear for a court hearing. The warrant was dissolved in April, as she agreed to produce documents and meet with attorneys.