Brooke Burke's New Man's Ex Accused Him Of Sex Tape Threat, Verbal & Emotional Abuse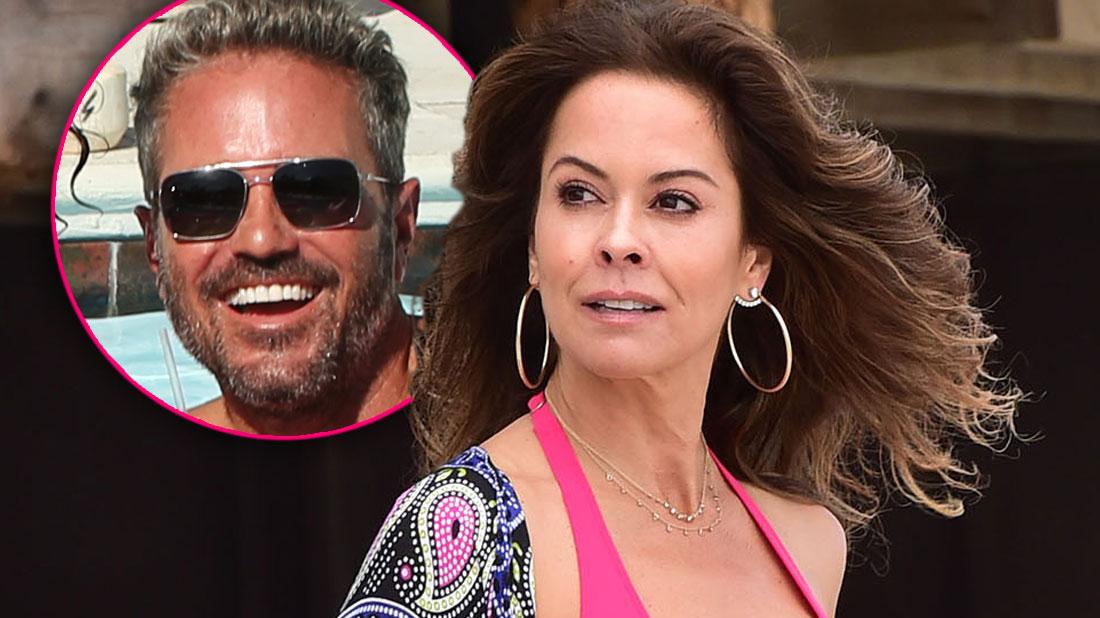 WARNING: GRAPHIC CONTENT BELOW
RadarOnline.com has exclusively learned Brooke Burke's new boyfriend, real estate agent Scott Rigsby, just settled a nasty divorce a month ago with his ex — who was granted a domestic violence restraining order against him!
According to court documents obtained exclusively by RadarOnline.com, Rigsby has to pay his former wife, interior designer Heather LaCombe, $400,000 in the settlement and $8,500 in monthly child support for their two young children. The two agreed to share legal and joint custody of their daughter and son — but only after LaCombe filed for a domestic violence restraining order on August 25, 2017, for herself, the children and her boyfriend, Todd Thompson.
Article continues below advertisement
LaCombe, who was already separated from Rigsby at the time, claimed in her shocking declaration that her ex threatened to send Thompson sexually explicit videos and pictures.
"Respondent told me that he has taken videotapes of me without my knowledge while he was 'f**king me in the a**,'" LaCombe wrote in the legal papers.
"Respondent told me that he was prepared to release and send such video recordings to Todd. ... His threat of releasing tapes particularly to someone I am seeing romantically is unacceptable and criminal," she alleged. "After making this threat, Respondent continued to humiliate and emotionally abuse me by telling me that I enjoyed getting 'f**ked in the a**' and that he enjoyed giving it to me this way. He told me I'm going to make sure your boyfriend knows that."
LaCombe claimed Rigsby verbally and emotionally abused her during their marriage while the children were in their home and within earshot.
Detailing one alleged incident, LaCombe said Rigsby verbally assaulted her on June 24, 2017, when she came home at about 1:45 a.m. While the babysitter was with the children, LaCombe claimed Rigsby verbally attacked her and yelled, "Where the f**k were you?"
"Respondent followed me into the bathroom and continued with his harassment," LaCombe said in the affidavit, noting the screaming woke up the couple's son.
Article continues below advertisement
"Respondent then took our son and shoved him back into his room forcing the door shut and then holding it closed on him while proceeding with yet another verbal assault upon me," she claimed. "The fact that Respondent would behave in this manner in front of the children and/or while the children are present within the home causes me grave concern. I do not believe the children are safe with Respondent in that he clearly lacks self-control and parental judgement knowing full well that they are present within the home and within earshot when he rants and raves."
She also alleged that Rigsby abused alcohol during their marriage, and the drinking, as well as the verbal and emotional abuse, continued even after Rigsby moved out of their Pacific Palisades home in September 2017.
In March 2018, LaCombe and Rigsby agreed to a custody and visitation agreement, but his ex kept delaying mediation for a final judgment on their divorce "as she continues to have all of her expenses paid, and the unfettered ability to spend excessively on clothing, trips and the like, all while traveling with her new companion," Rigsby claimed in the court documents.
Article continues below advertisement
Rigby's attorney said LaCombe initially agreed to drop the domestic violence motion, but restarted the process "in what could and should only be seen as a means to obtain legal advantage."
According to court documents, both parties testified during a trial concerning LaCombe's request for the domestic violence order. Records show their young daughter also testified on June 4, 2018.
After the trial, the court granted LaCombe a one-year restraining order against Rigsby, which was to expire at noon on June 4, 2019.
In his declaration filed in 2018, Rigsby responded to LaCombe's abuse claims, and said he has never abused LaCombe or their children. Rigsby added he believed his ex requested the restraining order only as "a litigation strategy" and in retaliation for his request for LaCombe to submit a vocational evaluation. That proof, Rigsby said, would've resulted in lessening his support payments.
"I vehemently deny all of the allegations Heather set forth in her Aug 2017 request for DVRO (domestic violence restraining order)," Rigsby said in the declaration. "In fact, during our 10-year marriage, there has been no history of abuse. The police have never been contacted in response to claims of abuse. Heather has not reported any purported abuse to the officials; and I have never physically, mentally, or emotionally abused Heather or our children."
Article continues below advertisement
The feuding exes finally came to an agreement on their divorce, which was finalized on July 29, 2019 — just a month before Us Weekly broke the news that Burke was dating Rigsby.
According to court documents, LaCombe and Rigsby listed "irreconcilable differences" as the cause of the breakdown of their marriage.
LaCombe got to keep the Pacific Palisades home, and Burke's new boyfriend agreed to pay $1.4 million of the deed's balance. Rigsby got to keep some furnishings and antiques, including a Roy Croft dining table. He also got the 2013 Range Rover and a 2003 Cadillac Escalade.
The couple divided their various bank and retirement accounts and credit cards. LaCombe waived her right for spousal support, but Rigsby agreed to pay his ex $400,000 "as and for a buy-out of spousal support and equalizing payment of property."
The exes also agreed to joint legal custody of the kids with a "2-2-3" custodial timeshare, dividing up the days of the week and holidays.
Rigsby's attorney, Lisa Helfend Meyer, would not comment on the abuse allegations lodged by LaCombe against her ex, or other specifics regarding the divorce, but said Rigsby is a devoted father.
Article continues below advertisement
"Allegations in a declaration filed with the court are just that — they are allegations that need to proven in court," Meyer said. "In the case of Ms. LaCombe and Mr. Rigsby, they settled their differences out of court, in which they agreed to joint legal and physical custody of their minor children. Mr. Rigsby has the children 50 % of the time. From my perspective, and I've been doing this work for over 35 years, Mr. Rigsby is a phenomenal parent."
RadarOnline.com also reached out to LaCombe's attorney, but calls and emails were not returned.
Despite the ugly divorce, it looks like both LaCombe and Rigsby have moved on with their new love interests. On July 3, LaCombe posted shots of her and Thompson kissing on a sailboat.
"A lasting relationship is about three things: memories of togetherness, forgiveness of mistakes and a promise never to give up on each other," LaCombe wrote in the caption.