Lisa Marie Presley Turns Against Priscilla As $100 Million Lawsuit Gets Nasty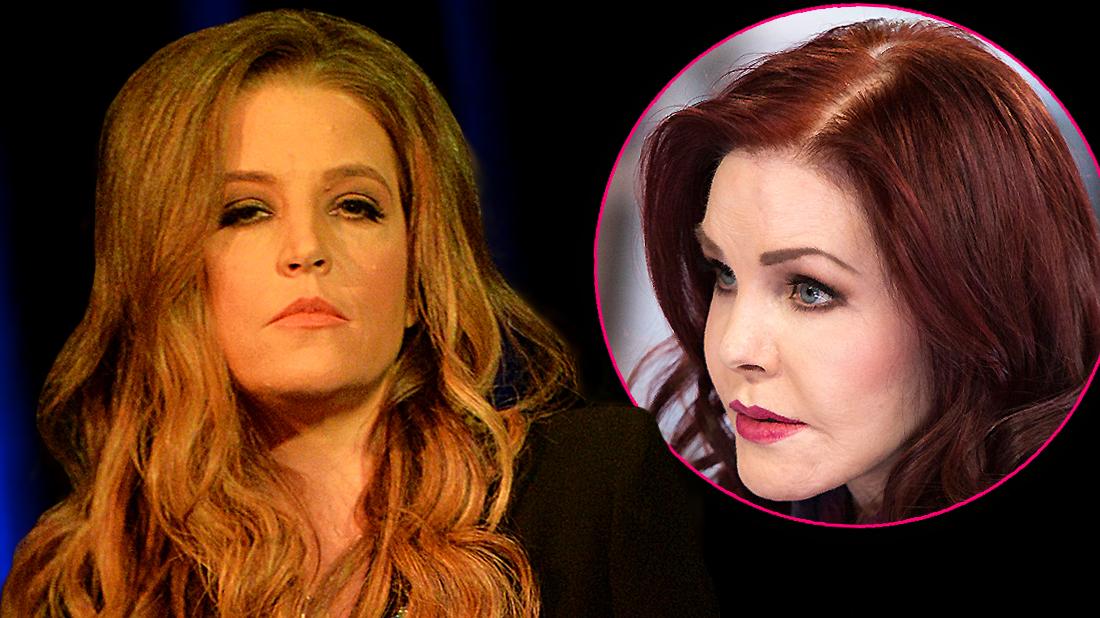 Lisa Marie Presley's stepfather has accused her mother Priscilla of conspiring against her in a bombshell new filing as part of her $100 million lawsuit against her former manager, RadarOnline.com can exclusively reveal.
The daughter of Elvis Presley recruited stepfather Marco Garibaldi to add testimony to claims she was swindled by Barry Siegel.
In a legal preparation obtained exclusively by Radar, businessman Garibaldi, 64, claimed Siegel was originally his own personal manager, and he introduced both Priscilla, 74, and Lisa Marie, 51, to him.
Article continues below advertisement
In the papers, he claimed he was in the room when Priscilla and Barry plotted together to sell off Elvis Presley Enterprises in 2005 – the corporate entity of the Elvis Presley Trust from which Lisa drew her money.
The document, which has not yet been filed in court, states: "This particular day, Mr. Siegel informed Priscilla that Lisa Marie was spending too much money, and there was nothing left. Meaning, both he (Barry Siegel) and Miss Presley were running the risk of having no income from Elvis Presley Enterprises."
"The solution was simple: Sell Elvis Presley Enterprises, and (I quote Mr. Siegel) 'We can put ourselves in the new company and draw a salary from it. I want, at least, $500 thousand a year. You (Priscilla) should keep your $1 million a year,'" he alleged.
"At that point I left the meeting. I didn't mind helping her over the years, but conspiracy to hurt her own daughter utterly crossed all moral boundaries known to me."
Article continues below advertisement
An 85% stake in Elvis Presley Enterprises was sold in 2005, and Lisa Marie retained the other 15%, which her ongoing lawsuit has accused Siegel of then squandering.
Garibaldi claimed Priscilla personally made $13 million from the sale.
Barry Siegel served as a business manager and a co-trustee of Lisa's portion of Elvis Presley Enterprises until she kicked him out of it in 2016.
Her lawsuit, filed in 2018, accused him of allegedly squandering her father's fortune. She claimed she lost $100 million in inheritance.
The lawsuit alleged breach of trust, breach of fiduciary duty, negligence, fraud, negligent misrepresentation and unjust enrichment and accounting.
She accused her ex-manager of "reckless and negligent mismanagement and self-serving ambition."
Garibaldi – who was Priscilla's partner for 21 years and shares a son, Navarone, with her – was never legally married to Priscilla, but describes her as his wife and Lisa as his stepdaughter.
Article continues below advertisement
He claims part of Siegel's method was to get his clients to sign a Power of Attorney document which "allows him extraordinary control over his clients including opening and closing bank accounts, depositing and withdrawing money, making investments, paying bills, applying for credit/debit cards," and that in his dealings, Siegel allegedly ordered signature stamps from the bank, so he could stamp checks and documents on behalf of his clients.
In response to Lisa's lawsuit, Siegel said he repeatedly warned Lisa to watch her spending, but she allegedly only continued to spend more money than her Trust would provide and that her suit made various false accusations.
Lisa, a mother of four, previously admitted she became addicted to drugs in 2013, but after multiple trips to rehab she has said she is now sober.
Separate from her now-decimated Trust, Lisa Marie has an interest in Elvis' Tennessee home, Graceland, from which she receives a monthly payment.