Hayden Panettiere's Boyfriend Viciously Beat Her 3 Times In 2 Days, Officer Claims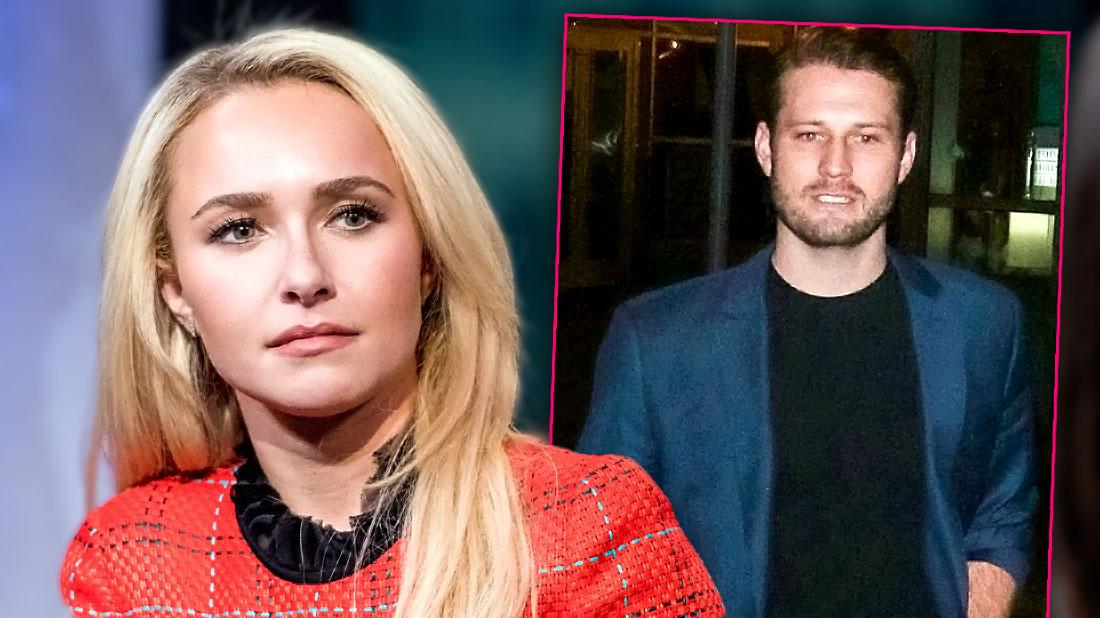 A Los Angeles Superior Court judge ruled on Wednesday, July 10 there was enough evidence for Hayden Panettiere's boyfriend, Brian Hickerson, to face a felony charge in connection to an alleged domestic violence incident involving his famous girlfriend, RadarOnline.com can exclusively report.
Hickerson, who is out on $50,000 bond, was ordered to appear in court in two weeks for his arraignment.
The 30-year old remained silent as an LAPD officer testified in court concerning the May 2 incident.
Article continues below advertisement
As Radar previously reported exclusively, on Thursday, May 23, a Los Angeles judge issued a protective order against Hickerson preventing him from coming within 100 yards of the Nashville star after he was arrested on a felony domestic violence charge May 2.
During the terrifying May 2 physical altercation, the prosecutor told the court Panettiere, 29, sustained injuries and bruises to her arms, ear, and neck area.
"He hit her on the face, causing her to get dizzy," the prosecutor said at the May 23 protective order hearing in Los Angeles court.
He pleaded not guilty to the charge.
Officer Amber Findley testified on Monday, July 10 that she and another officer responded to a call at a Los Angeles home at about 1:45 a.m.
As she approached the home, Findley said she heard a female voice from in side the house say, "Ow, ow, ow! You're hurting me!"
Article continues below advertisement
Findley said Hickerson answered the door and initially said he was alone with his dogs. He told the officers that the female voice they heard was just the television. Hickerson eventually let the officers inside the home where they found a bruised and swollen Panettiere in an upstairs bedroom, Findley testified.
"I think the reason why he didn't want to tell us Hayden was inside was she was a celebrity," Findley said. "Right off the bat, I noticed that she had bruising on her eyelids, a swollen face. She did have marks on her neck, the left side. When I continued to talk to her she removed the sweater that she had on. I saw bruising on both her arms."
Findley said she took Panettiere into the bedroom where she continued to speak to the actress about what led to the alleged altercation.
Panettiere told the officer that she and Hickerson were drinking at Cabo Cantina in Hollywood earlier that night and then went back to home. She said when they were at the front door of the house, she and Hickerson began to argue, and he allegedly struck her three times on the face with an open palm.
Article continues below advertisement
"The third time, he caused her nose to bleed," Findley testified. "The continued to argue within the residence, and one point the victim went upstairs to the master bedroom to go to sleep. The defendant got on top of her and with hands grabbed her on the left and right side of her face. The victim described the altercation as they began to grapple. He was on top of her and grabbed her face, I believe by the hair. They began to grapple and then she extended her arm outwards to gain distance."
When asked by Deputy District Attorney Lisa Kassabian if Panettiere appeared intoxicated when she was interviewing her, Findley said Panettiere was "jumping around" on her answers, and had to ask the actress the same questions several times. The officer added Panettiere did understand the questions and readily provided answers.
Findley said Panettiere also told her about a prior incident that involved Hickerson. Panettiere said she and Hickerson they were in Puerto Rico the day before, where her boyfriend also harmed her.
Article continues below advertisement
Findley then went over various pictures of Panettiere and described the actress' injuries, which included swelling and bruising on the right side of Panettiere's face, discoloration on both of the eyelids and several brown bruises on Panettiere's upper left arm, which also had a bite mark.
Panettiere also had bruising on the left side of her neck and scratches on her back, the officer testified.
Findley testified Panettiere told her that she sustained the bruises on her arms during the Puerto Rico trip when she and Hickerson had another fight.
Defense attorney Robert Hankoff asked the judge to dismiss the charge because the couple had been grappling, "which usually implies a mutual combat between two parties." Hankoff said both Panettiere and his client had been drinking, and that there was not enough evidence to support the domestic violence charge.
"That's not going to fly today," Judge David Fields said to Hankoff before denying the motion to dismiss the criminal charge.
Article continues below advertisement
Hankoff then asked the judge to consider a lesser misdemeanor charge because Hickerson had no prior charges and, "this was grappling" and "it wasn't choking," and that the alleged conduct involved did not rise to a felony.
Judge Fields, however, did not agree, and ordered Hickerson to face the felony domestic violence charge.
"I understand he has no record, but the problem I have, counsel, is that this was not the first attack," Judge Fields told Hankoff. "Just very recently, prior to this in Puerto Rico, something happened ... and those are the marks on the victim. This happened twice this time. It wasn't enough for him to cause her nose to bleed by hitting her with an open palm ... he followed her into the bedroom and was the aggressor again, causing that severe swelling and bruising on the cheek and marks on her neck. Give that, in my mind, the evidence has shown these are three different attacks by your client on this victim, once in Puerto Rico and twice that night ... I'm going to hold him on the felony."
If convicted, Hickerson could face a maximum of four years in state prison, Kassabian told Radar.
Radar readers know, Panettiere's family are "deeply concerned" about the rehab-alum actress' relationship with her bad news man, but they believe she is still secretly seeing him.
The actress' hard-partying boyfriend also allegedly "beat up" her brother Jensen "twice" — one of which allegedly happened during a vacation with her family to San Ignacio, Mexico, sources previously revealed exclusively to Radar.
The scary incident happened when the family was scheduled to go out of the country for a whale watching trip with the Whaleman Foundation, according to the informant.
"There was commotion in the hallway of the hotel and the two were separated," spilled the snitch. "Brian was out of control and drank too much."
While insiders tell Radar exclusively that "Jensen was very hurt" and "security was called," no police report was ever filed.