Demi, Justin, Hailey & More: Stars Slam Taylor Swift In Scooter Braun Feud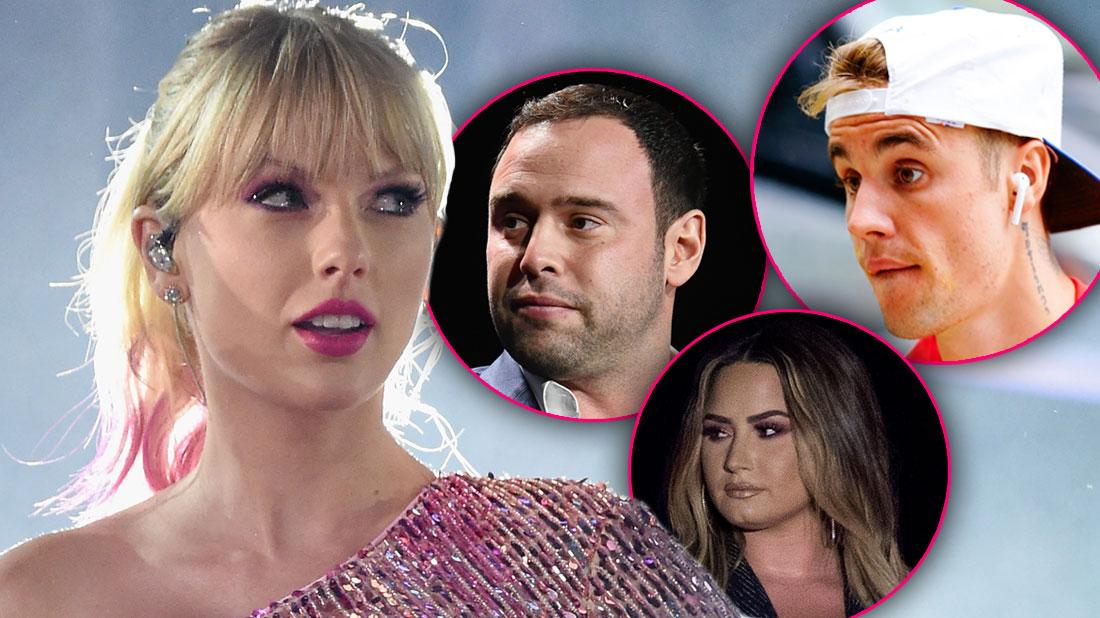 Taylor Swift is not making any new friends in Hollywood amid her feud with talent manager Scooter Braun.
Hours after the "Reputation" singer blasted Braun, 38, for purchasing the rights to her first six albums while allegedly "bullying" her for years, angry celebrities fired back.
"I have dealt with bad people in this industry and Scooter is not one of them. He's a good man. Personally, I'm grateful he came into my life when he did. Please stop 'dragging' people or bullying them. There's enough hate in this world as it is," Demi Lovato wrote on her Instagram story. "Y'all can come after me all you want but I'm always gonna stay loyal to my team. I value loyalty more than most people in this world and if my name is gonna be brought into conversations I'm gonna stand up for myself and the ones on my team."
Article continues below advertisement
Lovato's post came after Swift, 29, claimed Braun got his clients to bully her on social media.
In her scathing post about the entrepreneur, Swift took a screenshot of an old Instagram post by Justin Bieber, in which he, Braun, and Kanye West were Face Timing each other following her fight with the rapper.
"Taylor Swift what up," Bieber, 25, captioned the post at the time.
Swift used Bieber's post as an example of Braun's "incessant, manipulative bullying."
Seeing his nasty post shared by Swift, Bieber responded with a new one.
"First of all I would like to apologize for posting that hurtful Instagram post, at the time I thought it was funny but looking back it was distasteful and insensitive," Bieber wrote alongside an old photo of him and Swift.
He then went on to defend his talent manager.
"Scooter has had your back since the days you graciously let me open up for you!" Bieber added. "As the years have passed we haven't crossed paths and gotten to communicate our differences, hurts or frustrations. So for you to take it to social media and get people to hate on scooter isn't fair. What were you trying to accomplish by posting that blog? seems to me like it was to get sympathy u also knew that in posting that your fans would go and bully scooter."
Article continues below advertisement
"Anyway, One thing i know is both scooter and i love you. I feel like the only way to resolve conflict is through communication," he continued. "So banter back and fourth online i dont believe solves anything. I'm sure Scooter and i would love to talk to you and resolve any conflict, pain or or any feelings that need to be addressed. Neither scooter or i have anything negative to say about you we truly want the best for you. I usually don't rebuttal things like this but when you try and deface someone i loves character thats crossing a line."
Bieber's wife, Hailey Baldwin, liked his post and commented "Gentleman," which drove Swift supporters like Cara Delevingne mad.
RadarOnline.com readers know Swift shared her rage-filled message about Braun after he purchased Big Machine Records, which owns her first six albums. The singer claimed she learned of the record sale when she woke up and saw it on the news.
She also accused the record label CEO, Scott Borchetta, of tricking her into selling her art and then forcing her to "win" her albums back one by one.
Article continues below advertisement
Reading her allegations, Borchetta, 56, fired back.
"In regard to a post earlier today from Taylor, it's time to set some things straight," he wrote in a statement on the label's website. "As you will read, 100% of all Taylor Swift assets were to be transferred to her immediately upon signing the new agreement. We were working together on a new type of deal for our new streaming world that was not necessarily tied to 'albums' but more of a length of time."
He added that as a small record label, the deal they offered Swift was "extraordinary," and though she claims she didn't hear the news until she saw it online, her father, Scott Swift, learned about it five days prior to the announcement, as he's a shareholder in the company.
Swift has not responded to her haters' comments, and on her side of the fight are other pop divas like Halsey, Nicki Minaj, Miley Cyrus, Lana Del Rey, Selena Gomez, Rihanna and Adele, all who have since unfollowed Braun on social media. Gomez's mom even shared a sweet message of support to Swift by reposting her comments about Braun.
Ariana Grande, who is one of Braun's clients, has also quietly deleted her post congratulating Braun on acquiring Big Machine Records.