Brielle Biermann's Baseball Player Ex Michael Kopech Gets Engaged To Riverdale Star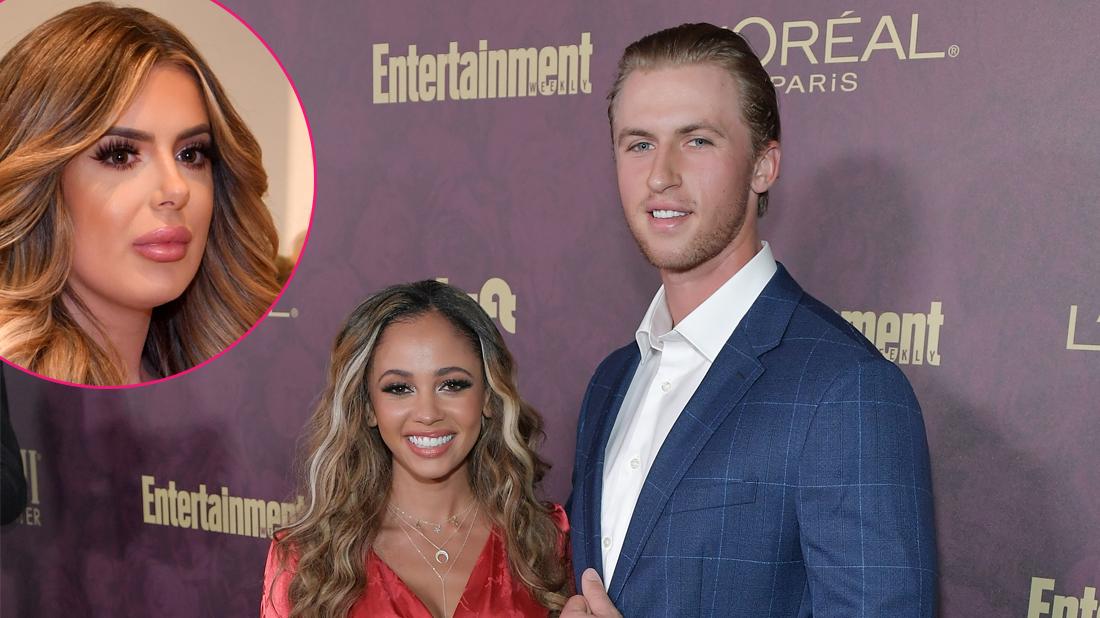 Brielle Biermann baseball player ex-boyfriend has moved on after their nasty breakup.
Michael Kopech just got engaged to Riverdale star Vanessa Morgan
Kim Zolciak's daughter, 22, who stars on Don't Be Tardy, dated Kopech, 23, for two years from May 2016 to March 2018, while he was still a prospect in the Chicago White Sox minor league farm system.
On Wednesday, July 3, Kopech revealed that he'd popped the question to actress Morgan, 27, while they were on a romantic getaway. The two have dated more than a year.
Article continues below advertisement
Kopech's Instagram video showed him asking Morgan to be his wife while they stood in front of a waterfall in Mooney Falls, Arizona.
The TV beauty looked stunned and put both hands over her mouth before kissing Kopech, who was kneeling.
Kopech wrote as a caption to his beloved, "So I'll start with the obvious: I love you. I love you intensely, passionately, & also at times, recklessly."
He continued, "I make decisions on the spur of the moment (i mean look at how our relationship has gone up to this point). I'm a very non traditional type of person and I know I've found my match in you when it comes to that especially."
Kopech told Morgan in his post, "Our relationship probably doesn't make sense to many people for a sh*t ton of reasons, but we're not doing it for them. We know this is forever. Why would we wait? Lol."
Morgan wrote with her own Instagram photo of the emotional event, "My forever," to Kopech, along with the face with tears of joy emoji, the ring emoji and a small heart emoji.
In March 2018, Biermann's mother, former The Real Housewives of Atlanta star Zolciak, confirmed her daughter and Kopech had broken up.
Article continues below advertisement
Biermann herself later revealed that the pitcher had wanted to take a break -- and she remarked in a salty interview with TOOFab in February, ''I'm not gonna wait on you, dude. You clearly wanna go f*** around."
"You think I'm stupid? I'm not stupid. I'm not gonna be waiting for you to return. I have a life, too. He was like, 'In a year, we can date.' I was like, 'Are you insane?' No."
As RadarOnline.com previously reported, Biermann and Kopech called it quits right before her 21st birthday -- and then she flaunted her bikini body.
In 2015, she had broken up with her previous boyfriend, Slade Osbourne.
As RadarOnline.com exclusively reported, a source said Kim and her girl are getting huge raises to continue on Bravo's Don't Be Tardy.
But now, young hottie Biermann's second major beau is in the arms of his fiancée.
Kopech gushed to Morgan in his post, "You literally stayed by my side when I felt I had lost my mind. You stayed by my side for these seemingly random changes of my life. You stayed when often times I didn't deserve it. You've loved me for ME from day one. Completely unselfishly.
Article continues below advertisement
"You're undeniably the spark that reignited my fire. You're deserving of much more than just this moment but this one just felt particularly magical. I'm incredibly humbled by the love that you give and I only hope I can portray a fraction of the love and light that you carry with you,' he wrote.
As far as his baseball career goes, Kopech is currently on injured reserve, recovering from Tommy John surgery.