This Affordable Eyebrow Product Is Kyle Richards' Secret Weapon For Enviable Brows
Kyle Richards may have a taste for the finer things in life, but her beauty regimen is actually quite affordable!
The Real Housewife of Beverly Hills star revealed what's inside her makeup bag and we learned a lot about what her daily routine is like. Her everyday essential? It's all about the brows and the 50-year-old relies on this bestselling eyebrow gel to perfect them!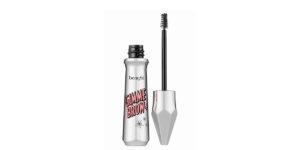 Article continues below advertisement
The Benefit Cosmetics Benefit Gimme Brow+ Volumizing Eyebrow Gel is an everyday essential for Richards, who told Bravo that she uses this exact product to tame her brows.
"I have bushy eyebrows and they're unruly so I have to sort of use this brow gel to keep them in place," she said.
This brow eyebrow gel features a brow volumizing tinted gel with tiny microfibers which can help to create a natural-looking eyebrow that's full of definition.
Available in eight shades, shoppers can choose from shades as light as cool light blonde all the way to a deep war black brown. With such a wide range of shades, this means it will seamlessly blend into our current hair color and leave our brows looking as natural as ever!
Richards' isn't the only one loving this brow gel either. Across the board, reviewers are swooning over how perfect this product is! One reviewer said this eyebrow gel gave the quickest and most convenient full brows ever. Another shopper said they finally found the right color for their brows with this gel and felt incredible!