Leah Messer's Twins Want To Poison & Pinch Her Boyfriend Jason: 'I Don't Like Him!'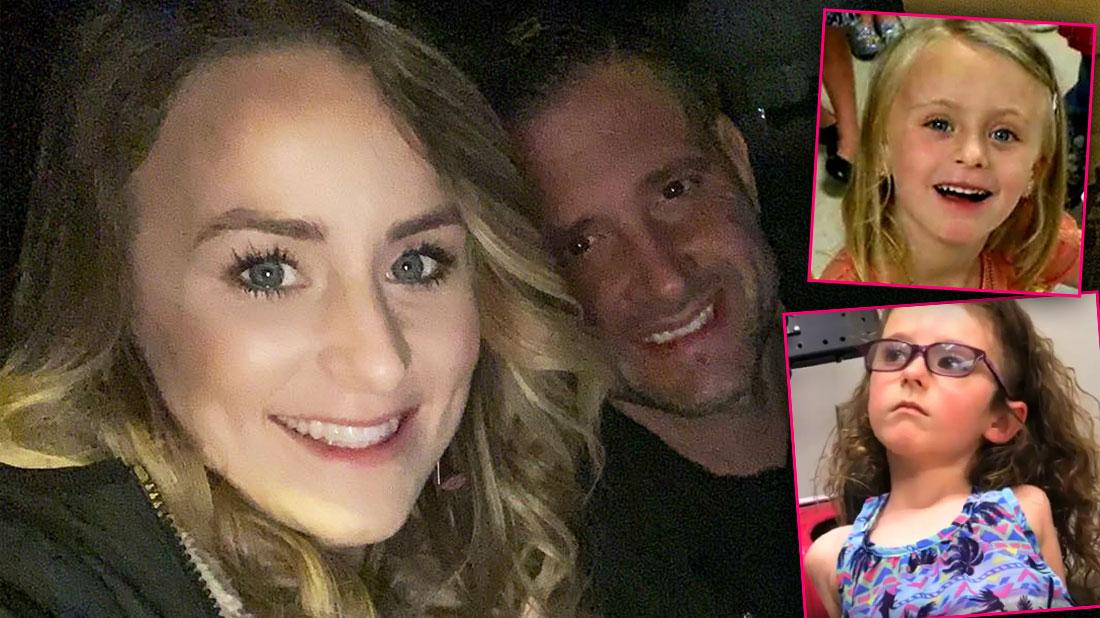 Leah Messer and her boyfriend Jason Jordan broke up after nearly a year together. Despite going strong on Teen Mom 2, her three daughters revealed they aren't too fond of Jason on this week's episode.
Leah revealed how her daughter Addie with ex-husband Jeremy Calvert claimed her twin sisters Ali and Aleeah said "mean things" about Jason when he told them to go to bed.
"She told me you guys said you wanted to poison Jason and Ali wanted to pinch him," Leah told the twins.
Article continues below advertisement
They denied their younger sisters claims.
"Jason has never been mean to you guys, not once," she said. "If you guys feel some type of way you need to talk to us. It's an adjustment. Instead of it just being mommy, it'll be all of us. Someday we will probably all live together. Do we know when? No. It's going to happen."
When Addie denied making the claims up, Aleeah admitted she was "kidding" about poisoning Jason.
But when she asked if the girls "love" Jason, they didn't respond.
"Yes or no?" Leah asked again, as Aleeah responded, "Sure."
Addie added, "I like him as a friend, but I don't like him."
Leah then talked to Jason about the issue, explaining how things are different with Jason because there are two sets of eyes on them now.
Jason then revealed just how strict he really is.
"There has to be an alpha in this house when a mouth keeps going on and on," he said. "I'll shut the Internet off. You are softer. I'm not. My dad was military. I don't want to be a stepdad dictator. But I told them that day, you're going to respect what your mother says or you'll sit on this couch all day long, nobody will move."
Article continues below advertisement
He added, "It's going to be interesting, that's for sure."
Also on the episode, there was a disclaimer for Jenelle Evans' first scene.
"A few weeks ago, David texted producers that he would show up during any upcoming Jenelle shoots and force production to shut down," it read of David, who was fired from the show because of homophobic comments. "Because of this, MTV crews are no longer able to travel to NC to film with Jenelle."
Jenelle's producer was forced to FaceTime her. She asked her about Teen Mom OG star Amber Portwood slamming her controversial husband David.
"Amber on Teen Mom OG is saying stuff about my husband and this is getting to be way too much," she said. "I don't know why Amber is getting involved. She's on a different show so it doesn't make sense to me. Last time she saw me we all went out to eat in NYC. She met David and hung out with him all night. I haven't even talked to her on a personal level pertaining to my life or marriage. I reached out to say stay strong after watching an OG episode."
Article continues below advertisement
When Amber told her to get out of her marriage to David over social media, Jenelle responded with a video of her own slamming Amber.
Chelsea Houska had a scary incident on this week's episode. While on a family vacation in Colorado, they returned home to find their home broken into.
Her husband Cole DeBoer explained of the situation, "She walked into our room and she said, 'Wait something is not right in here.' I went into our room. Our closet was destroyed. S**t everywhere, bins dumped. I'm running into every room in the house thinking someone is hiding in a closet. I was the most pissed I've ever been. Once I knew no one was in here I called the police."
Chelsea added that she "wants to move."
When Cole is at work, she has been staying at her mother's house.
"The cop was asking how our relationship was with Adam Lind and I was like, you never know," she said of her troubled baby daddy. "We had laptops out and they didn't take it. The only things we noticed were bags, jewelry, a pearl bracelet. If someone broke in while I was there, I would have two babies. It wouldn't be easy."
Article continues below advertisement
Also on the episode, Briana DeJesus' boyfriend John met her mom for the first time.
While out to dinner, Roxanne asked, "You like kids? Do you have any kids? Why hasn't it happened yet?"
He responded, "I've been very careful. I'm not trying to toss kids everywhere. Family is big to me. The fear of me having a kid and then taking it away from me, child support, it's scary. That's a man's biggest fear I think. 21 years of your life."
Roxanne told her daughter that John seemed "polite and nice."
And finally, Kailyn Lowry attended her sister's baby shower and offered her advice on raising a child with a significant other.
Teen Mom 2 airs Mondays at 9/8c on MTV.