Pricey Love! Kylie Jenner Posts Billboard Birthday Message To Baby Daddy Travis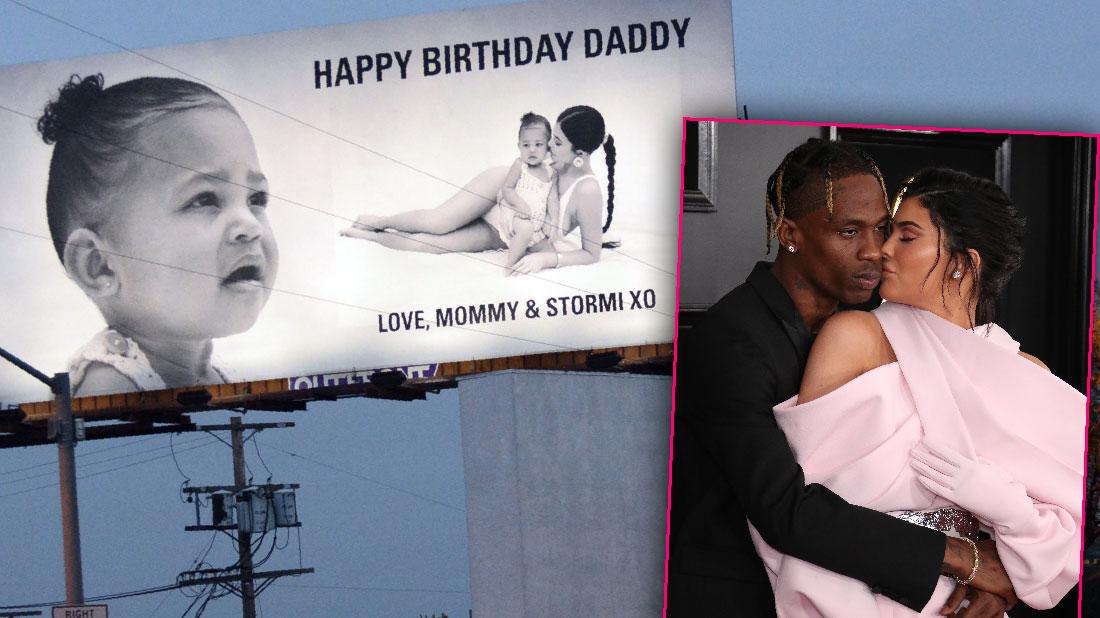 Kylie Jenner wished baby daddy Travis Scott a happy birthday in style!
The KUWTK star, 21, purchased a billboard and on Friday, April 26, 2019 it loomed over West Hollywood.
The ad features a black and white close-up photo of the couple's daughter Stormi, 14 months, as well as a photo of the mother-daughter duo posing together.
"Happy birthday daddy," the massive display of affection reads. "Love, Mommy & Stormi xo."
Article continues below advertisement
The billboard was a little early as Scott will celebrate his actual birthday this Tuesday, April 30.
Kylie's show of affection comes just weeks after Scott was caught in an alleged cheating scandal.
"Kylie got anonymous messages from a woman claiming to be Travis' side piece," a source told RadarOnline.com. "The woman had no proof, but Kylie flipped out."
The rapper denied infidelity and they patched things up, according to the RadarOnline.com insider.
A few days after the drama, he professed his love for Kylie during a show at Madison Square Garden.
"I love y'all N.Y.C.! Love you wifey!" he screamed from the stage, although the two aren't actually married. Scott also advised concertgoers to "remember to keep your family first."
Now it's the singer's "birthday weekend," as on Thursday night, Kylie arranged a party including a private screening of the Avengers: Endgame movie for Travis.
On social media, Kylie wrote, "Happy end game everyone," of the movie that officially came out on Friday.
The Kardashian/Jenner clan always celebrates their milestones in style. Kylie and Travis recently marked her and Scott's daughter Stormi's first birthday.
Lip kit maven Kylie stunned fans by getting pregnant at a young age by Scott.
They still haven't wed, but Scott recently promised Rolling Stone, "We'll get married soon. I just gotta sturdy up—I gotta propose in a fire way."