Blake Lively Reveals Battle With Anxiety, Depression Before Marriage To Ryan Reynolds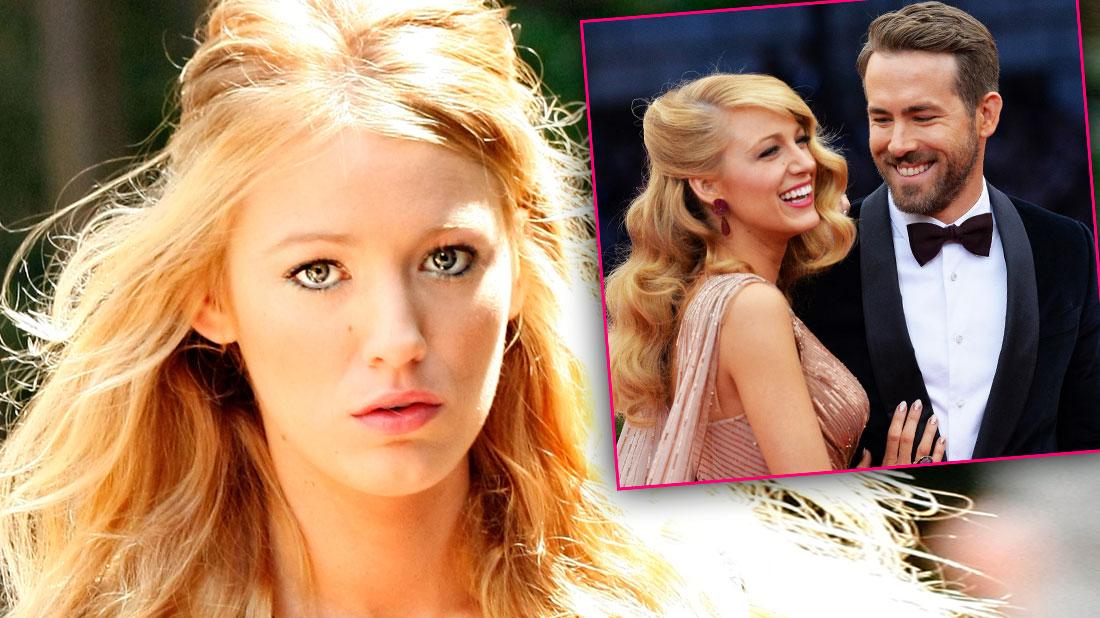 Blake Lively may now be known as the Gossip Girl beauty queen and Hollywood bombshell wife of Ryan Reynolds, but in her teenage days, the actress suffered from extreme anxiety stemming from years of being bullied.
During an interview with Psychologies magazine, Lively, 31, opened up about everything from her childhood traumas to her now happy marriage.
"I was pretty shy growing up I had problems with some of the other girls in high school. And, because I was tall, I felt insecure about standing out in a crowd when I really just wanted to disappear and be alone," she admitted.
Article continues below advertisement
Though Lively's supermodel physique played a big part of her mean-girl role in the teen series, she said she actually saw it as a downfall before she became comfortable in her own skin.
"I was kind of withdrawn and I spent a lot of time by myself lost in my own thoughts," she said. "It wasn't until I began taking acting classes that I was able to overcome my shyness in social situations. When I was 15 or 16, I started becoming much more outgoing and enthusiastic with people."
Being in front of the camera helped her become more secure with herself — both physically and emotionally.
"I had spent so much time being this strange introvert but, deep down, I was longing to have fun and be expressive," Lively told the U.K. magazine.
Raised in Los Angeles, Lively landed her breakout role at age 18 when she played sporty beauty Bridget in The Sisterhood Of The Traveling Pants.
Two years later, she was Serena van der Woodsen — the "it girl" of the Upper East Side — in Gossip Girl.
Article continues below advertisement
Success and wealth, however, didn't stop her from being haunted by insecurities.
"As a young adult when you're living on your own and making your own way in life you can lose that confidence, especially in this business," said Lively. "A lot of self-doubt started to creep into my head, even though I was on a successful TV series."
While she had a growing crowd of adoring fans, Lively still couldn't get away from the anxieties that plagued her past.
"I went through so much soul-searching and it took me several years to regain my confidence," she said. "But I also think so much of that just had to do with struggling to figure out who you are, especially in your twenties."
Lively was 23 when she started dating Reynolds, 42, after meeting him on the set of 2010 superhero film Green Lantern.
Their 11-year age gap made no difference to Lively, who said she fell in love with the hunk after initially becoming "best friends."
Article continues below advertisement
"I knew he'd be my best friend for my whole life," she added. "That was the biggest thing for me. I'd never known anything like the friendship I had with him. I liked him as much as I came to love him."
Married on September 9, 2012, the pair share two daughters: James, 4, who is named after Reynolds' late father, and Inez, 2.
While Lively said Reynolds helped melt her insecurities and change her life for the better, the actor, too, once battled with extreme anxiety.
Speaking to The New York Times in 2018, the former party-boy said he's "always had anxiety."
Six years into his marriage to Lively, he even attended therapy to help solve his issues and cure his depression.
In interviews, he's often gushed about he's lucky he is to have Lively around "to keep me sane."
Now, the two are happy and healthy raising their kids in the quiet town of Bedford, in upstate New York.
Article continues below advertisement
"Married life has been wonderful. Ryan and I like doing everything together," Lively told the magazine. "He loves helping me choose things for the house, he's interested in all types of cuisine, and he says he loves everything I cook for him — he's such a good liar!"
The actress said that she and her hubby's bond extends outside their home, as they often help each other practice for their on-screen roles.
"We help each other when we're preparing our characters for a new film, too. It's great to be partners like that with someone you love," Lively said.
Now, she's getting ready for the November 2019 release of her upcoming film, The Rhythm Section.
"I did ride-alongs with police on drugs busts and spent a lot of time walking through alleyways talking to addicts, some of whom ewer just teenagers," she said of the complex role. "It was the hardest things I've ever had to do."
Article continues below advertisement
Being on the big screen has certainly helped Lively break out of her shell, but in general, her personality remains more reserved than fans would expect.
"I am much less inhibited and more open with people than I was when I was younger," she said. "Acting did that for me. But I'm still slow to make friends. I'm not the type of person who meets someone, and, after a few minutes, I want to exchange phone numbers. It takes me some time to feel comfortable with someone."
Still, acting remains her best therapy.
"I get to project myself into all these dark spaces and indulge in a lot of heavy psychological states — that's what I love about acting," she continued.