Teresa Giudice Admits She Told Joe She's Leaving Him After Deportation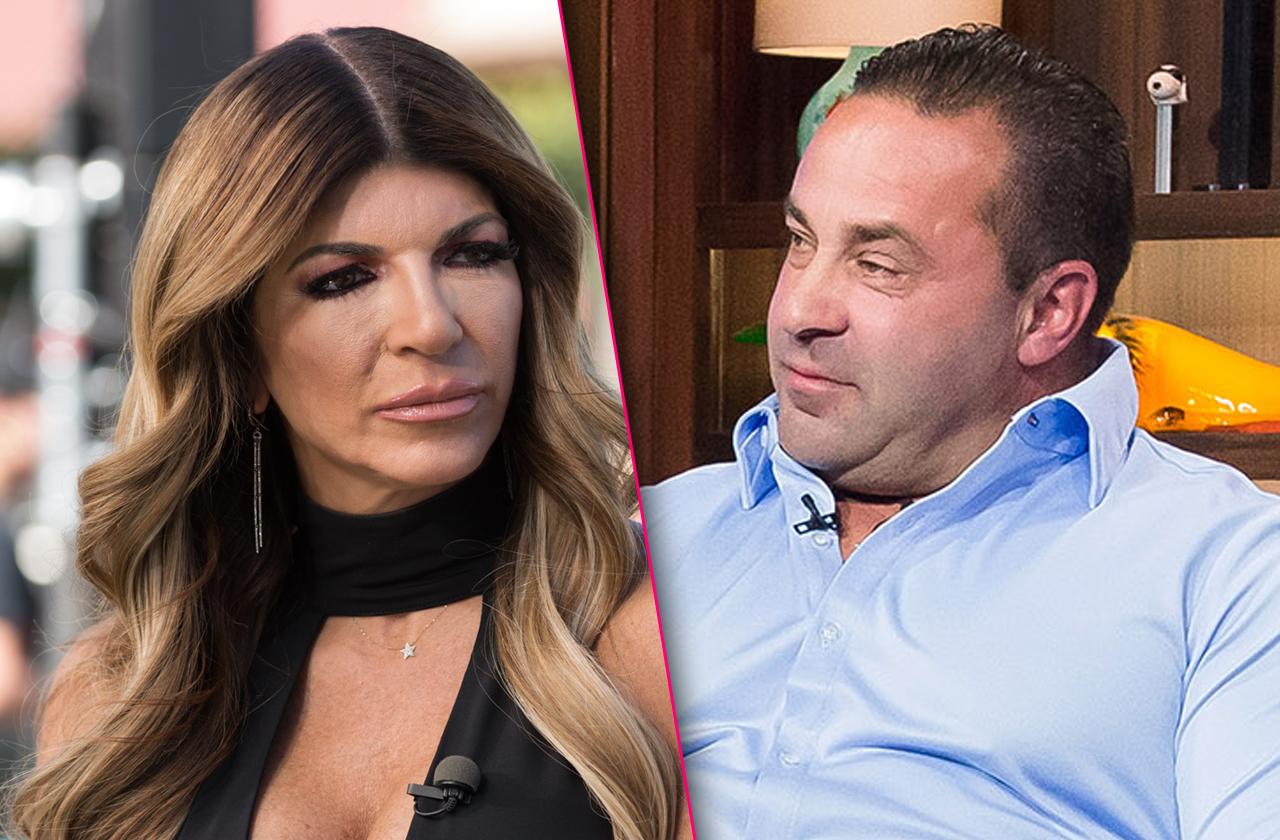 On the final installment of The Real Housewives of New Jersey reunion, Teresa Giudice dropped a bombshell — her marriage to jailbird husband Joe will be over for good if he is deported to Italy.
"This man is the one and only love of your life, but what you're saying is that you would split up? That's what you're saying?" host Andy Cohen asked, picking up where he left off in the last episode.
"I mean unless my kids say, 'Mommy I want to move to Italy.' But Gia is going to college next year. I haven't spoken to Milania or Audriana about it. We haven't gotten there yet. And Gabriella has already voiced her opinion to me. She was like that would be so hard for me, Mommy. She doesn't speak the language. She's like, 'That would kill me even more.'''
Article continues below advertisement
"It's like starting a whole new life," Teresa, 46, continued. "And they've been through so much already, so I mean I'm not doing a long-distance relationship. I want somebody with me everyday and I know exactly what happens. I'm sure he will be with other women. It happens. So if we do the long distance thing, it's not gong to work. I'd be like, 'Bye bye."
"That's the most definitive you've been on this topic. It's kind of a big thing. Is this something you've discussed with Joe?" Andy asked.
"We hate to talk about it, so believe it or not, we've only talked about it once," Teresa replied. "But he said it, too. He said 'Obviously if that happens, I'm going to move on with my life and you're going to move on with your life,' and that's what's going to happen."
"When you two had that conversation, was it tears? Yelling?" Andy asked.
"No." Teresa replied. "Just talking over the phone."
Sister-in-law and costar Melissa Gorga seemed shocked by Teresa's admission that her and Joe would split if he was deported back to his native Italy, and admitted to Andy that she had never talked about this before with her.
Article continues below advertisement
"But I assumed she wasn't just going to move the girls unless they wanted to go," Melissa explained.
Andy then asked Teresa's brother, Joe Gorga, how he felt about hearing this.
"Listen I don't know," Joe said with a sigh. "I'm super loyal and as soon as I say 'I do,' I do. Unless you deceive me in any which way, that's where I cut you off."
"Well some might argue that he deceived her," Andy argued.
Joe agreed: "That's what I'm saying. And the way he deceived her, yes. He lied, he cheated his family. She shouldn't have went through what she went through. So whatever makes her happy, that's what I want for her."
"I want to be happy. I haven't been happy in a long time," Teresa admitted. "I'm tired of the legal stuff."
Andy decided to then put Teresa in the hot seat when he asked again about her love life.
"You've gotten to this place in your mind where well we could split or go our separate ways. Have you been faithful to him?" Andy asked.
After a long pause, Teresa replied "Yes," before joking about her vibrator. "I do have my Lelo. It's a beautiful thing."
Article continues below advertisement
As RadarOnline.com readers know, Teresa may not have been so faithful. Radar caught the star holding hands with hot boy toy Blake Schreck, 26, during a getaway in Miami over President's Day weekend. The pair was spotted together four times over the weekend, including leaving Teresa's rented condo one morning after a night out.
Andy then diverted the conversation back to her husband.
"Let's go back to Joe being in prison. Do you carry with you a great sadness knowing that in two months, you could be saying goodbye to the love of your life?'
"Yeah. I mean it's a lot to deal with —my children, what's going to happen to my kids. I mean, hey, everyone makes mistakes, but to get deported…that's so sad," Teresa replied. "He's been here since he was a year old. So I'm doing everything I can. I'm spending all this money. I'm appealing it. Like everything. Like whatever has to be done, I'm doing it. I'll fight 'til the end."
Jailbird Joe is expected to be released from prison after a three-year sentence for fraud charges on March 14. A decision on his deportation appeal is pending, though experts told Radar a ruling in his favor would be extremely rare.
As Radar first reported, Teresa will file for divorce after the immigration judge makes his final decision any day now.
We pay for juicy info! Do you have a story for RadarOnline.com? Email us at tips@radaronline.com, or call us at (866) ON-RADAR (667-2327) any time, day or night.