Jenny McCarthy Reveals Barbara Walters' Bizarre Behavior In Shocking 'The View' Exposé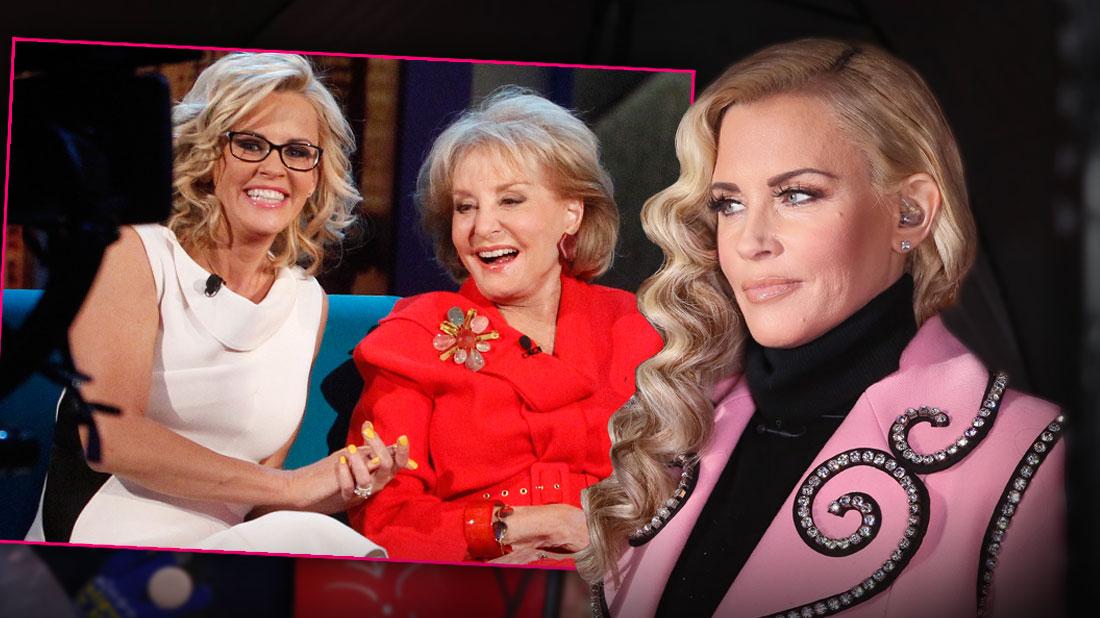 Jenny McCarthy didn't hold back when exposing former boss Barbara Walters' declining health and bizarre behavior in Ramin Setoodeh's new book, Ladies Who Punch: The Explosive Inside Story of "The View,".
After making several guests appearances on The View, McCarthy, 46, became its 11th co-host from 2013 to 2014, but her journey was not easy.
Speaking to Setoodeh about her time in the daytime show, she said dealing with Walters, 89, was by far the most difficult thing she ever had to deal with to keep a job.
Article continues below advertisement
According to Vulture's exclusive excerpt of the new tell-all, McCarthy said Walters screamed at her "for about seven minutes" regarding her controversial views of autism when she was a guest on the daytime show in 2007.
"You're such a liar!" an enraged Walters allegedly shouted.
"Finally, someone pulled me out of the room. I went back to my dressing room, not knowing what the f**k to do. One of my heroes just chewed me a new a**hole, and I'm going on live TV. I'm freaking the f**k out," she recalled.
The producer at the time told McCarthy that Walters didn't want her walking onstage because the audience would clap. Instead, she sat her on the couch, wedged between the rest of the ladies.
When McCarthy finished the interview, she told herself. "I said, 'I'm never going on the f***ing View again. Ever."
A few years later, however, she decided to go on again to promote her book Bad Habits: Confessions of a Recovering Catholic.
Article continues below advertisement
During that 2012 appearance, Walters was sweet as can be to her — but only because she didn't remember her at all.
"She fully read my book cover to cover," McCarthy said. "She came to my dressing room and quoted dirty stories from it, asked me to autograph it for her, and she had no recollection that I had been there before. She was hugging me, loving on me. I was like, 'This is the craziest f***ing s**t I've ever experienced in my life.'"
A year later, CBS offered her her own daytime show, but hearing that there was a spot available on The View (following Joy Behar's temporary departure) she turned it down. On July 15, 2013, Walters cheerfully introduced McCarthy as the new co-host.
As a new panelist, McCarthy had to deal with much backlash over her autism controversy. To avoid fan hate, the network put her in charge of pop culture.
One day in Hot Topics, McCarthy talked about Katy Perry dating John Mayer.
Article continues below advertisement
"I saw Barbara's face with her big saucer eyes look at me," McCarthy recalled. "Then we went to a commercial. She said, 'Who is it that you're talking about and why are you bringing her up?'"
"I'm, like, 'That's Katy Perry. You interviewed her last week!'" she said.
But McCarthy soon realized "that wasn't the right thing to say."
"I felt everyone kicking me under the table," she said, explaining that the other co-hosts had secret ways of communicating with each other when Walters was going off the reigns. "You either had the knee hold or the kick under the table."
During another show, McCarthy referred to herself in the third person when telling a story about meeting a fan.
"Who is Jenny McCarthy?" Barbara asked her on live TV.
Not knowing what to do, McCarthy laughed it off, making it seem like Walters was joking.
"I totally brushed it off. That's where Barbara's head was. She was spacing out. She was checking out," recalled McCarthy.
The network eventually told her to switch to politics to avoid confusing Walters.
Article continues below advertisement
McCarthy told Setoodeh that when she started at The View, she wondered which version of Walters she'd see every day.
"Hopefully, I get the Barbara Walters who is nice," she told herself. But the job and ambiance of the show quickly turned into hell for her and the rest of the co-hosts.
Walters was wrapping up her last year on The View and her memory and health were evidently declining, she said.
McCarthy claimed the mood on set only got worse when Whoopi Goldberg entered the picture and started mediating the conversation over Walters.
The show veteran noticed she was losing power and began taking it out on everyone, especially McCarthy.
McCarthy said that though everyone's dress code was quite relaxed on set, her look was always scrutinized.
"We would all show up in the makeup room," McCarthy said. "Barbara would check out what I was wearing. If she didn't agree with it, or it didn't complement her outfit, I had to change."
She said that over the next seven months she switched about 50 of her outfits due to Walters' criticism.
Article continues below advertisement
"I always had to go put on a sweater," McCarthy said, adding that at one point Walters even began dressing like her.
"There were times when she'd say change, and she'd make people run out and get that dress in her size. I was a human Barbie doll," she recalled.
To protect herself, McCarthy tried to avoid Walters, and when she heard her shuffling down the hallways, she would run, "hide" or get on the phone!
One of the last straws, McCarthy said, came one time when Walters went into the bathroom and found a tampon floating in the toilet.
"Jenny, there's a tampon floating in the toilet and it's disgusting," Walters told her.
"I don't have my period. It's not mine," McCarthy answered.
"Do something about it!" Walters yelled, after which McCarthy had to take one for the team and go flush it.
Apart from her bizarre behavior, it was clear to all that Walter's health issues were only getting worse.
Article continues below advertisement
One day, she collapsed into the arms of a manager after the show and refused to be put in a stretcher, afraid that fans would see her at her weakest. Instead, she locked herself in her dressing room and came out after some time, asking staff to take her to the hospital.
While McCarthy admitted Walters was not always the kindest of co-hosts to her, she knew deep down that it was simply a horrible year for her, and she couldn't fathom a future without the show, the fans and the cameras.
"She kept saying backstage, 'I don't want to go. I don't want to leave,'" recalled McCarthy.
McCarthy told Setoodeh that she ended up feeling bad for Walters, but never got over the fact that Goldberg, 63, took control of the show, with total disregard for Walters' feelings.
"Look at what Barbara did to me. I had zero hard feelings. I loved her like a grandma. She didn't know any better," McCarthy said, adding: "Whoopi knew better."