Brian Austin Texted Luke Perry After His Death, Was 'Hoping That He Would Text Me Back'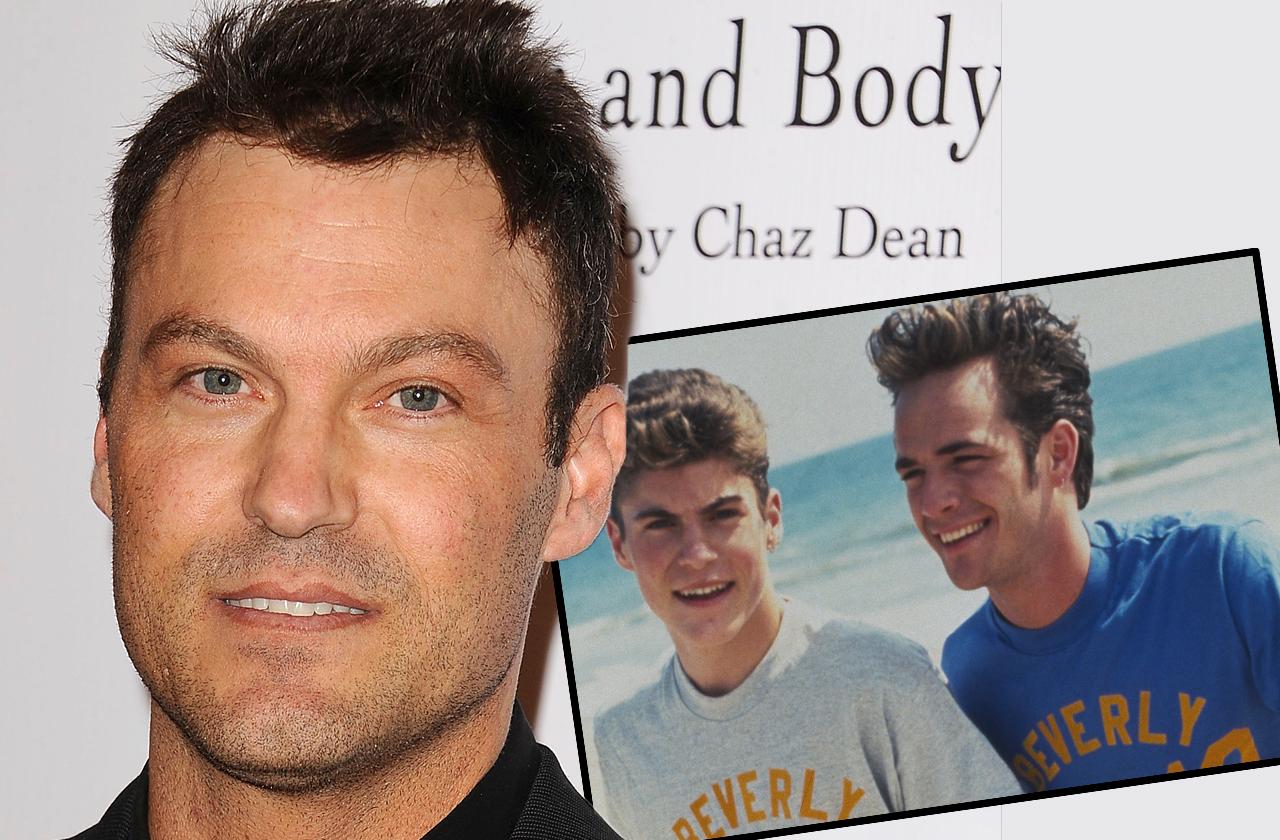 Brian Austin Green is speaking out for the first time about his mourning process following Luke Perry's passing.
This Thursday, March 14, on an episode of his podcast "… with Brian Austin Green," the actor opened up about his tight bond with Perry and the good times the two had while starring on Beverly Hills, 90210.
"Luke was a special guy. I'm still mourning over it so there's a part of me that's kind of shocked that I'm speaking about Luke this way," Green, 45, said. "We all knew that at some point we'd have to deal with losing cast members and friends but not this soon. Not at 52. Not in such an abrupt way."
Article continues below advertisement
On his podcast, Green shared some sweet memories of Perry.
"Luke was one of those people nobody had a bad story about," Green shared, alongside his co-host Derek Russell. "He was just a great guy. And he was Luke no matter where you saw him, no matter when you saw him, no matter what he was going through. He was a rock."
Unlike other of Perry's former co-stars, Green hadn't spoken of his late pal until last week, and while fans quickly shamed him for his delayed response to the tragedy, he insisted: "everyone grieves in different ways."
MORE ON:
Brian Austin Green
Article continues below advertisement
"I texted him after he passed, knowing obviously that he can't text me back but on some level, hoping, that he would text me back, or that he was out there somewhere," said Green. "And I know he is. I know he's looking down and I know he's smiling."
Hollywood Hunk: The Many Loves Of Luke Perry Revealed After His Tragic Death
Green also revealed that the 90210 cast reunited at Gabrielle Carteris' home after Perry's passing. He said the gathering brought on "mixed emotions" for everyone, since some hadn't seen each other in 18 years.
"You were happy to see everybody and you felt like it's been too long and it was great," Green said. "But what a horrible reason to have to see everybody."
After Perry's death, other show stars took to social media to voice their grief.
"Dearest Luke, I will forever bask in the loving memories we've shared over the last thirty years. May your journey forward be enriched by the magnificent souls who have passed before you, just like you have done here, for those you leave behind," tweeted Ian Ziering.