'He's In Danger!' Jenelle's Ex Afraid For Son To Be In 'Violent' David's Care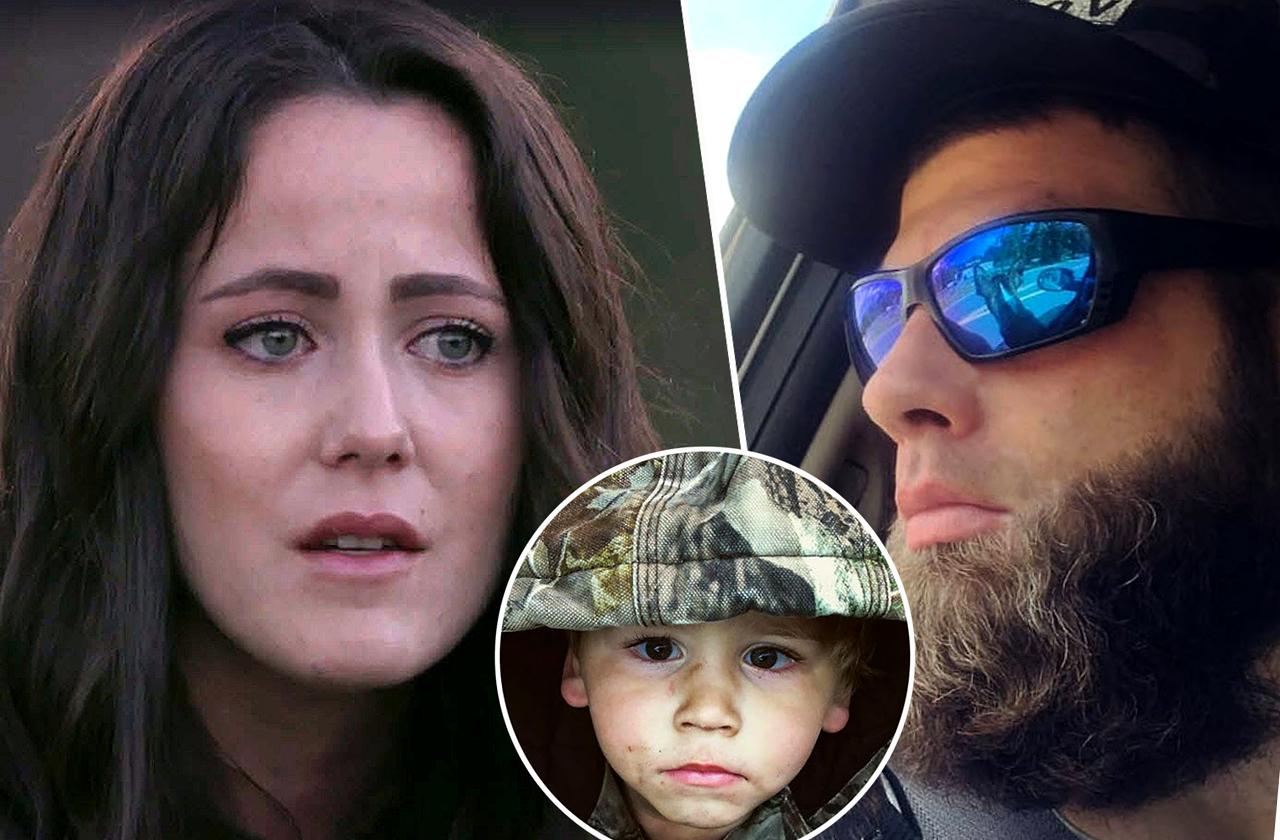 From Jenelle Evans' husband, David Eason, showing off guns and ammo on social media to the abuse claims against him, fans have been concerned for the wellbeing of their children. But no one is more concerned than Nathan Griffith, the father of Evans' son Kaiser.
On the season premiere of Teen Mom 2, Evans defended her controversial husband despite Griffith's shocking claims against him.
On the episode, Evans and her mom Barbara discussed what helped them resolve their issues. Barbara explained how she supported her daughter when Griffith and his mom refused to return Kaiser, 4, after noticing marks on his butt.
Article continues below advertisement
"Instead of texting my husband saying, 'Hey, did you hit him? Where did this bruise come from?' He said, 'There is a bruise on Kaiser's butt and we reported it to the cops,'" Evans explained. "That must have been from the slip-and-slide Kaiser had at his school. Everything has been dropped and closed."
She explained how they have mediation next week.
"Nathan is trying to do everything in his power to sabotage my husband," she said. "It pisses me off the way everyone thinks about David. Cause he doesn't do anything wrong and he does everything in his power to make our family happy. David is not a bad guy!"
But when Griffith spoke to producers, he gave his side of the story.
"Kaiser said, 'David hit me with a stick,'" Griffith claimed. "Sunday comes around, it's about time for drop off. I tell Jenelle's husband we're not giving Kaiser back. I'm afraid for his welfare. I feel like he's in danger. They were cussing and yelling through text messages. I don't want David anywhere around him. I don't feel safe with my son around him. He had a violent criminal record."
Article continues below advertisement
In mediation, they were unable to come to an agreement and were given a custody court date.
Also on the episode, Kailyn Lowry gave an update on her relationship with her three baby daddies.
"Me and Chris are good," she said of Lopez, the father of her youngest son, Lux, 1. "We're getting along. He sees his son every weekend. He's making his child support payments. He's really stepped up way more than I could've thought. I'm really proud of him."
In regards to a romantic relationship, she revealed they are "working on it."
She then revealed she doesn't have a relationship with baby daddy No. 2 Javi Marroquin's girlfriend, Lauren Comeau.
"When Javi and I were fake talking and getting back together, I went through his phone and that was a time where he was talking to me, Briana and her at one time," she said. "She had this paragraph to him and kept calling me a tw*t, five times in one paragraph. I don't want to be involved with her good terms, bad terms. You don't exist to me."
Article continues below advertisement
At a soccer game, Lowry completely ignored Marroquin's girlfriend despite her attempts to chat.
Last season, Chelsea Houska's baby daddy Adam Lind's visits were modified to a visitation center because of his drug use.
"I'd be good for him to be forced to get to know her," Houska said. "It might be a little awkward at first."
Daughter Aubree admitted she is "a little bit" nervous because she "doesn't know what to talk to him about."
But Lind did not show up for the visit.
"So the whole visitation is just canceled?" Aubree asked. "We just drove over here for nothing I guess. I'm surprised he did not show up."
Houska responded, "I honestly don't have any words."
Aubree admitted she is "disappointed." She then said of her stepdad, Cole DeBoer, "I know Cole would've shown up if we had to do that."
Also on the episode, Leah Messer's boyfriend, Jason Jordan, made his debut.
Article continues below advertisement
"We met through a mutual friend," Messer explained. "He has a steady job. He's 39. If I date someone my age, they don't get my life. They don't understand three kids. They don't want any part of that. He's been married twice."
RadarOnline.com broke Jordan has been married twice before dating the mother-of-three.
And finally, Briana DeJesus decided to kick her baby daddy Devoin Austin out of her home because he is not spending enough time their daughter, Nova. Although the two are not together, DeJesus allowed him to stay in their home.
"I can't have that in Nova's life," she explained. "You can't be here for two weeks then leave for a month."
Although Austin blames his absence on work, he moved out by the end of the episode.
Teen Mom 2 airs Mondays at 9/8c on MTV.
We pay for juicy info! Do you have a story for RadarOnline.com? Email us at tips@radaronline.com, or call us at 800-344-9598 any time, day or night.
For the latest Teen Mom news subscribe to our podcast 'Teen Mom Time' below!