Johnny's Revenge: Depp Lines Up Witnesses To Prove He Never Beat Ex Amber Heard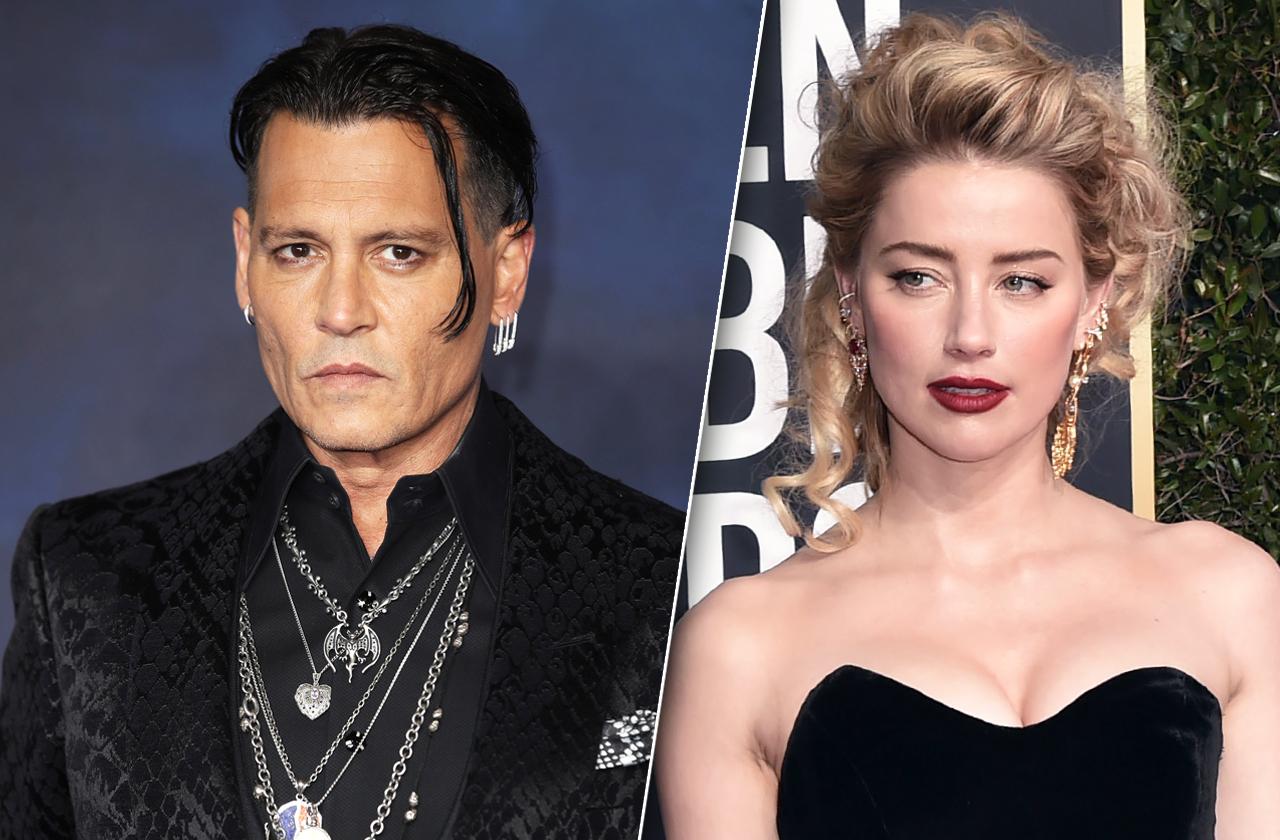 Troubled Johnny Depp is lining up a string of witnesses to prove he's innocent of battering his ex Amber Heard in a marriage-ending bust-up, RadarOnline.com can report.
The actor also sensationally claims to have security camera footage showing Heard's face was unmarked three days after she claimed he beat her so badly she was left nursing a swollen face.
In bombshell new court papers released obtained by Us Weekly, the actor has filed sworn depositions from neighbors, eyewitnesses and workers at his former penthouse building who say they saw no sign of injury on his actress ex-wife.
Article continues below advertisement
It comes after the Pirates Of The Caribbean star, 55, branded Heard an actor who pretended he allegedly hit her – even though he was standing 25 feet from the actress at the time of the supposed assault.
Dad-of-two Depp was claimed to have struck Heard, 32, with an iPhone during a furious fight on May 21, 2016.
But he says in new court papers two cops who attended the scene of the alleged incident – at the LA penthouse the couple once shared – said there were "no injuries or bruising or swelling to Ms Heard's face" and that she didn't request medical attention.
Depp adds that both officers also swore the images showing Heard with a bruised face had no "associated metadata" attached to show when they were taken.
The actor's security guards who were at his penthouse in the Eastern Columbia Building in South Broadway, LA, on the night of his alleged attack are also quoted in the court documents saying Depp was at least 20 feet from the actress when she accused him of hitting her.
Article continues below advertisement
His bodyguard Sean Bett is quoted in papers saying: "My vision is quite good. I was able to ascertain that Amber was wearing little or no makeup, her skin is quite pale, and she had no red marks or evidence of any bruises or abrasions to her face or body."
"Although Johnny was visibly upset at having been accused of hitting Amber, he never came closer than 20 feet to her during the time I was able to observe them."
Johnny's long-term minder Jerry Judge adds in testimony quoted in the documents: "Although Johnny was visibly upset at having been accused of hitting Amber, he never came closer than 20 feet to her during the time I was able to observe them."
He also states Depp had not been drinking at the time of the alleged row and did not smash glass during the incident.
Heard's friend and neighbor Isaac Baruch adds in the papers he saw "nothing when Heard tried to show him marks on her face.
Article continues below advertisement
He added: "Amber stated all of a sudden in a very animated and excited voice, 'He hit me! He threw a phone and hit me!'"
"Amber then stretched her neck and head forward for me to look at her face. The morning light in the hallway allowed me to see her face clearly and her face looked to me was without makeup as she faced me. I stated, 'I don't see anything?'"
Johnny's lawyer Adam Waldman told Us about the new court papers: "Mr. Depp filed new and previously unseen evidence with the UK court, including security camera video clips of Ms Heard's face in the days following her false beating claims, sworn depositions taken in 2016 from neighbors, eyewitnesses and building personnel who interacted with Ms. Heard in the ensuing days, and more."
"We don't claim to have the evidence, we filed it as exhibits to the UK court and it will be public by our hearing on January 27."
The lawyer added Depp is inviting Heard to give "whatever evidence she wishes" to prove he struck her – adding it they plan to hold it "against the videos and witness statements we just filed."
Depp's claims emerged in legal documents lodged in Britain's High Court as part of his libel action against a UK newspaper that accused him of abusing his ex-wife.
Article continues below advertisement
The papers, lodged with the Queen's Bench Division in London also say he never hit Heard or threatened her with objects such as a magnum-sized bottle of wine.
His alleged attack on Heard came two days before she filed for divorce from the actor after 15 months of marriage.
She claimed cocaine and booze turned hard-partying Depp into an unhinged monster.
In court documents she stated the alleged iPhone hurling was just one of many abuse incidents she endured while they were a couple.
Heard was granted a temporary domestic violence restraining order against Johnny on May 27, 2016, and claimed a photo taken of her with a bruised cheek was evidence the actor had struck her with a phone.
At the time, sources connected to Depp said Heard was lying about when the photo was taken.
They pointed to Instagram where Heard was tagged in a picture with Amanda de Cadenet and model Amber Valletta at de Cadenet's birthday party, the day after he allegedly attacked her.
Article continues below advertisement
The actresses' hair covered the areas of her face that appeared to have been bruised the day before – and the image was deleted shortly after it was highlighted.
After allegedly having a phone thrown at her face, Heard has stated Depp continued to attack her.
She added: "He then forcibly pulled back my hair as I attempted to stand up from the sofa."
"Johnny continued screaming at me, pulling my hair, striking me and violently grabbing my face."
She said the attack only ended when a friend, who Heard had texted asking for help, arrived to their Broadway condominium.
In previous court papers lodged by Depp, he claims Heard waged a campaign of abuse against him.
He has claimed she punched him twice in the face in April 2016 for arriving late to her birthday party.
It's also been reported Depp believed Heard left a pile of excrement in their bed as punishment for not being punctual to the do.
Article continues below advertisement
The former couple met in 2009 and were romantically linked in June 2012 after filming 2011's The Rum Diary together.
They reached an out of court divorce settlement in August 2016.
Along with his break-up hell, Depp has faced money woes in the past year.
In July, he settled a multimillion-dollar lawsuit against his former business managers, The Management Group, after accusing them of fraud, theft and financial mismanagement.
They denied the allegation that they had spent millions of dollars behind his back and counter-sued, seeking $550,000 in unpaid fees and damages.
We pay for juicy info! Do you have a story for RadarOnline.com? Email us at tips@radaronline.com, or call us at (866) ON-RADAR (667-2327) any time, day or night.