Eddie Murphy Turns Down Oscars Hosting Gig After Kevin Hart Homophobic Scandal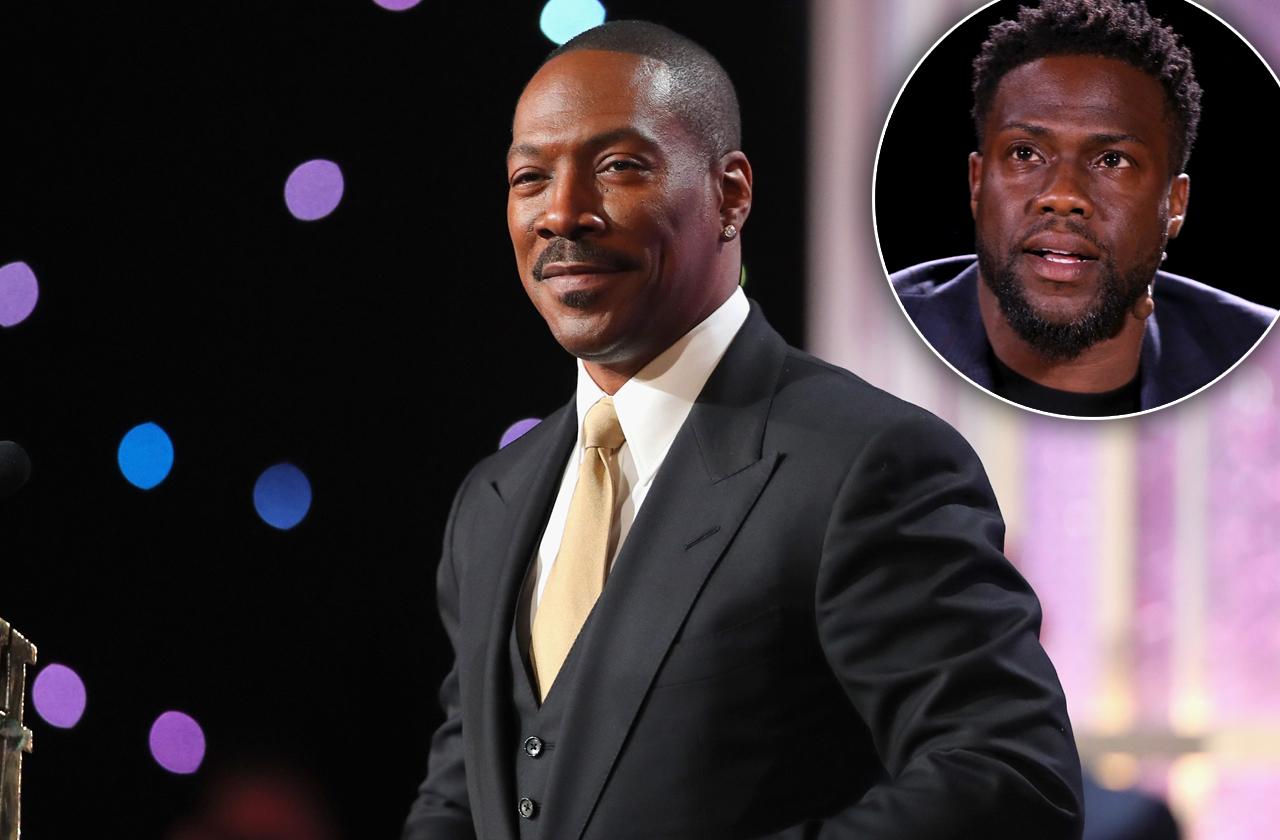 Eddie Murphy left a fortune on the table after the Beverly Hills Cop bad boy blew off hosting the 2019 Oscars — days after Kevin Hart walked away from the once-coveted gig!
Murphy was offered a massive fee and the right to use footage from the show in one of his future films — which would have been worth millions, insiders dished to RadarOnline.com exclusively.
"The producers were shocked," said a source. "They knew they'd have a tough time convincing him given his X-rated comedy background and after the embarrassment Kevin Hart endured when his past anti-gay comments came to light!"
Article continues below advertisement
Murphy previously withdrew as host of the 2012 Oscars when the comedian's producer pal Brett Ratner quit the show after the movie mogul was blasted for using a homophobic slur.
Now, nearly seven years later, sources tell RadarOnline.com exclusively the Academy has been trying to get him back as host ever since, but Murphy is even "less interested" after seeing what Hart went through.
"Eddie was totally turned off by what happened to Kevin," the source spilled. "Eddie's history is as raunchy as Kevin's, and the last thing he needs is to get sucked into the #MeToo backlash that seems to come with this job."
As RadarOnline.com was first to report, Murphy, 57, was on the short list to replace Hart, 39, as host for the 2019 Oscars.
The Academy of Motion Picture Arts and Sciences reached out to Murphy after Hart quit the gig following his controversial apology stemming from backlash from old tweets that used homophobic language.
Sources told RadarOnline.com exclusively the Academy host committee reached out to Murphy "in hopes that he would agree to host."
Article continues below advertisement
But the informant also revealed Murphy is "uninterested" years after he turned down the hosting gig in 2012.
As RadarOnline.com readers know, Hart stepped down from hosting the Oscars, he announced on Twitter in December 2018, after he came under fire for a controversial apology he made following backlash from old tweets that used homophobic language.
"I have made the choice to step down from hosting this year's Oscar's," Hart tweeted. "This is because I do not want to be a distraction on a night that should be celebrated by so many amazing talented artists. I sincerely apologize to the LGBTQ community for my insensitive words from my past."
The final apology can after Hart was slammed for his first "half a**" apology after he was called out for the homophobic tweets following the announcement that he will be hosting the 2019 Oscars on February 24.
Hart Tweeted in 2009: "Yo if my son comes home & try's 2 play with my daughters doll house I'm going 2 break it over his head & say n my voice 'stop that's gay.'"
In a second one Hart called someone a "fat faced f**."
Article continues below advertisement
He deleted the Tweets and issued a apology afterward that was also slammed.
After the Academy of Motion Picture Arts and Sciences asked him to apologize, Hart posted a video posted on his Instagram page saying: "I swear man, our world is becoming beyond crazy. I'm not going to let the craziness frustrate me or anger me especially when I worked hard to get to the mental space where I'm at now."
He explained what transpired after the Oscars gig was announced. "My team calls me, 'Oh my God, Kevin, this world is upset about tweets you did years ago.' Guys. I'm almost 40 years old. If you don't believe that people change, grow, evolve as they get older, I don't know what to tell you. If you want to hold people in a position where they always have to justify or explain their past, then do you. I'm the wrong guy, man," Hart says. "I'm in a great place, a great mature place where all I do is spread positivity."
Hart wrote as a caption alongside the post: "Stop looking for reasons to be negative…stop searching for reasons to be angry…I swear I wish you guys could see/feel/understand the mental place that I am in. I am truly happy people… there is nothing that you can do to change that….NOTHING."
"I work hard on a daily basis to spread positivity to all…with that being said. If you want to search my history or past and anger yourselves with what u find that is fine with me. I 'm almost 40 years old and I'm in love with the man that I am becoming," Hart wrote.
"You LIVE and YOU LEARN & YOU GROW & YOU MATURE. I live to Love…. Please take your negative energy and put it into something constructive. Please…What's understood should never have to be said. I LOVE EVERYBODY..ONCE AGAIN EVERYBODY. If you choose to not believe me then that's on you…Have a beautiful day."
We pay for juicy info! Do you have a story for RadarOnline.com? Email us at tips@radaronline.com, or call us at 800-344-9598 any time, day or night.