'I Am Absolutely Horrified!' Dean McDermott Slams Bullies For Body-Shaming His Kids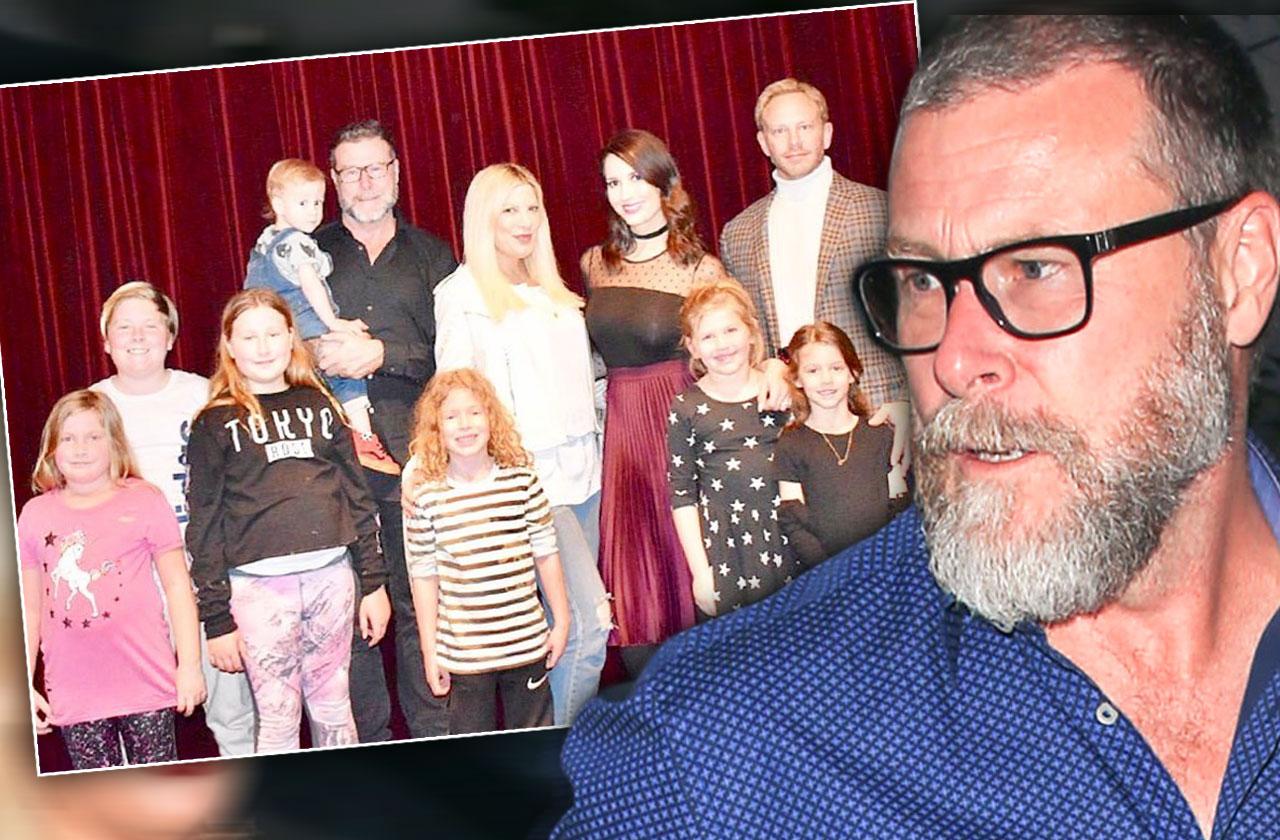 Dean McDermott is not letting social media haters bully his children. This Thursday, the Sharknado actor shared an emotional statement regarding the troll's mean comments about his kids' weight and allegedly shabby appearance.
"I am absolutely horrified and disgusted by the comments being left about my children. Body shaming and bullying my children??!! What is wrong with you people??!!" he commented after wife Tori Spelling's shared a sweet family photo on Instagram.
Article continues below advertisement
"For your information, we went from a long day at school to the movie. And I don't know any child that is NOT disheveled at the end of the day. Not to mention that just before this picture was taken, they were wrestling and running around with all the other kids that were at the movie. So I apologize we didn't get the iron and steamer out to make them perfect for you," he continued.
McDermott's defensive rant came after various social media users slammed him and Spelling, 45, for allegedly letting their children run around in scruffy clothes from Target and messy hairdos. Some also bashed the pair for feeding their kids junk food and not watching their weight!
"Their sic kids. They're messy and dirty. That's what they do. And what's wrong with shopping at Target??!! Over half of America shops there. The way they grow out of clothing so quickly is astounding. Are we supposed to shop at Gucci?? These are kids folks. Messy stinky little bundles of fun, laughter and love," wrote the actor.
McDermott, 52, then addressed the trolls who've been repeatedly body shaming his young children.
Article continues below advertisement
"As far as saying my children are over weight, well that's just mean and Un-called for. They're going through different growth phases, and even if our children are on the bigger side. Who cares. They're happy and healthy and I'm sorry they don't look like skinny supermodels. People come in all shapes and sizes. So who are you to judge," he wrote.
RadarOnline.com readers know this is not the first time the famous pair have had to defend their kids from online bullies. In September of last year, Spelling also slammed a series of mean Instagram users for criticizing her kids' allegedly disheveled appearance.
"You should all be ashamed of yourselves for passing such horrible judgement on innocent beautiful children. Shame on you all!!!! Thank you to all the people who came to our defense. You're all kind compassionate souls. Down with the haters!! Up with love!!" concluded McDermott.
What do you think of Dean McDermott's message to his children's bullies? Sound off below!
We pay for juicy info! Do you have a story for RadarOnline.com? Email us at tips@radaronline.com, or call us at (866) ON-RADAR (667-2327) any time, day or night.