Nicki Minaj Slams Haters Over New BF's Attempted First-Degree Rape Scandal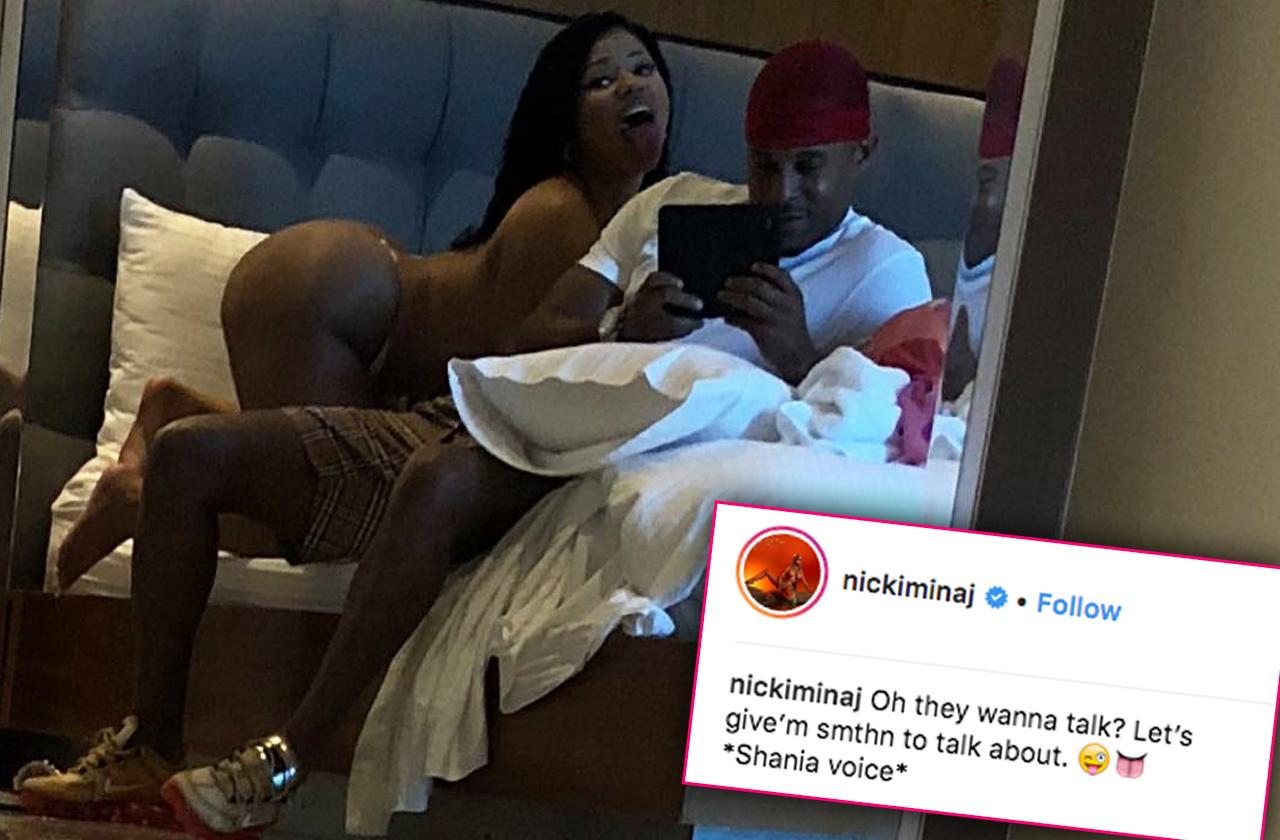 Nicki Minaj is finally breaking her silence after it came to light her new boyfriend was arrested in 1995 when he was 16 years old for attempted first-degree rape of a 16-year-old girl.
"Oh they wanna talk? Let's give'm smthn to talk about. ?? *Shania voice*" Minaj fired back at haters in a caption to a sultry snap of her and Kenneth Petty.
Minaj also clapped back in response to a commenter, explaining the situation. "He was 15, she was 16…in a relationship. But go awf, Internet. y'all can't run my life. Y'all can't even run y'all own life," she blasted.
Article continues below advertisement
As RadarOnline.com previously reported, according to official records, Petty used a "knife/cutting instrument" during the attempted rape. He was sentenced to spend between 18-54 months in prison.
Following the attempted rape charges, Petty — who works in the music industry — spent an additional seven years behind bars for killing a man. The Blast reported that on April 27, 2002, at 12:30 a.m., Petty shot Lamont Robinson in Queens multiple times with a handgun. Petty was charged with second-degree murder, but he accepted a plea for manslaughter in March 2006. He was released from prison in May 2013 and recently completed five years of supervised release.
Meanwhile, Petty was arrested again just three months ago for driving with a suspended license and failing to stop at a stop sign.
He had been driving in Nassau County, New York, on September 13, 2018, around 1:30 p.m. when he was pulled over by cops.
According to court records obtained by RadarOnline.com, he was slapped with three charges — two infractions and one misdemeanor for "operating an unlicensed vehicle," "failure to stop at a stop sign," and "operating a vehicle while license is suspended or revoked."
Petty appeared at the Nassau County First District Court on October 25, 2018, for an arraignment hearing.
His next date on the case is scheduled for January 8.
We pay for juicy info! Do you have a story for RadarOnline.com? Email us at tips@radaronline.com, or call us at 800-344-9598 any time, day or night.