'He's A Complete Piece Of Sh*t!' Khloe Slams Cheating Tristan In Dramatic Showdown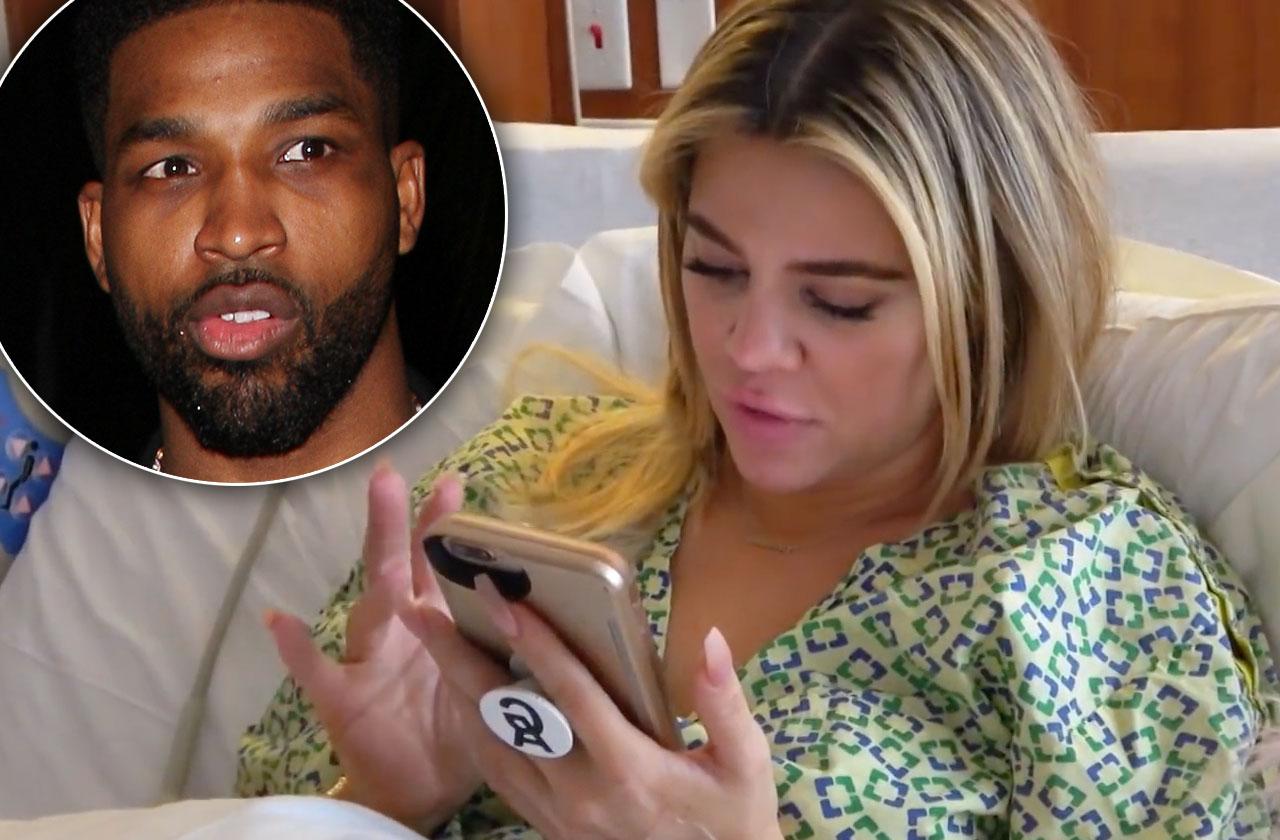 Article continues below advertisement
"It's important for me to stick to my birthing plan, because this is something that I've waited for my entire life," Khloe said about the big day.
"I don't want to take away anything from this moment. I've always been a big believer of don't make permanent decisions off of temporary emotions. I want Tristan here with me, I want to experience this magical moment," she insisted.
Khloe even live-Tweeted during the episode, echoing that sentiment.
"Regardless of what Tristan did to me, I was never going to take that moment away from True or Tristan. She should not be punished for his actions. He is her father and they both deserve to love one another as deeply as they possibly can #KUWTK," she wrote.
So despite the NBA star's infidelity, Khloe didn't ban him from being a part of the birth.
"I want this for me and my daughter, and for him, at the end of the day," she confessed on KUWTK.
Article continues below advertisement
Dr. Thais Aliabadi delivered the baby with the momager's help, while Tristan, 27, cut his daughter's umbilical cord.
Khloe was emotional about the event after the fact during her confessional, saying: "You're experiencing a miracle take place. I've always dreamed of being a mom, and I think I came to the place where I didn't know if that was actually going to happen for me, so the fact that we're in a delivery room — for myself this time, for me to give birth — it's just unreal."
Article continues below advertisement
She continued: "I feel so blessed. This is something that I've waited for forever. I can't wait to meet her and just spend the rest of my life with her. The minute I met my daughter — I cannot believe I'm even saying the words 'my daughter' — I was so in love with her. She's just perfect."
Khloe said that she didn't know how her family would react and handle the situation, but they didn't disappoint her.
"I was so anxious about having everybody in the hospital room because it was really crucial and important for me that it was a very healthy, happy, positive experience. And everyone put their differences aside for that moment. I'm really grateful for that. But obviously, there's a big elephant in the room," she admitted.
And despite her sisters pressuring her, Khloe refused to say whether she and Thompson would last as a couple.
Article continues below advertisement
"My focus is not if we're going to be together or not. My focus is just on my daughter and having these beginning moments with my daughter and seeing him be such a great father to her — that's really what's important to me," she said.
Khloe said that Tristan wanted to have a conversation with her mom and sisters off camera and she agreed, admitting that he did things differently than the famous family — who shares just about everything on television.
"I've always been very respectful that this is not Tristan's career, and having conversations like this isn't comfortable for him on camera," Khloe explained. "He might not want to be as vulnerable as he normally would in private. Me and Tristan will deal with this at a later time, because there are some things that are deeper than being documented. It takes more time than just an episode," Khloe continued.
Article continues below advertisement
"It's so much harder to deal with it when it's so public. Everyone is giving you their opinions and their input and their unsolicited advice," she said. "Even the nurses and the doctors, everyone kind of like, looking sideways at the whole situation. That's hard, and it's humiliating."
But she knew that she couldn't ignore what Tristan did.
"He obviously f**ked up, major, but I'm not sure how I feel about everything right now," she said. "In two weeks, I might be like, 'You know what? I don't trust you and this isn't for me.' Or I might say, 'This is perfect. Let's keep it going.' "
Kim went back to Los Angeles and told her cousin that the conversation with Tristan was difficult.
"I told him, 'I think you're more remorseful because it's affecting your job.' I think he's more embarrassed that he looks stupid, because of the public … booing him. And I think it's more of that than anything, and I told him that."
She said the situation turned tense.
"I think the convo was going okay at the beginning and then it got heated. I don't know, it just kind of took a left turn," Kim confessed. "Overall, I think it was definitely necessary for us to let out how we all felt, and since he is the father of Khloé's baby, I definitely wanted to take the time to hear what he had to say."
Article continues below advertisement
Days after the scandal, Kim appeared on the Ellen DeGeneres Show to talk about Tristan's cheating.
Kim told the talk show host what Thompson did was "so f**ked up," and when she told Khloe it was a sad conversation.
"It is f**ked up. And he's a complete piece of sh*t," she admitted.
"Honestly, you can feel however you want, but I've got other sh*t to deal with right now," Khloe responded.
Thompson was not pleased with Kim's interview, telling Khloe that he thought she was an "instigator."
"I unfollowed him on Instagram," Kim told Kourtney, 39.
"I literally wrote to Khloe and said, 'Look, let's change the subject. I love you and I support you, but I'm done with him. Over it.' She just should have stood her ground."
Kourtney was less harsh about the situation and referenced Scott Disick's cheating.
"She should just do what's in her heart and she should either give it a chance — if that's what makes her feel best for her family, I've been there," Kourtney confessed.
Article continues below advertisement
"I don't think his intentions are right. I don't think he's going to change," Kourtney continued. "But I'm just saying, if she wants to feel like she's trying for her own heart and know that she's doing her best, then I don't think there's anything wrong with that. I think it takes a lot more strength to hang in there and try for your family than to just walk away."
Kim finally decided she had to support her sister.
"I won't make her feel bad about anything, but I just generally don't care to be around him," Kim said. "Whatever makes her happy. I'll stay out of the way."
Stay with RadarOnline.com for weekly recaps of KUWTK.
We pay for juicy info! Do you have a story for RadarOnline.com? Email us at tips@radaronline.com, or call us at (866) ON-RADAR (667-2327) any time, day or night.
Get the exclusive celebrity scoop on all the stars you love before any of your friends by subscribing to our new podcast Straight Shuter below!