Wanda Barzee Pens Bizarre Letter About Her 'Queen' Elizabeth Smart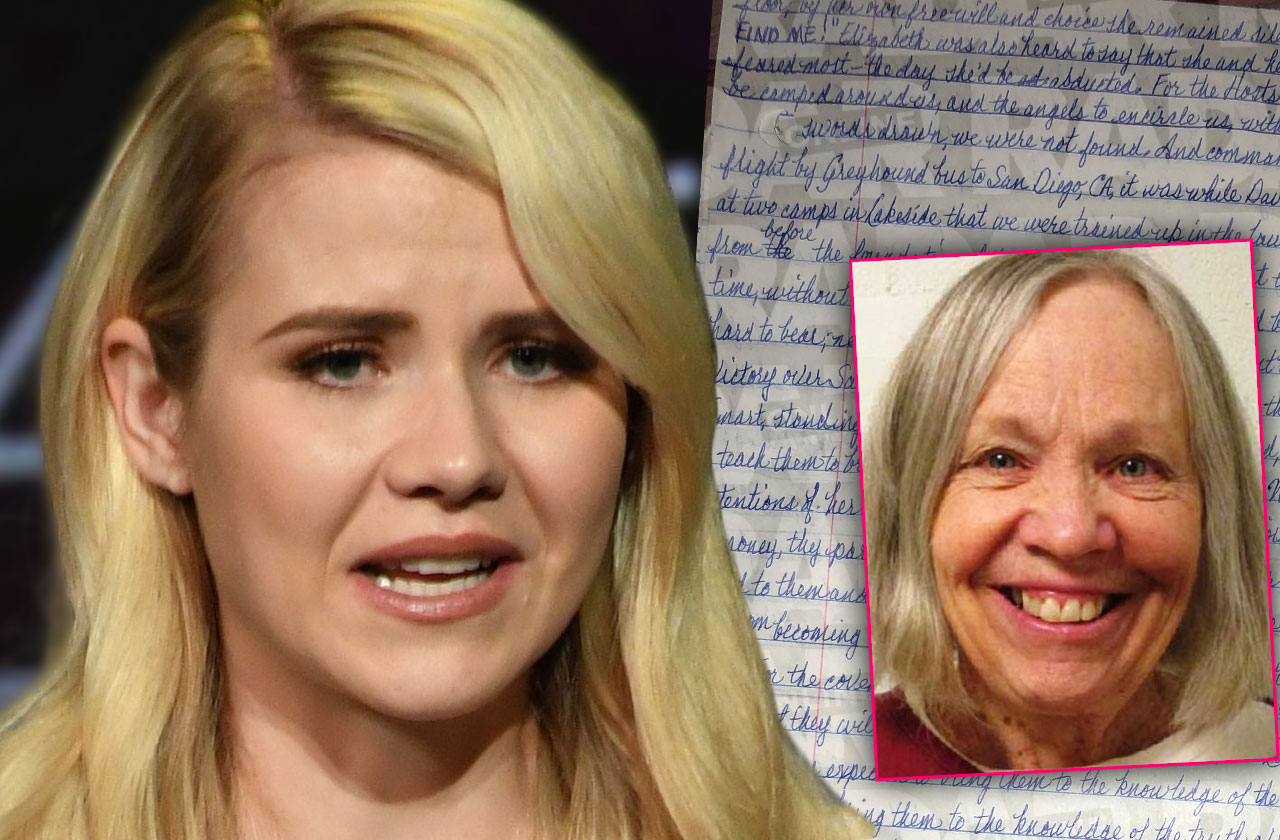 Article continues below advertisement
But in a 10-page prison-letter rant, Barzee is clearly hell-bent on completing the bizarre ceremony with Smart, who she calls a "Queen" because of the "temple marriage" she was forced to undergo with her now incarcerated husband in 2002.
"She was made a queen and promised great blessings in Zion," Barzee wrote in the letter, dated June 11, 2018. "Elizabeth Smart covenanted before the whole world that she'll be the sign and portent when the Lord will bring forth Zion."
Mitchell snatched the then-14-year-old Mormon girl from her Salt Lake City bedroom on June 5, 2002, and took her to a campsite a few miles from her family's home.
There, Barzee stripped Smart of her pajamas, helped shackle her to a tree by her ankles with a metal cable, and Mitchell repeatedly raped her.
The deranged religious zealot, who said it was God's will for Smart to perform her "wifely duties," plied the terrified teen with wine and sexually assaulted her, often multiple times a day.
Article continues below advertisement
Even months before her recent release, Barzee showed no remorse for the sick crime and seems to relish in her hellish handy work.
"No evil has been spoken by my mouth, nor has any harm been done by my hand upon any one person, including Elizabeth Smart — she was treated with all gentleness, kindness and tenderheartedness, even when It was necessary to reprove her for rebellion and disobedience to the Lords commandment and despising the things of God," Barzee insisted in her letter.
"My husband David and I, Wanda, are the only victims of the crime we were falsely convicted of and imprisoned for, as the anointed servants of the Lord Jesus Christ — having been instructed and commanded by the Lord God to go forth on the night of June 4, 2002 – whereby the Almighty power of God opened the for us to obtain our first wife of seven on June 5," she wrote.
Barzee also defended Smart's brutal sexual assault, describing it as a right-of-passage into her bizarre religious sect.
Article continues below advertisement
"For being a young woman in her 15th year is for the fact thou are teachable and not yet being set in thy ways," she wrote. "As for being forced to consummate thy marriage sealing to David is the very way and means the Lord God uses to humble his daughters."
The depraved woman even bragged in the letter about how she turned Elizabeth against her parents.
"To have seen the picture in the news of Elizabeth's parents Ed and Lois Smart standing with the host of Americas Most Wanted, Elizabeth said: 'My parents are deceived. I have a lot to teach them to bring them to the know of the truth.'"
"Elizabeth even said to me, 'I don't want to return home and be separated from you and David,'" claimed Barzee.
Barzee will be under federal supervision for five years and must abide by the rules of the Utah sex offender registry.
Regardless, Smart told CBS News: "I do believe she's still a danger…Through my sources, I've heard that she's still carrying around this 'book of revelations' that Brian Mitchell wrote…that said he should kidnap me, and not just kidnap me but six other young girls, and that we'd all be his wife… clearly she hasn't let it go."
Barzee's deranged musings seem to prove Smart is correct.
"I am hated and despised by the world and persecuted for my faith in Jesus Christ," she wrote. "In as much as I Wanda Barzee was willing to lay down my life without reservation and do not fear what man can do to me, even within these prison walls."
We pay for juicy info! Do you have a story for RadarOnline.com? Email us at tips@radaronline.com, or call us at (866) ON-RADAR (667-2327) any time, day or night.