Rose McGowan Says Casting Couch Should Be Renamed The 'Rape Couch'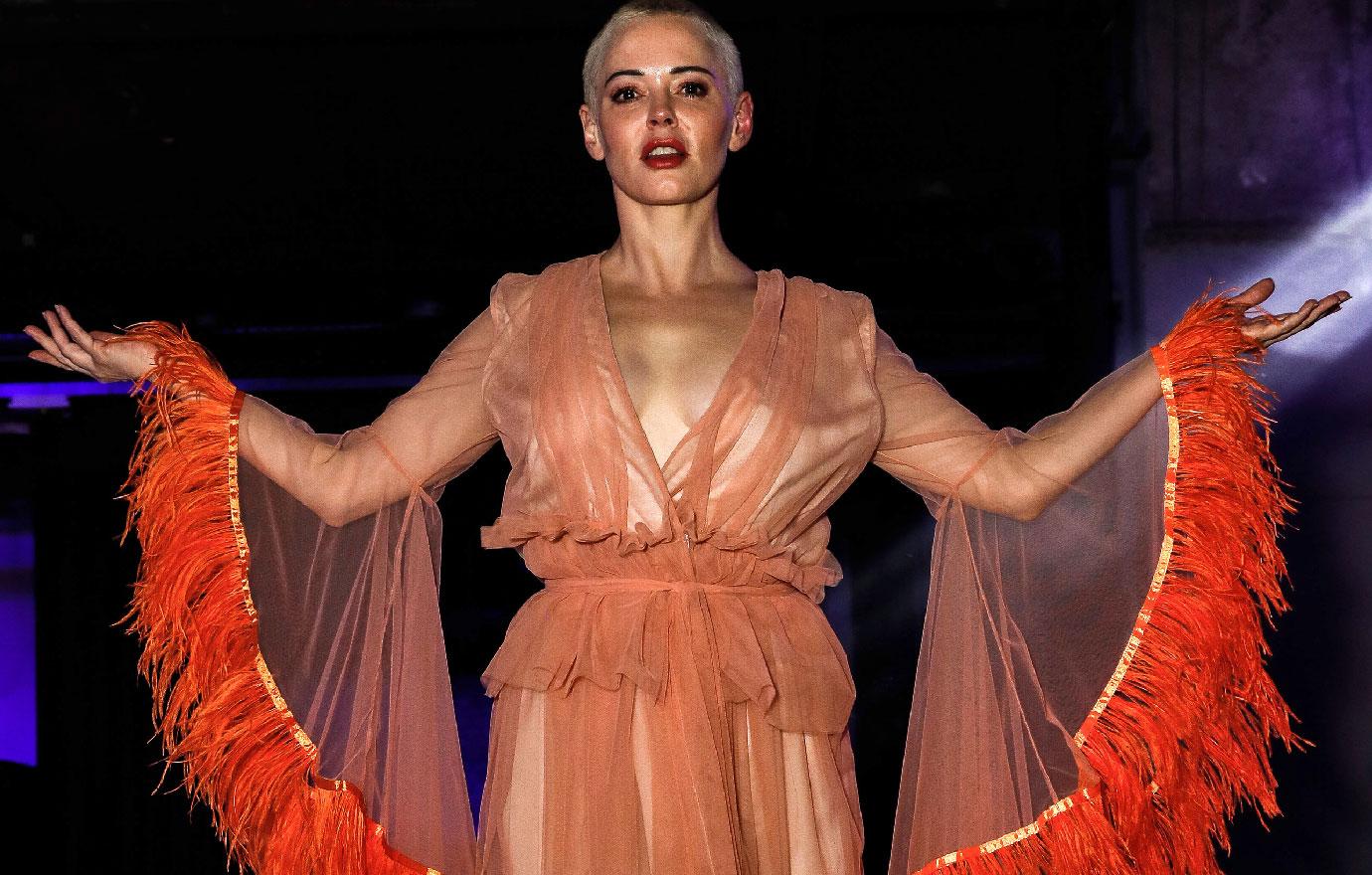 In an explosive interview with the Daily Telegraph newspaper, Rose McGowan said she wants the "casting couch" renamed the "rape couch."
The former Charmed actress , 45, who has alleged producer Harvey Weinstein, 66, raped her in 1997, also claims he was fed "medicine" (which sounds like Viagra) by his assistants so he could satisfy his "rape addiction."
When asked in a new interview if she believed the fallen Hollywood titan was suffering from a sex addiction, she sneered, "Not a sex addiction – a rape addiction. It was about exerting power. It was about his unquenchable gluttonous appetite.
Article continues below advertisement
"He had assistants giving him his medicine so that he could have an erection so that he could go in and rape women."
She added, "And please can we stop calling it a 'casting couch'. Let's call it what it is – let's call it a 'rape couch'."
Weinstein – currently on bail and wearing an electronic tag – is facing a raft of lawsuits in addition to the criminal charges. But McGowan believes the producer's aiders and abettors should also be punished for their part in the alleged rape and abuse.
She declared, "Awards season made me want to vomit. They're all so hypocritical."
"I just wanted to shout, 'But you've all kept this quiet!' The pins and all-black dress codes felt like people were dancing on my rape grave – like they were feeding off what had happened.
"Bringing activists to ceremonies was just a way to neutralize things, because there's nothing Hollywood likes better than doing good press for itself."
Article continues below advertisement
Last week, McGowan became the first woman to pick up GQ magazine's Inspiration prize, and sold her $2 million dollar L.A. home in January to pay for a legal battle against Weinstein.
Rose also revealed it's been a "long time since anyone's told me a sexist joke".
And she said she has stopped talking to her fellow #MeToo activist Asia Argento.
Actress Asia, 42, was shamed after she was alleged to have sexually abused actor Jimmy Bennett in 2013 when he was 17 and she was 37 – an accusation Argento denies.
Rose said, "Asia's just striking out at any port in the storm. Anything to deflect."
With Asia also claiming it was Jimmy who assaulted her, the whole thing "has got really mucky", according to Rose.
She said: "The movement should never have been turned into an 'us and them' thing.
"If you're a power abuser of either sex there is a certain form of justice that will be met."
We pay for juicy info! Do you have a story for RadarOnline.com? Email us at tips@radaronline.com, or call us at (866) ON-RADAR (667-2327) any time, day or night.