Chris Hardwick Denies Sexually Assaulting Former Galpal Chloe Dykstra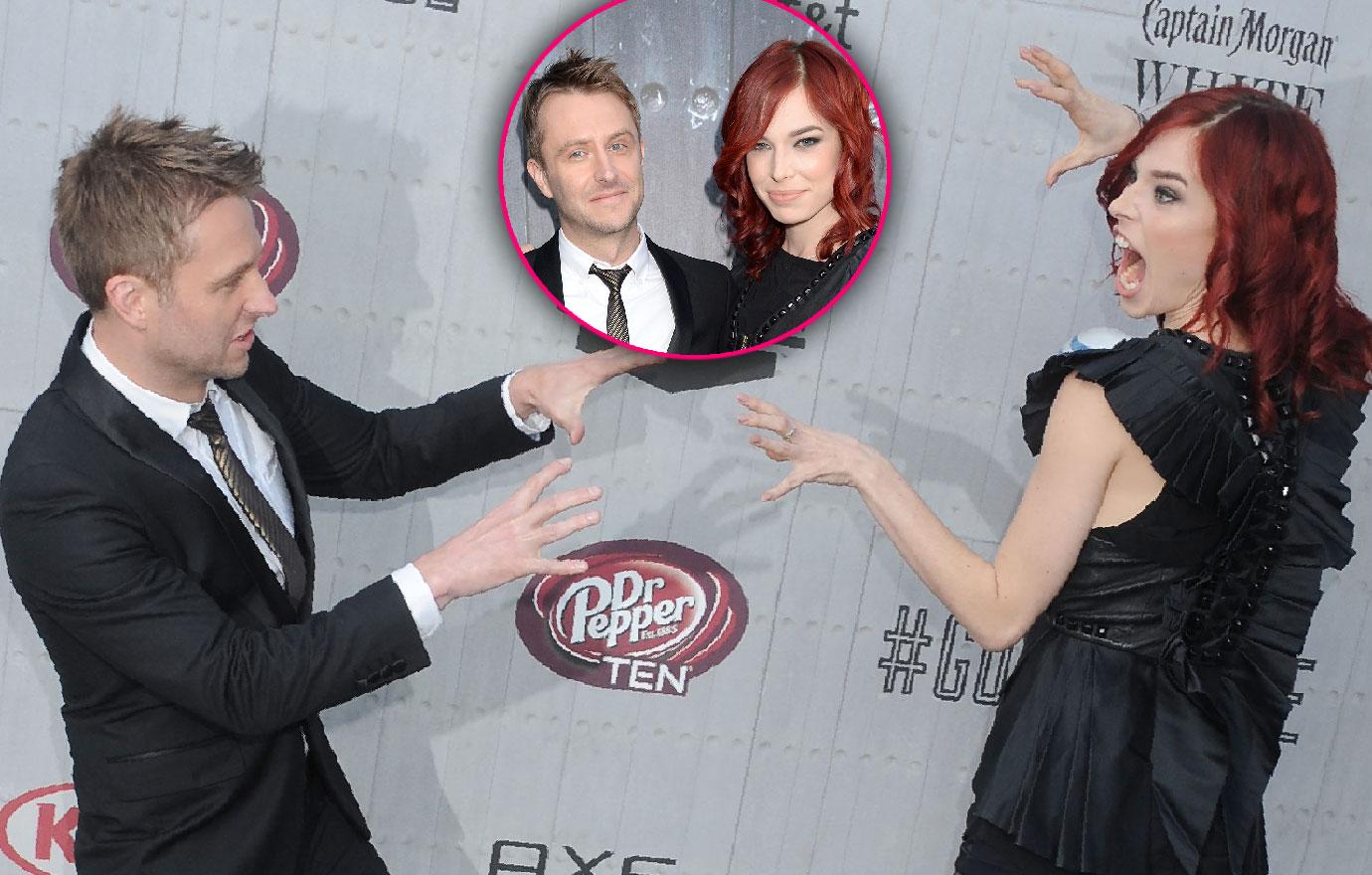 AMC's Talking Dead host Chris Hardwick has denied sexually assaulting former galpal Chloe Dykstra in the latest example of #MeToo fallout.
And Hardwick, 46, has turned the tables in a statement to Variety, saying that their relationship actually ended because Dysktra, 29 had cheated on him!
Among other things, Hardwick noted in pushing back about her claims: "at no time did I sexually assault her."
The controversy erupted on Thursday, June 14, when Dykstra wrote in an emotional essay called "Rose-Colored Glasses: A Confession," for Medium.com that she'd had an abusive relationship with an unnamed previous boyfriend. In the article, Dykstra claimed that when she was in her early 20s she dated a man "almost 20 years my senior" who displayed "controlling behavior."
Article continues below advertisement
In the essay, she accused her ex of sexual assault, claiming that when he initiated sex and she turned him down due to illness, he allegedly told her, "I just want to remind you, the reason my last relationship didn't work out was because of the lack of sex."
"It was a veiled threat. I succumbed. Every night, I laid there for him, occasionally in tears. He called it 'starfishing.' He thought the whole idea was funny," Dykstra wrote. "He thought the whole idea was funny. To be fair, I did go along with it out of fear of losing him. I'm still recovering from being sexually used (not in a super fun way) for three years." When she did end their relationship, leaving him for another man, he allegedly ruined her career, she claimed in the essay.
"Because of my leaving him for someone else, he made calls to several companies I received regular work from to get me fired by threatening to never work with them. He succeeded. I was blacklisted," Dykstra, who appeared in the film Diminuendo, wrote. "With the assistance of a woman who'd gained my trust and my heart over the past year, he steamrolled my career. The woman actively made it her mission to destroy my friendships. And she did, because by the time they'd realized she was… an unreliable source… the damage had already been done."
Article continues below advertisement
Hardwick is nearly twice Dykstra's age, and dated her from 2012 to 2014. He married model Lydia Hearst, 33, almost two years ago.
As RadarOnline.com readers know, the Heroes Of Cosplay actress Dykstra cohosted a show on Chris Hardwick's Nerdist YouTube channel in 2014.
Hardwick fired back via Variety on Friday, June 15, saying, "These are very serious allegations and not to be taken lightly which is why I've taken the day to consider how to respond. I was heartbroken to read Chloe's post. Our three year relationship was not perfect—we were ultimately not a good match and argued—even shouted at each other—but I loved her, and did my best to uplift and support her as a partner and companion in any way and at no time did I sexually assault her."
Hardwick continued, "When we were living together, I found out that Chloe had cheated on me, and I ended the relationship.
"For several weeks after we broke up, she asked to get back together with me and even told me she wanted to have kids with me, 'build a life' with me and told me that I was 'the one,' but I did not want to be with someone who was unfaithful. I'm devastated to read that she is now accusing me of conduct that did not occur. l was blindsided by her post and always wanted the best for her. As a husband, a son, and future father, I do not condone any kind of mistreatment of women."
We pay for juicy info! Do you have a story for RadarOnline.com? Email us at tips@radaronline.com, or call us at 800-344-9598 any time, day or night.