Ryan Edwards Storms Off Stage To Avoid Maci Bookout Confrontation Over Drug Use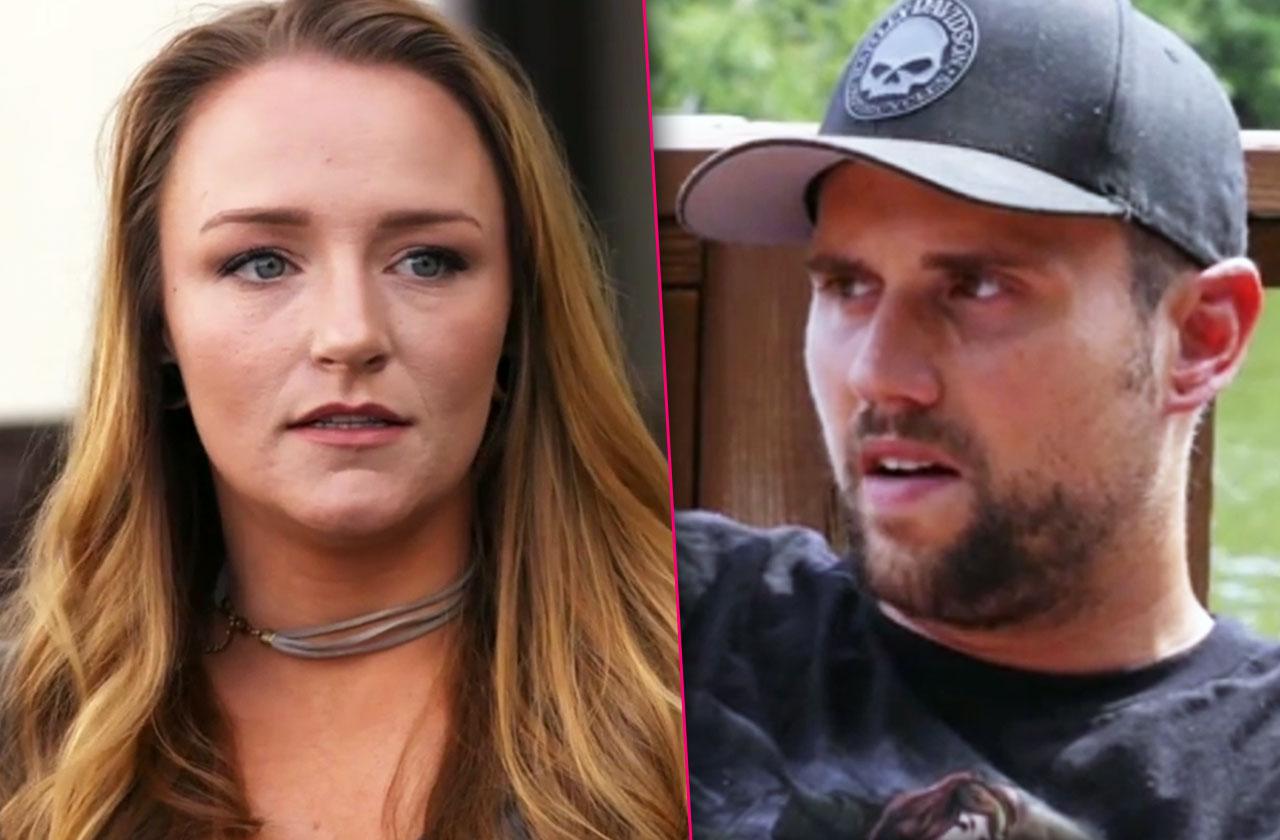 Tensions between Maci Bookout and Ryan Edwards were building weeks before she filed a restraining order against him. On part one of the Teen Mom OG reunion, the parents of Bentley accused each other of lying.
Bookout and her husband Taylor McKinney chatted with reunion show host Dr. Drew Pinsky about their relationship with Edwards.
McKinney explained how although he "wants the best" for Edwards, who entered rehab in May for heroin abuse, he admitted he doesn't agree with his behavior.
Article continues below advertisement
PHOTOS; Secret Children, Rehab & Rape Claims: What To Expect On The New Season of 'Teen Mom OG'
"I don't like the vulgar, threatening text messages," he said. "I'm trying to do my part as a man and a father and a co-parent to be the bigger person and stay out of it, but it really does bother me."
They explained how Edwards continues to refuse a drug test.
When Edwards went on stage with wife Mackenzie, he explained how he never took a hair follicle test because he wouldn't pass. Instead, he was open to taking a urine test, which he never did because they "haven't discussed it."
He also blamed Bookout, claiming she never responds to his texts.
He then opened up about his March 2017 arrest for possession of heroin.
"I got pulled over with drugs in the car," he explained. "I take random drug tests with the court."
As RadarOnline.com broke, Edwards was arrested again in March 2018 for petition to revoke, which means breaking probation from the March 2017 arrest.
He explained how he got prescriptions for the pills he took.
Article continues below advertisement
"But it wasn't for any other reason than recreation," he explained. "The doctors are all in jail now."
He explained how he calls his therapist "every once in a while," and how hard it is to find a counselor because many don't want to work with a reality star.
When Dr. Drew tried to call up Bookout to the stage, Edwards stormed off.
"I'm not sitting out here with her," he fired. "I'm done. I'm not going out there with her. Last time I had a conversation with her I got mad, and I'm already mad anyways. She's full of it man and I'm not getting myself upset."
His wife told Dr. Drew, "She lied on stage with you and said Ryan never texts her back."
When a producer told Bookout that Edwards fears she'll challenge him, she responded, "Or the proof that I have that they're liars!"
"It's like he sends all these text messages and he claims I don't answer them he can ask me out there," she said. "Pull out my phone. He deletes them!"
As RadarOnline.com reported, Bookout and McKinney filed restraining orders against Edwards. Bookout claimed she feared for her safety, while McKinney alleged he threatened to shoot him.
Article continues below advertisement
Both were temporarily granted.
Amber Portwood then joined Dr. Drew via video chat to discuss her decision to go almost an entire summer without seeing her daughter Leah, 9. She blamed her split on the depression that followed after splitting from ex-fiancé Matt Baier.
"It was an abusive relationship mentally and physically," she said. "It turned me into an unhappy and depressed person. When I found out he possibly cheated on me that was the end."
She explained how she turned to alcohol to drown her sorrows.
"I stopped taking my medication," she confessed. "I thought I could control my anger and my life without my bipolar and border line medication and I realized after a few months that wasn't possible. The last thing I wanted was Leah to see me in that light."
Portwood credited her boyfriend and baby daddy Andrew Glennon for "picking me up before I started doing drugs again."
Article continues below advertisement
"Am I putting her through the same stuff my parents put me through? Traumatizing her?" she asked. "It scares me. Growing up with an alcoholic mother who was never there. My dad was in my life up until I was 12 and decided to take off with his other kids and move away. I struggle with abandonment issues."
She also explained how giving up her daughter Carly with Tyler Baltierra at age 16 has contributed to her depression.
Article continues below advertisement
Lowell, who was a heavy marijuana smoker, explained how she is four months clean and sober from the drug.
Part two of the TMOG reunion airs Monday at 9/8c on MTV.
We pay for juicy info! Do you have a story for RadarOnline.com? Email us at tips@radaronline.com, or call us at (866) ON-RADAR (667-2327) any time, day or night.
For the latest Teen Mom news subscribe to our new podcast 'Teen Mom Time' below!