Is Jennifer Aniston Pregnant? Her Rumored Pregnancy Timeline From Brad To Justin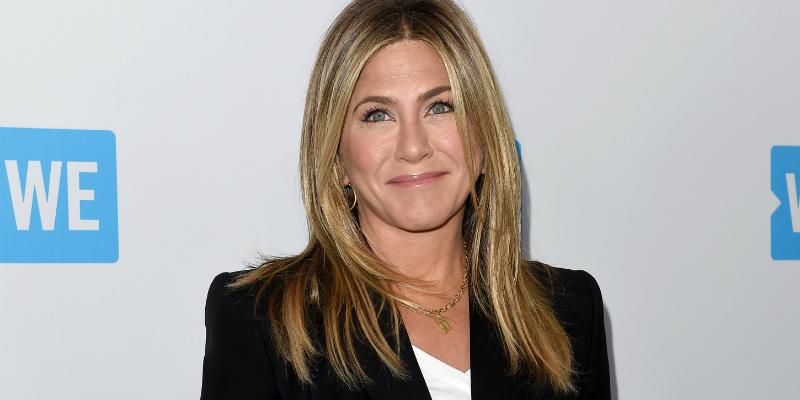 "She's having a baby!" have been America's favorite words when it comes to Jennifer Aniston. There is no other celebrity who captivates the press as much as Aniston when it comes to pregnancy rumors. She was rumored to be pregnant with Brad Pitt. She was rumored to be pregnant when she was married to Justin Theroux. There were even rumors circulating that Aniston was pregnant when she was single. So, why does the press care so much about whether the actress has babies or not? The answer is simple. It's because her fans care.
Article continues below advertisement
MORE: Is That A Baby Bump, Jen? Amid Pregnancy Rumors, Aniston Shows Off Belly At Spa
In 2013 the Huffington Post used Google Trends to see how news about "Jennifer Aniston pregnant" compared with news about actual world events, such as the war with Syria. They found out that Americans are far more concerned about whether or not Aniston had a baby bump than they were about international wars. Aniston was America's favorite "friend"—endearing, smart and kind—and everyone wanted to see her happily married and a mom. After all, she herself has repeatedly expressed her desire for children. In fact, when she isn't gushing about how much she wants children, sources close to the star and doctors are doing it for her.
MORE: Jennifer Aniston Continues To Show Off Bump After Denying Pregnancy
For nearly two decades Aniston has been a national baby watch obsession—from the moment that she first stepped into the spotlight gushing about her future as a mom to reuniting with her ex-husband, Brad Pitt, here's a closer look at all of Aniston's pregnancy rumors.
1997
The Cosmo Interview: Some would argue that America's baby bump obsession began with Aniston in 1997 when she told Cosmopolitan magazine that she definitely wanted children and desired to be a "young mom." She was 28 then and just about to meet her future hubby, Brad Pitt.
Article continues below advertisement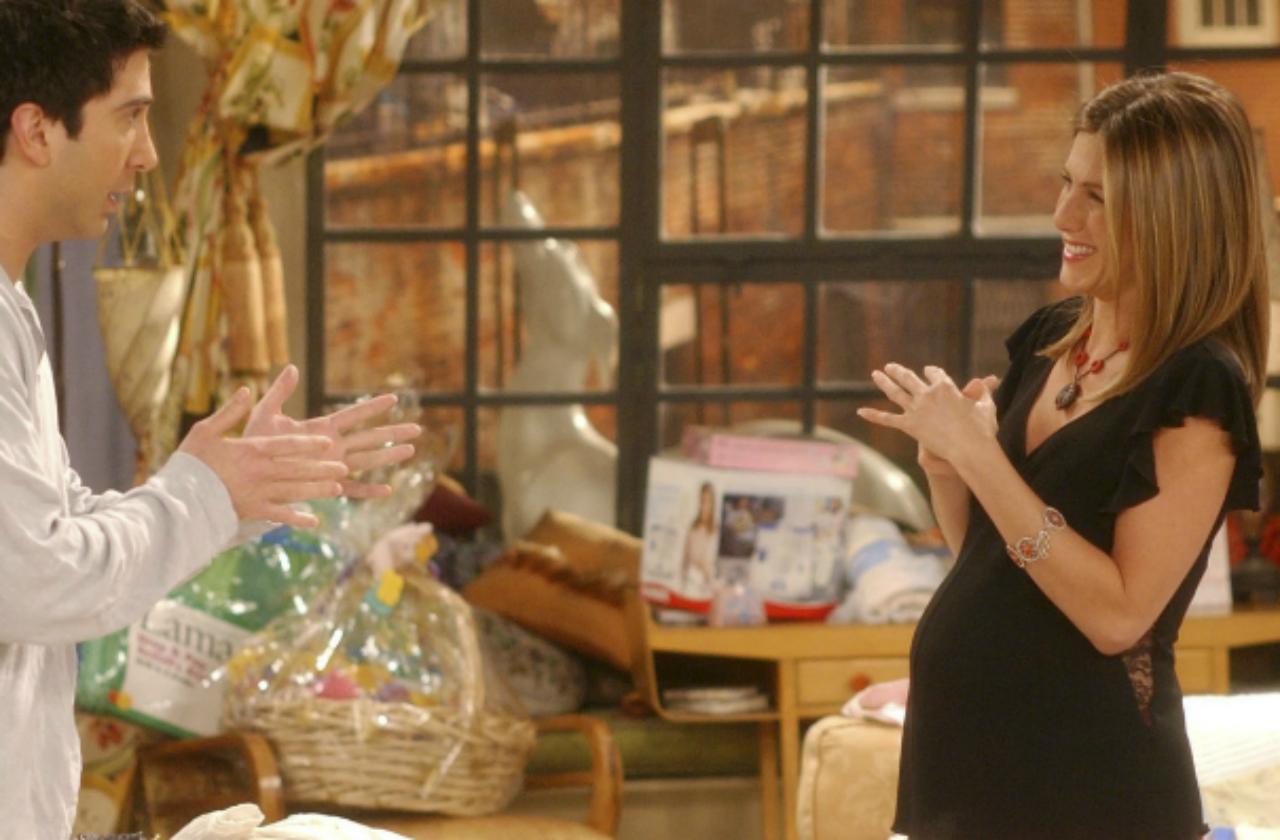 2000-2004
The People Interview: In 2000 when Aniston married Pitt and the couple sported matching Malibu Barbie and Ken highlights, People magazine ran a story on their wedding with news that the couple wanted to start a family as soon as possible.
Pregnancy Rumors Swirl: "I always thought two or three children, but Brad's definitely seven. He loves the idea of a huge family," Aniston said to Vanity Fair for the May 2001 issue. That sparked the beginning with the fixation on her stomach. For the next four years, Aniston was always thought to be pregnant.
2004
The End Of Friends: When Friends ended in 2004 it marked a new chapter for the actress.
Diane Sawyer Called Her Out: She spoke with Diane Sawyer about her and Pitt's dream of starting a family. Sawyer put it bluntly, "You said after Friends that you're going to have children." Aniston stammered with her response, "Who knows. We'd definitely love to have two at least."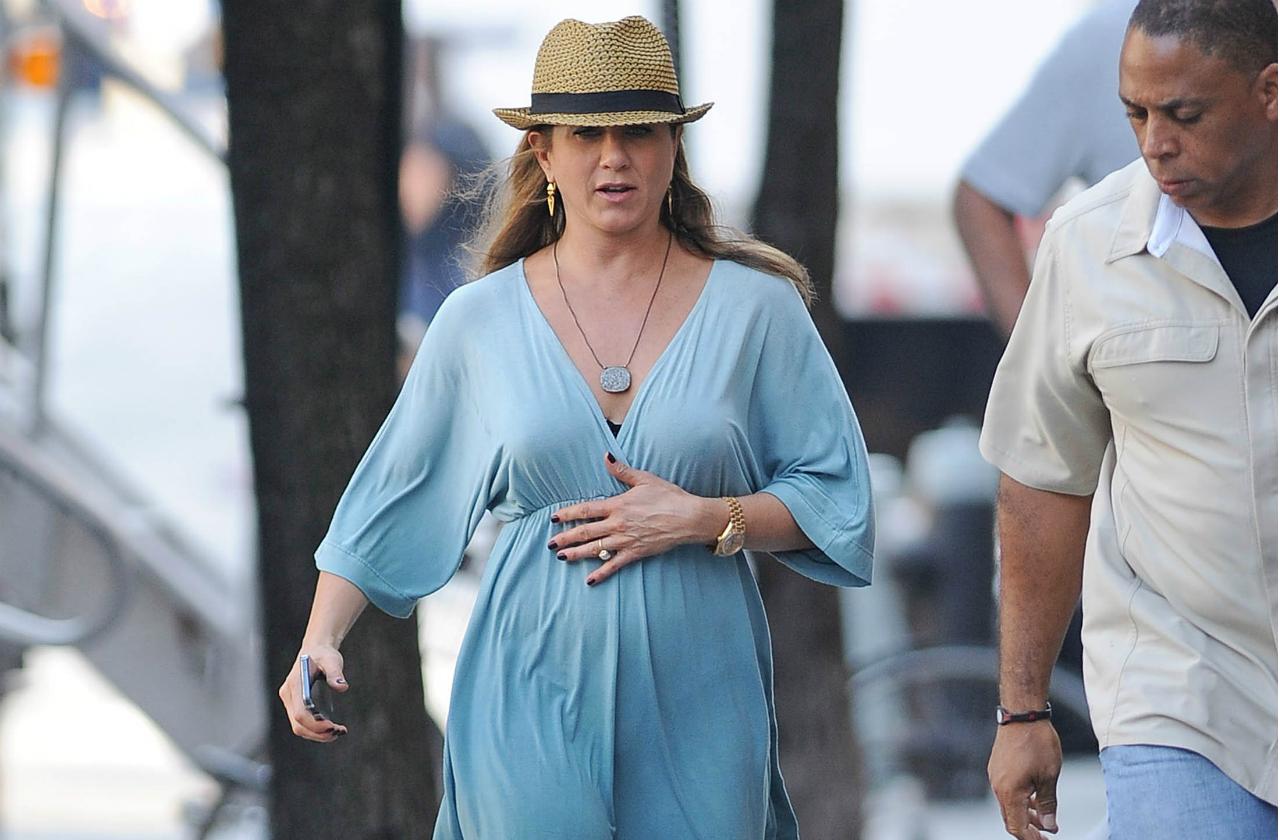 2008
Aniston And Pitt Divorce: Jennifer Aniston revamped her image in 2008 after her divorce from Pitt. She was sexy on the cover of Elle. She gave a cheeky smile on the Hollywood Reporter and Allure magazine. There was a shocking moment when she wore nothing except a tie on the cover of GQ. The actress was also dating singer-songwriter John Mayer at the time who is nine years her junior.
Article continues below advertisement
The Twins Rumor: Unfortunately, her attempt to morph from America's sweetheart into a "sexpot" didn't work out as planned. There was another story brewing—that she was pregnant with twins. Soon, both the relationship and twins rumor fizzled as her friendship with Justin Theroux blossomed.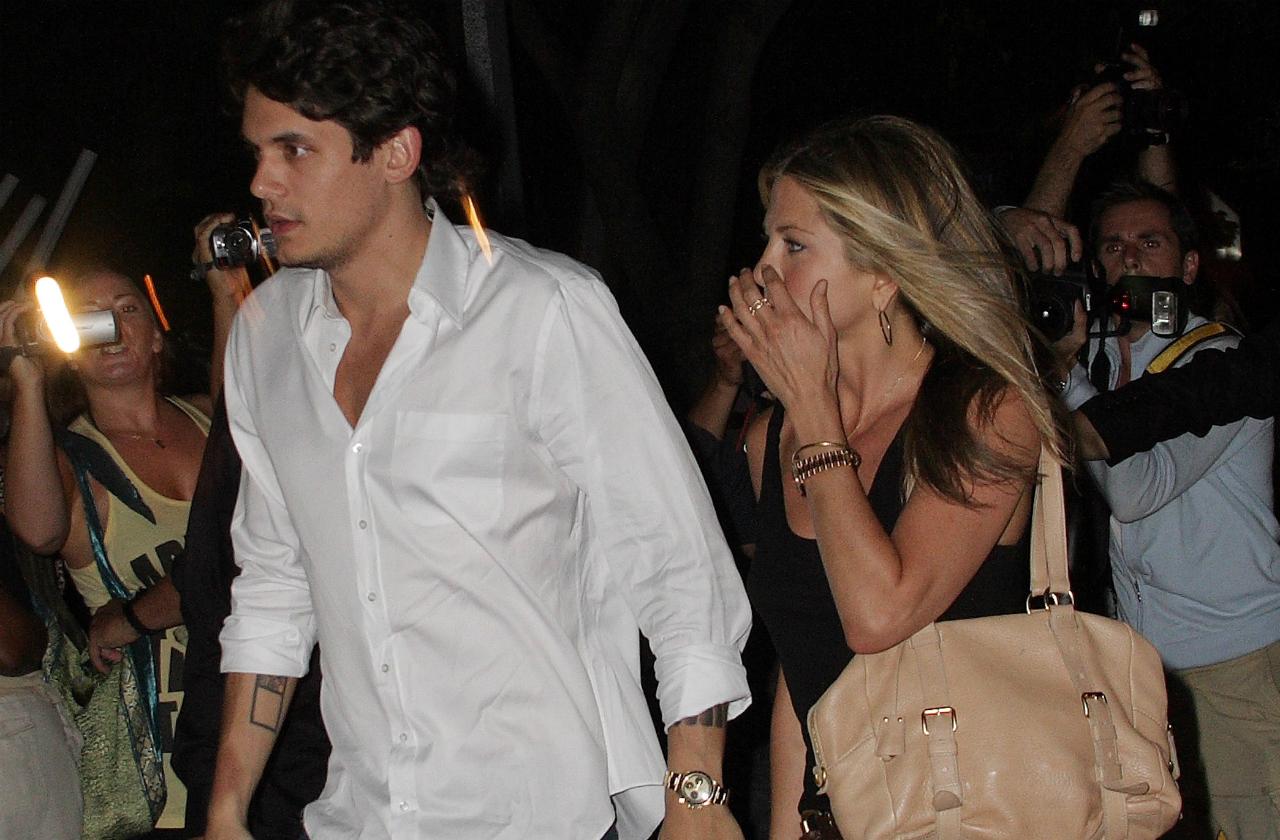 2011
Theroux Became Her Beau: By 2011, things moved fast in the world of love for Aniston. She began dating Justin Theroux at the beginning of that year.
No Expectations: A source told People magazine, "When Jen met Justin, she had almost given up on the idea that she would have kids.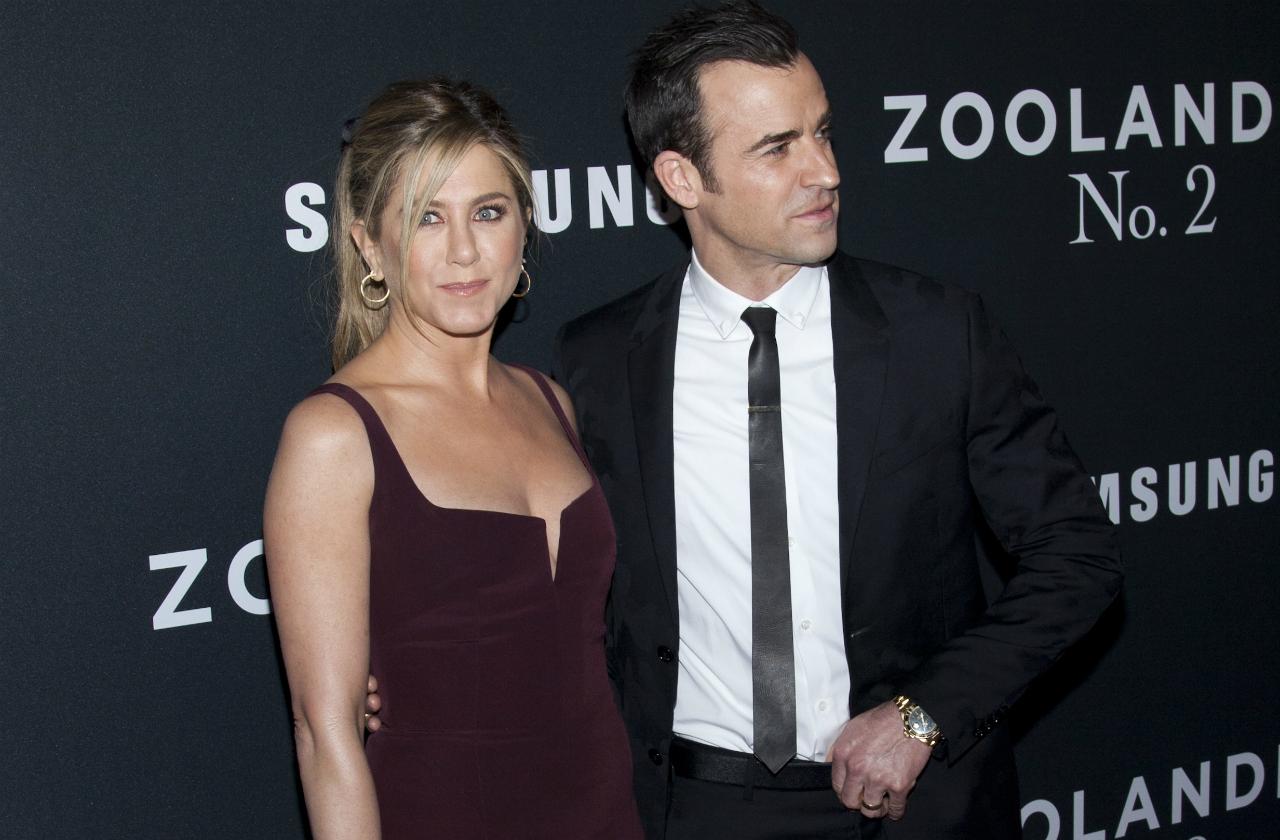 2013
The Belly Bulge Rumors: By the end of summer, they had reportedly bought a house together. Then, came the proposal from Theroux and with it that shocking eight-carat diamond engagement ring. Soon afterwards, news of her pregnancy spread with rapid fire. Part of that could be blamed on the fact that the normally svelte actress stepped out on the red carpet numerous times with a tiny bulge in her lower tummy. It was unusual for Aniston who is known for religiously following a healthy diet and exercise routine.
Article continues below advertisement
Body Language: The actress also adopted a new pose with her hand on her stomach which made the world wonder, "Is Jennifer Aniston pregnant?"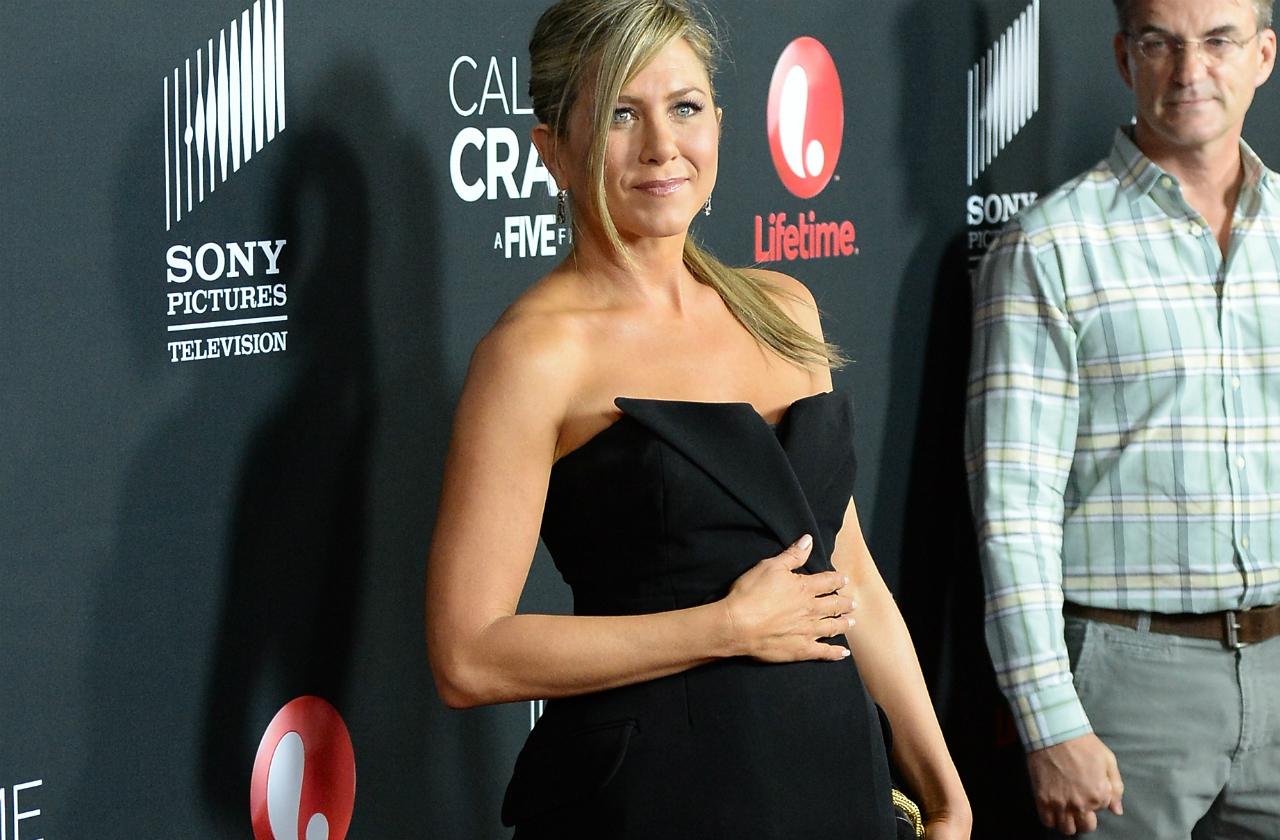 2016
The Tell-All Friend: Baby rumors swirled when a source told In Touch Weekly, "She and Justin are ecstatic. Jen has wanted to have a baby with Justin for years. Their baby news came at a bad time in her life, too—she just lost her mother, and she and Justin almost broke up."
The Doctor Is In: In Touch Weekly had a doctor discuss the size of the actress's tummy. "It looks as though Jennifer Aniston could be between two and four months pregnant. The telltale signs are the isolation of the weight gain in the abdomen and the lack of weight gain in the legs, arms, and buttock region." The detailed explanation made it sound as if the actress had more than just a "big lunch" growing in her tummy.
Article continues below advertisement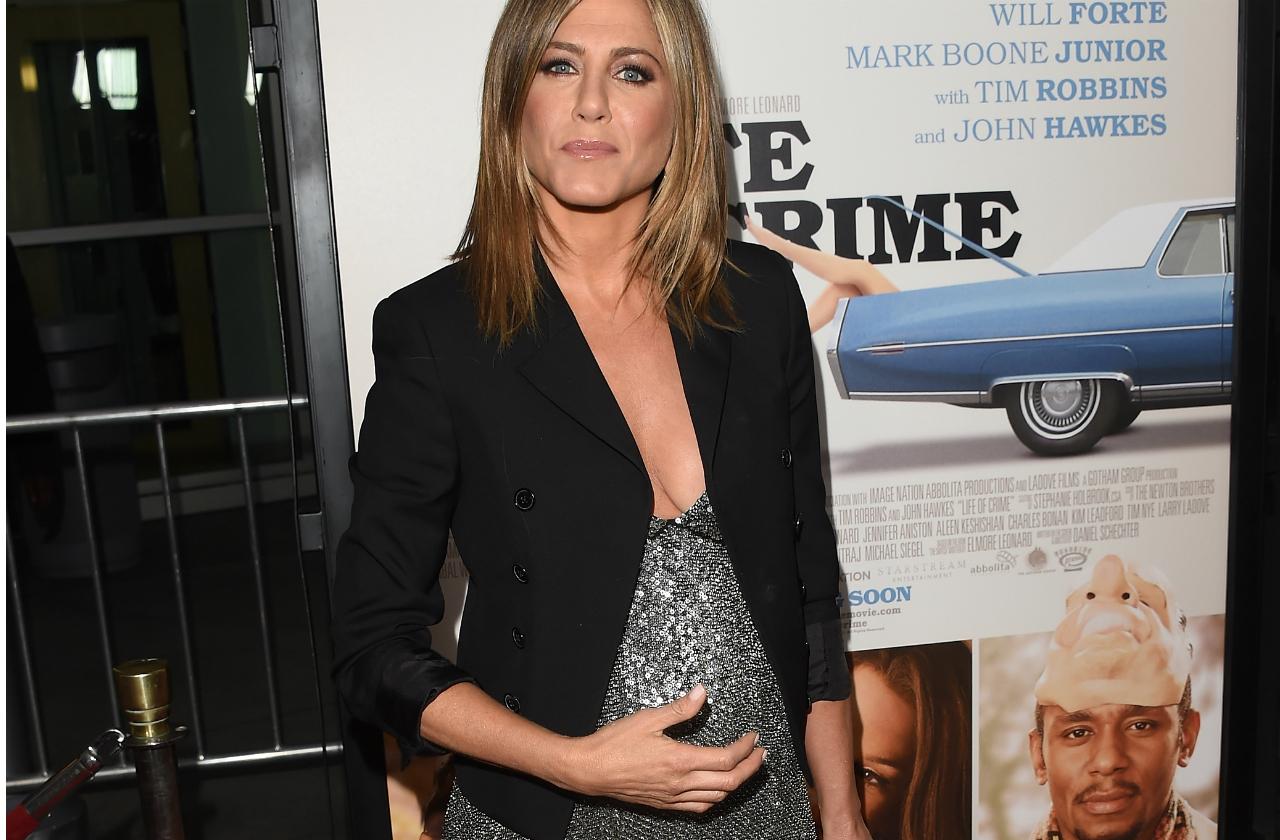 2017
She's Having A Girl!: Kathy Hilton, Paris Hilton's socialite mom, claimed that Aniston was pregnant at the 89th Academy Awards in 2017. She wrote to her 100,000-plus Twitter followers, "Jennifer Aniston looks so beautiful tonight I am telling you she is having a baby girl 100/percent!!!!!!!!" The post has since been deleted and no one knows why Hilton decided to publicly congratulate the normally private Aniston.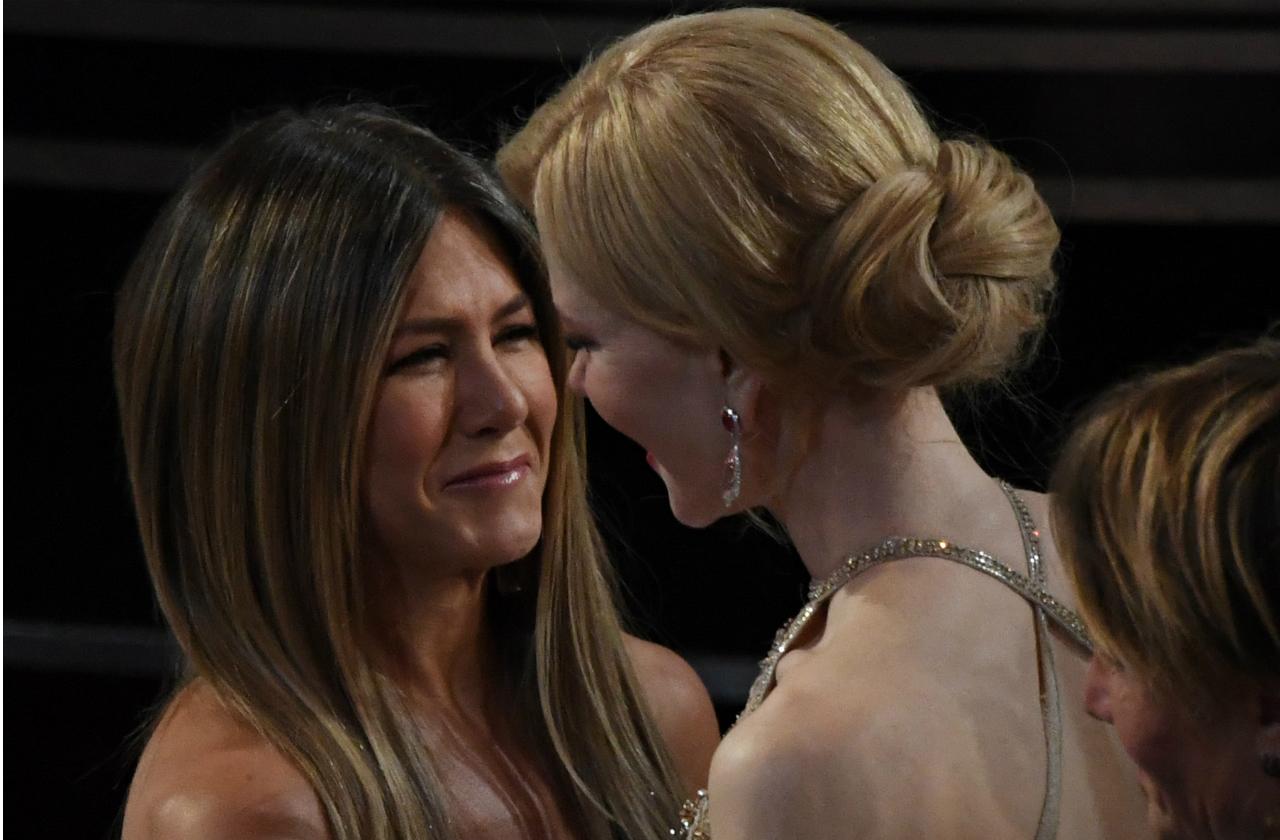 2018:
A Baby Or Divorce: When the news of Aniston's split from Theroux shocked the world in February 2018, a source close to the couple told People magazine that distance because of their careers wasn't the only thing keeping the couple apart. Apparently, both wanted to have children and were devastated how it turned out. "They wanted to have a baby, but it didn't work out," a source told the magazine.
Article continues below advertisement
Second Try With Brad: Ironically, Aniston's split from Theroux came shortly after her ex-hubby Pitt split from Angelina Jolie. The media didn't waste time speculating that the two were reuniting. A source told In Touch Weekly, that the actor reached out and apologized for everything. "He apologized to Jen for being an absentee husband, for being stoned and bored much of the time. He also made amends for leaving her for Angelina." The magazines were once again flooded with stories that Pitt and Aniston were back together and planning a family. Apparently some things will never change and Aniston's fans will always want their favorite "friend" to be a mom.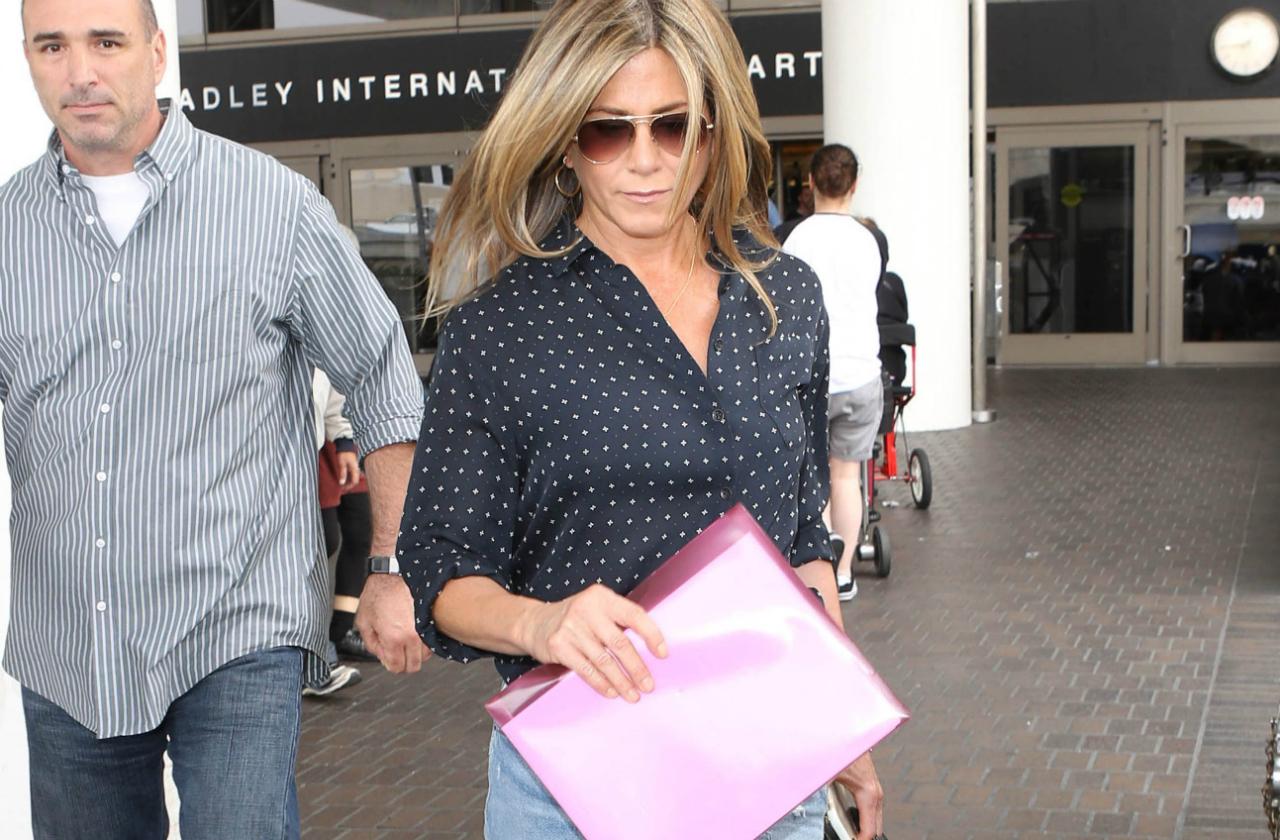 We pay for juicy info! Do you have a story for RadarOnline.com? Email us at tips@radaronline.com, or call us at (866) ON-RADAR (667-2327) any time, day or night.