Sling TV Reality Takeover
Hot Mom Alert: Chelsea Houska's Stunning Weight Loss Result of Strict Diet, Exercise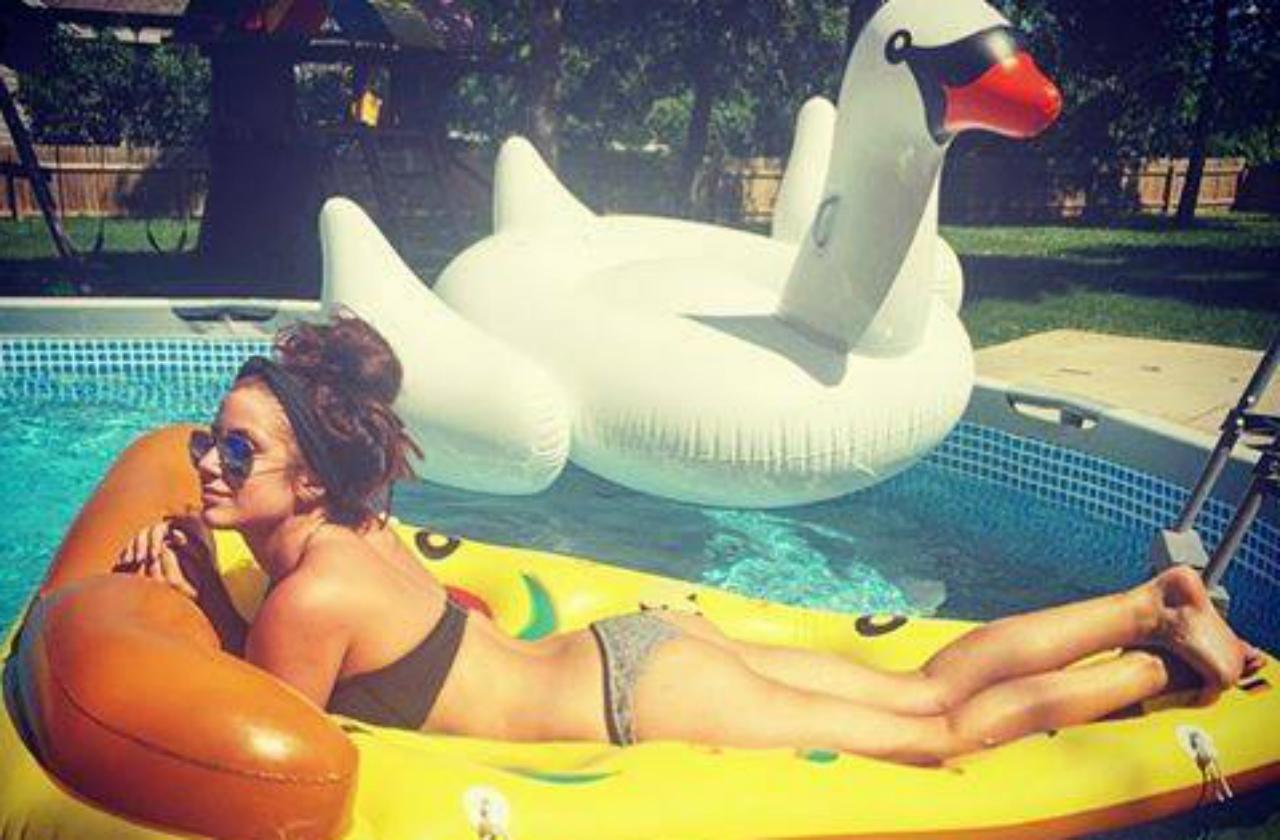 Article continues below advertisement
More: Chelsea Houska Builds Muscles with CrossFit
Along the way, Houska shared some of her secrets and tips for healthy living and—no huge surprise—it involved cleaner eating and plenty of exercise. She also provided some helpful shortcuts she used to maintain her results, including drinking protein shakes and using carb blocker supplements when necessary, though she mainly has followed a low carb diet.
More: Chelsea Houska Shows Off Baby Bump
Vintage Houska
Houska's footie PJ game was strong for sure in this 2013 pic, but you can see how the Teen Mom 2 star was definitely curvier back the day.
Healthy Juicing
Houska showed off a healthy juice of fruits and veggies, writing "A little juicey to start the day." Yum.
Looking Good!
In 2013, Houska posed for this mirror selfie and was looking decidedly slimmer than she was in that pajama pic from the previous year.
Article continues below advertisement
Good Eats
Houska posted this pic of some delicious and healthy grilled foods she was cooking up—plenty of protein and vegetables and not a bit of junk food in the mix.
Definitely Fit
Houska posed for another mirror selfie in a tight outfit and her fans took notice, with one person commenting at the time: "You lost so much weight! You look great keep up the good work and you were beautiful then."
Clean eating certainly agrees with Houska, who posted a pic of this yummy dinner in 2013, with one fan noting, "Finally you shared you secret!!! I have been dying to know what have you being eating to look so good!!!"
Fit in Flannel
Houska posted this 2014 selfie, looking fit in a flannel shirt, which prompted one fan to ask: "How did you lose so much weight? You look amazing."
Messy Hotel Selfie
Houska rocked leather pants in her messy hotel room and left her fans impressed, receiving comments like: "How have you lost weight? Need your routines" and "You look so good! What did you do?"
Article continues below advertisement
Healthy Inspo
Houska's strength is evident in this Insta video, where she showed off how she can easily snatch a barbell over her head.
More Cardio
Houska shared the secret to attaining her goals, captioning this pic: "Decided to add a little more cardio to my routine. 3 days crossfit 2 days kickboxing."
Squat Cleans
Houska showed off yet another barbell move, writing: "Squat cleans! #metabolicfitnesscenter@roguefitness @reebok"
Amazing Results
In this 2015 Instagram pic, Houska stunned in a cute romper with her "sweet girl" and fans weighed in, with one writing: "She works out a lot. I wish I had her motivation."
Soul Cycle
Houska has credited Soul Cycle in part for helping achieve her fitness goals, noting in this fit pic: "We just cycled the sh*t out of our souls."
Fierce Arms
Houska sported a bikini in this 2015 pic and while fans couldn't get a full look at the reality star, they did get a glimpse at some fierce arm muscles.
Article continues below advertisement
Flawless
Wow. Wow. Just Wow. Houska looked hella fine in this 2015 bikini pic and it was clear that her fitness routine had payed off in a big way.
Gym Time
The reality star definitely makes fitness a priority, seen here showing off her bulging muscles in a 2015 Instagram pic.
Waist Training
Not that Houska needed more toning, but this 2015 pic showed off the Zipper Waist Training Corset she was trying out.
Wonder Woman
Houska perfectly filled out her Wonder Woman Halloween costume while flexing an arm muscle. Super hero family!
Protein Shake
Houska happily got in a pre-workout shake in this 2015 Instagram pic. Just another little part of her well-rounded healthy lifestyle.
Healthy Breakfast Option
Houska shared one of her healthy breakfast options, captioning the pic: "Back into my healthy routine. @BooteaUK Little Oats for breakfast."
Article continues below advertisement
Fighting Carbs
Houska shared one of her secret weapons: carb blocker pills! She wrote: "Fighting carbs in 2016! Thanks @proteinworld"
New Year's Resolution
Houska posted this pic in 2016, explaining: "My New Years resolution is in full effect. I've been exercising with @lillyscurve exercise waist belt and I've seen great results."
Tea Time
Houska relies on this detox tea, writing: "I have been drinking my @Flatbellytea_ for over a month & I love the results. It keeps me energized throughout the day & not to mention it's so delicious."
Upping Her Game
Houska admitted in this video's caption: "It was sloppy BUT I got er up there so I'm happy ha."
Bikini Bod
Houska made a pizza pool float look pretty damn amazing, posing in a bikini while soaking up the sunshine. Her fans flooded the pic with comments about how fit she looked.
Staying Fit During Pregnancy
Houska didn't let her pregnancy get in the way of her fitness routine, explaining: "Takin it super easy at the gym... but still wanna be a fit mama! glad my dr gave the OK!"
Amazing Post Baby Body
Houska was looking happy and healthy in the months following the birth of her second child, Watson Cole.
We pay for juicy info! Do you have a story for RadarOnline.com? Email us at tips@radaronline.com, or call us at (866) ON-RADAR (667-2327) any time, day or night.