NXIVM Cult Member Actress Allison Mack's Sex Slave Trafficking Details Exposed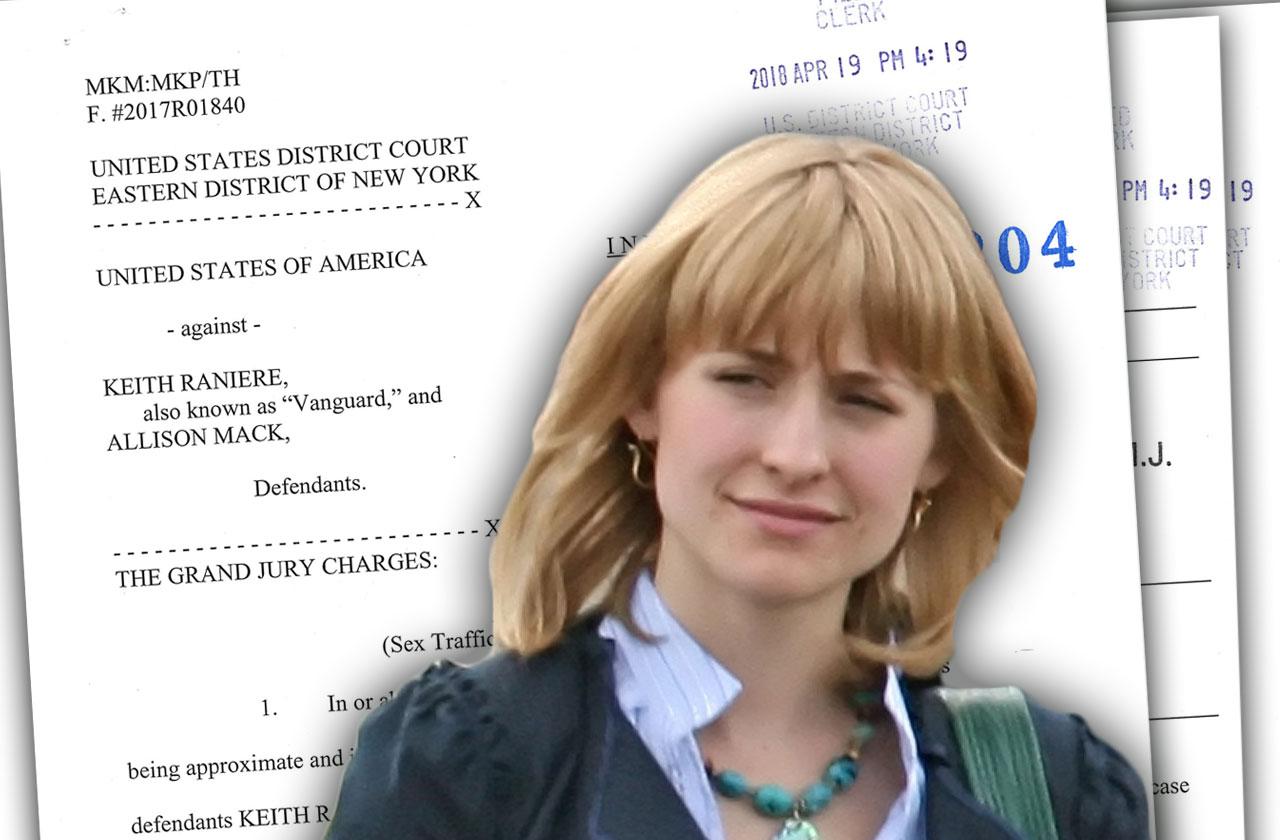 UPDATE: Allison Mack pleaded not guilty, with her lawyer entering the plea on her behalf. She was "ordered detained by the judge," and there will be another hearing on Monday, April 23, 2018, according to John Marzulli, the Department of Justice Public Information Officer.
The government sealed an indictment against Smallville actress Allison Mack so that she would "not learn" they were planning to arrest her for sex trafficking in connection with the NXIVM cult case RadarOnline.com exclusively learned.
Article continues below advertisement
According to the unsealed indictment obtained by RadarOnline.com that were filed in the United States District Court Eastern District of New York, "The government intends on effectuating the arrest of one of the named defendants in the coming day or two. The government seeks to seal the indictment to ensure that the defendant Allison Mack does not learn that she is under indictment and to prevent her from fleeing justice to avoid arrest and prosecution."
Mack was taken into custody in Brooklyn, New York on April 20, 2018 and charge with sex trafficking, sex trafficking conspiracy and forced labor conspiracy. Keith Raniere, who headed up the NXIVM cult that allegedly "branded" the victims of the organization, was arrested in Mexico in March.
The "Sex Trafficking Conspiracy" count listed in the documents obtained by RadarOnline.com detailed Mack's involvement with Raniere, stating they "together with others, did knowingly and intentionally conspire to: (1) recruit, entice, harbor, transport, provide, obtain, advertise, maintain, patronize and solicit persons, in and affecting interstate and foreign commerce; and (2) benefit, financially and by receiving a thing of value, from participation in a venture which was to have engaged in such acts, knowing that means of force, threats of force fraud and coercion, and a combination of such means, would be used to cause such persons to engage in one or more commercial sex acts."
Article continues below advertisement
United States Attorney Donoghue told RadarOnline.com that Mack "recruited women to join what was purported to be a female mentorship group that was, in fact, created and led by Raniere.
"The victims were then exploited, both sexually and for their labor, to the defendants' benefit. This Office and our law enforcement partners are committed to prosecuting predators who victimize others through sex trafficking and forced labor."
Actress Catherine Oxenberg's daughter India is a member of NXIVM and her mother told RadarOnline.com that she was desperate to help her escape from the sick sex cult.
"I'm trying to save my daughter's life," the Dynasty actress said about her child who had completely cut herself off from her mom.
"She is still in there. It is horrific," Catherine explained to RadarOnline.com in October 2017.
Stay with RadarOnline.com for updates to the story.
We pay for juicy info! Do you have a story for RadarOnline.com? Email us at tips@radaronline.com, or call us at 800-344-9598 any time, day or night.