Billy Graham Never Feared Dying: 'Death Is Just A Transition — It's Not The End'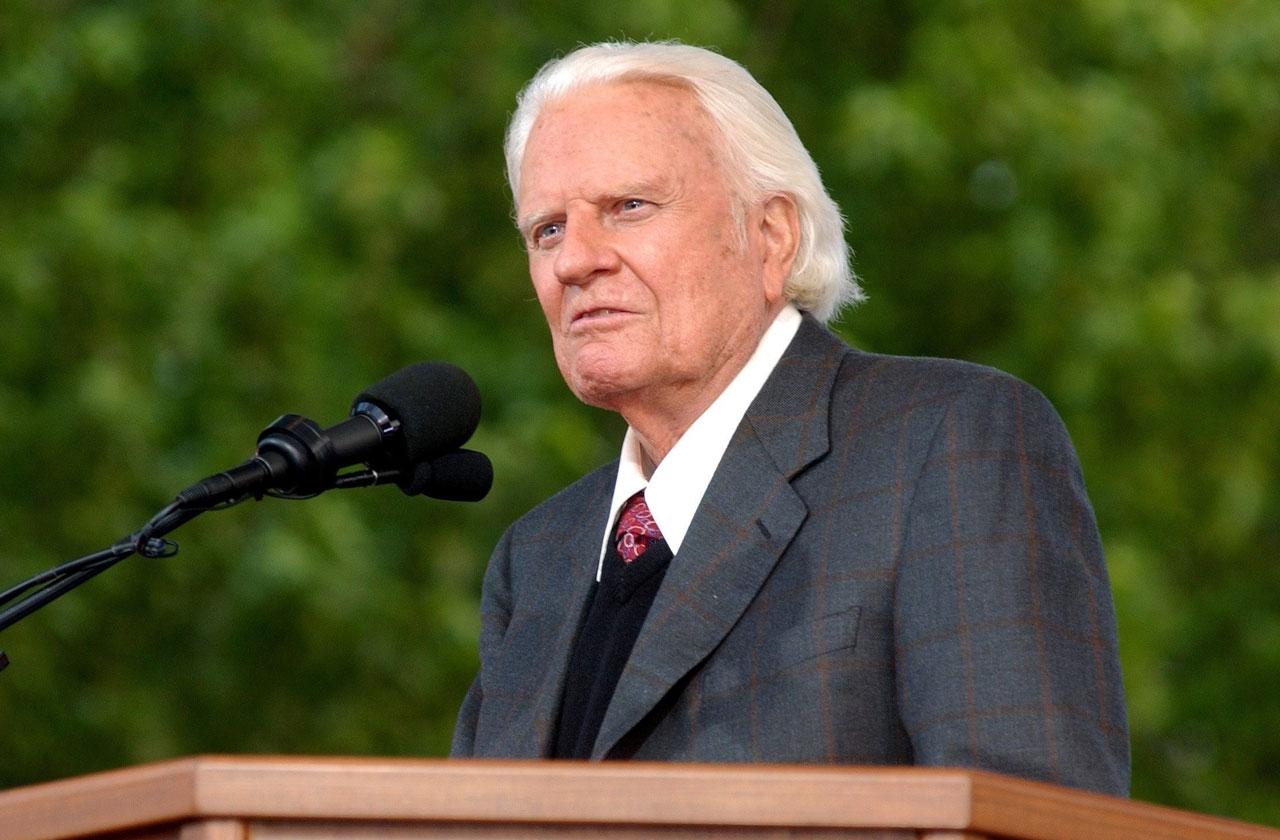 Iconic evangelist Billy Graham had suffered various health problems throughout his life. But the 99-year-old never feared death, Radaronline.com has learned.
Over the course of his nearly 80-year career, Graham has been in an agonizing battle with pain.
"Billy has always fought a secret life of pain and illness to get into the pulpit," Graham's longtime friend, Professor William Martin, told the National ENQUIRER in 1995. "He's courageous and mentally strong, but physically, he's been more fragile over the years then he has appeared."
Article continues below advertisement
Pegged as America's Pastor, Graham suffered from Parkinson's Disease and a host of other health issues.
"He has suffered from hernias, ulcers, cysts, polyps, infections, pneumonia, chronic high blood pressure, throbbing headaches and several falls that have broken 18 of his ribs in the years that I've known him," Martin explained. "Many times, Billy stayed in bed up until the time to preach. He's been so weak, he could barely get into the pulpit. But when he started preaching, he seemed to lose 15 years off his age."
Only a few years ago — in 2014 — Graham's son, Rev. Franklin Graham, spoke to the ENQUIRER about his father's ailing health.
"He got pneumonia after his birthday last year and it took a lot out of him," Franklin revealed. "Dad's in relatively good health — he's hard of hearing and can't see very well but his mind is still clear."
Despite his illness and health issues, Graham never wavered when it came to preaching the word of God, and continued to do so until his passing.
Article continues below advertisement
Graham — who has ministered to over 215 million people in his life-time — revealed in 1999 that he wasn't afraid of death.
When his wife Ruth Graham was on her deathbed following hip surgery, Graham said he wasn't "concerned about dying."
"As a matter of fact, we are looking forward to it — and going to heaven," Graham told the ENQUIRER. "Death is just a transition — it is not the end. I know that when I reach heaven I will meet Jesus."
"But we do believe in prayer for strength and guidance," he added.
The beloved pastor influenced many powerful figures in the world, including: Queen Elizabeth, and US Presidents, Lyndon Johnson, Ronald Reagan, and George W. Bush — who turned to him for spiritual guidance.
Graham is reported to have converted over 3 million people to Christianity.
He is survived by his five children and eight grandchildren.
We pay for juicy info! Do you have a story for RadarOnline.com? Email us at tips@radaronline.com, or call us at (866) ON-RADAR (667-2327) any time, day or night.