'Very Uncomfortable' Aly Tells All On Larry Nassar Sexual Abuse Allegations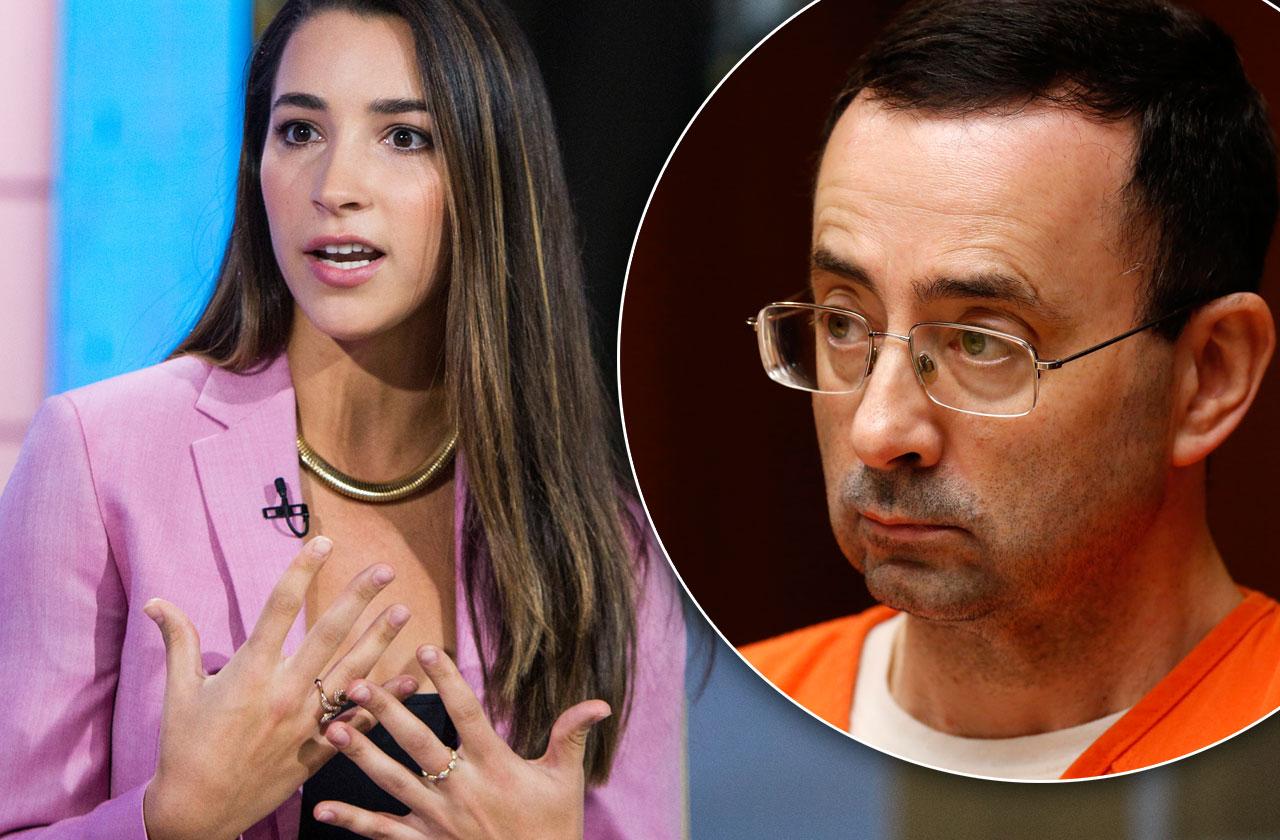 Aly Raisman is finally detailing her chilling experiences with Dr. Larry Nassar, RadarOnline.com can exclusively reveal.
The Olympic gold medalist, 23, recalled how she first met the disgraced doctor in Australia in 2010 at the insistence of a national team staff member.
"'You have to see him,' she insisted," she wrote. "'He's the best there is, and it's a huge honor that he agrees to work with the team. Seriously, you won't regret it.' I didn't want to be labeled as uncooperative, so finally I said okay."
Article continues below advertisement
"Larry Nassar came to my hotel room," she continued. "At first, I didn't think too much of the massage. There were two other people in the room, and I was wearing leggings. There was something about the massage that made me uncomfortable, but the staff member's words stuck in my head."
She detailed how he put her at ease and she "remembered feeling grateful that he understood her."
Then, she encountered him again in the Netherlands later that year.
"At eight o'clock that night, I was alone in my hotel room when there was a tap on the door," she recalled. "I opened it to find Larry Nassar standing in the hall. 'I thought you could use a massage,' he said."
She declined to go into further detail of what happened that night, but noted that she saw other doctors throughout her career that made her feel more comfortable than Nassar did.
"I dreaded being worked on," she said of Nassar. "Larry had promised he could help ease the aches and pains that come with high-level gymnastics. He assured me that he knew just how to do it, too. The first time I met him, I was fifteen and in a foreign country without my parents. He was a doctor. All the adults loved him and he were constantly singing his praises…who was I, a mere teenager with no medical training, to say any different, or to question his methods?"
Article continues below advertisement
Finally, USA Gymnastics president Steve Penny called her in July 2015 to have her speak to an investigator looking into claims that Nassar abused gymnasts.
"It turned out I wasn't the only one feeling uncomfortable," she wrote. "Over the years, among the girls who were invited to camps, there was some talk of Larry and his 'treatment methods.' Most of us thought the way he touched us was weird. But he did it to so many of us that we assumed, blindly, that he must know something we didn't."
She told the investigator as much as she could despite being "overwhelmed by the questions and by all the thoughts, fears, and worries running through her head," but decided later that day that she had more to say. She didn't know how to get in touch with the investigator, so she "called a USA Gymnastics official, and told her everything." The official texted her back, "saying that she needed to stop speaking about Larry."
Article continues below advertisement
"I wanted to throw up," she wrote. "Realizing that you've been a victim of sexual abuse is a horrible, sickening feeling."
"I am not going into specifics about what Larry did to me – that information is private," she added. "Frankly, I was planning to keep this part of m story private, as I continue to process it."
Raisman previously spoke out against Nassar, saying: "Why are we looking at why didn't the girls speak up? Why not look at what about the culture? What did USA Gymnastics do, and Larry Nassar do, to manipulate these girls so much that they are so afraid to speak up?"
"You don't want to let yourself believe, but you know, I am a victim of sexual abuse," she added on 60 Minutes. "Like, it's really not an easy thing to let yourself believe that."
Her Olympic teammate McKayla Maroney also accused Nassar of sexual assault, dating back to when she was just 13 years old.
He currently faces 33 charges of criminal sexual conduct for alleged assaults, and he pled guilty to child porn possession in July. He could be sentenced to 27 years in prison on Dec. 7.
Stay with RadarOnline.com for more.
We pay for juicy info! Do you have a story for RadarOnline.com? Email us at tips@radaronline.com, or call us at 800-344-9598 any time, day or night.