Harvey Kills 31, Houston Residents Told To 'Get Out Or Die'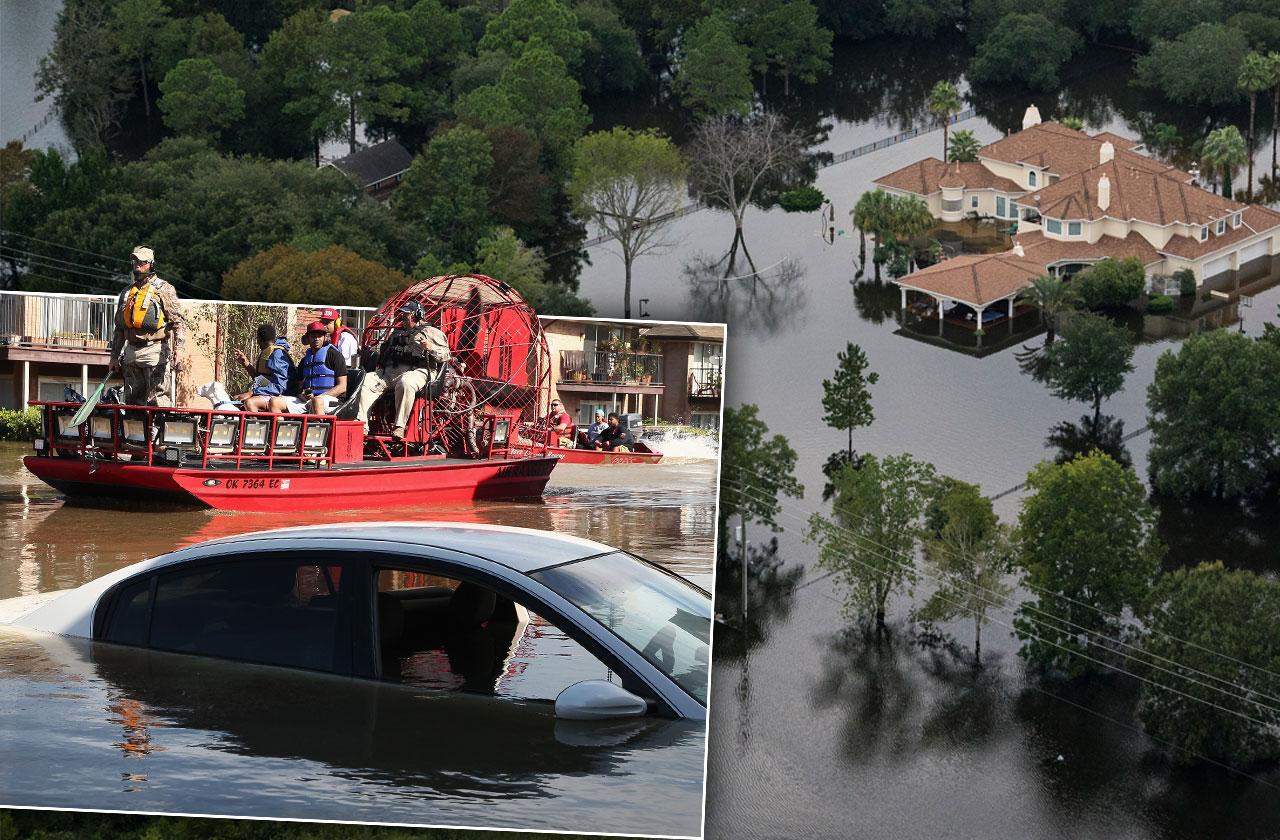 Houston locals are being told to "get out or die" as Hurricane Harvey reaches its eighth day of destruction. The death toll has risen to 31, this Thursday morning, a number that officials claim is sure to rise if residents don't begin evacuating the area immediately.
As Harvey continues to make its way towards Louisiana, water levels in the Neches River are expected to rise up to 82 feet.
"All residents living in Mt. Neches, Barlow Lake Estates, Works Bluff on CR 4415, Sheffield Ferry and Bottom Loop-CR 4700 who have not already evacuated must do so immediately," wrote Tyler County Judge Jacques Blanchette in a statement on Wednesday.
Article continues below advertisement
"Anyone who chooses to not heed this directive cannot expect to be rescued and should write their social security numbers in permanent marker on their arm so their bodies can be identified. The loss of life and property is certain. GET OUT OR DIE!" she continued.
Couples, mothers and innocent locals have been found dead in the muddy waters, as their cars were swept away by the violent currents.
Governor Greg Abbott warned residents to stay away from flooded roads, especially while driving. The "worst is not over yet," he said.
In the past 48 hours, one victim drowned to death while tying to swim across a flooded road. Two others were electrocuted by submerged power lines while attempting to recue stranded individuals. Countless people, including journalists reporting on the event, have gone missing.
Article continues below advertisement
"We were hanging on for dear life," recalled photojournalist Ruaridh Connellan after surviving the storm's ferocious winds. "The water smelled putrid, like stagnant sewage, mixed with everything else."
Due to the high intensity of the winds and currents, a chemical plant near Houston exploded, with the company saying it was "inevitable."
Before the incident, the company's CEO, Richard Rowe, said in a statement: "Materials could now explode and cause a subsequent intense fire. The high water that exists on site, and the lack of power, leave us with no way to prevent it."
After more than a week of massive destruction, it seems there is no end in sight for Tropical Storm Harvey.
The death toll is still expected to rise dramatically. "I'm worried about how many bodies we're going to find," Houston Police Chief Art Acevedo said after one of his officers drowned on Tuesday.
"It's imperative that we do everything possible to protect the lives and safety of people across the state of Texas as we continue to face the aftermath of this storm," concluded Governor Abbott.
We pay for juicy info! Do you have a story for RadarOnline.com? Email us at tips@radaronline.com, or call us at 800-344-9598 any time, day or night.