Exclusive
So Shady! Danni Baird's Ex-Fiancé In Middle Of Brother's Explosive Biz Lawsuit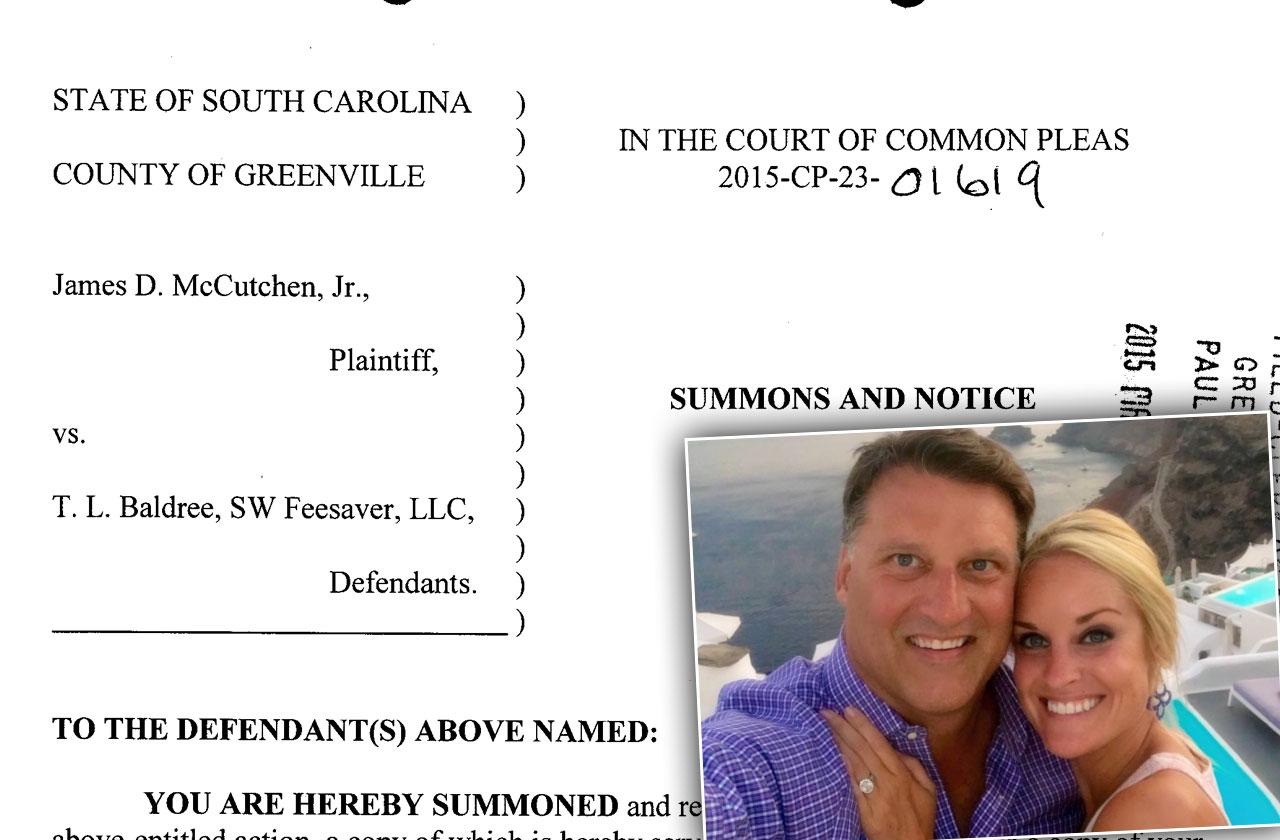 Danni Baird's engagement to Todd Baldree ended two weeks before she was set to walk down the aisle, and now RadarOnline.com can exclusively reveal that her secret fiancée was involved in a shady lawsuit before his Southern Charm debut!
Todd, 48, found himself in the middle of his brother T.L.'s nasty lawsuit in 2015, and took his side in a separate lawsuit that same year.
T.L. was sued by his ex-business partner after he allegedly "took over $21,3000 in unauthorized distributions to pay his personal expenses on an American Express account" and "charged extravagant, wasteful and personal expenses to the company, estimated to be over $24,000," according to Greenville, South Carolina court documents obtained by Radar.
Article continues below advertisement
His ex-partner, James D. McCutchen Jr., also accused him of acting in ways that put their company SW Feesaver in jeopardy, and asked the court to expel him from the company. T.L. denied his allegations, and claimed that James was actually the bad partner. He asked the court to force James to buy out his half of their company.
Todd became involved midway through the suit when he attempted to buy his brother's share of the business to get the case dismissed. Todd submitted an affidavit that stated he "executed a note" promising to pay $125,000 to James for his brother's share in the business in addition to paying the $12,000 that T.L. allegedly owed in expenses.
Todd claimed that James "inexplicably and abruptly fired T.L. Baldree and froze him out of SW Feesaver" and "intercepted" his emails as well.
The case was later settled out of court, and was dismissed with prejudice.
Todd also became involved in a suit his brother filed against James' wife Tonya that same year. T.L. claimed that Tonya "targeted friends, associates and business contacts" by "approaching them at social events and community functions" and "making slanderous statements" in retaliation for the first suit.
Article continues below advertisement
Tonya denied T.L.'s claims, and insisted that T.L. and Todd "purposefully joined in a civil conspiracy" to "gain advantage" in the first suit.
That case was also dismissed with prejudice, and Todd proposed to Danni, 33, shortly after it was closed.
Todd initially refused to appear alongside his fiancée on Southern Charm, with Danni telling Rachael O' Brien on her podcast: "All season they really wanted Todd to be a part of it. I really wanted him to be if he wanted to be. He kind of caved at the end of the season, which I knew probably wouldn't make a lot of sense to the viewers."
"Here's my thing, the people that are gonna hate and talk shit about him or our age difference or whatever they want to talk about, they're probably not in their own great relationship," she added at the time. "To me it's deflection." Exactly. She also revealed, "We are getting married in September."
But, the couple won't be walking down the aisle in two weeks as planned, as Danni is on Stassi Schroeder's breakup trip.
Stay with Radar for more.
We pay for juicy info! Do you have a story for RadarOnline.com? Email us at tips@radaronline.com, or call us at 800-344-9598 any time, day or night.