Putin's Celebrity Blackmail Files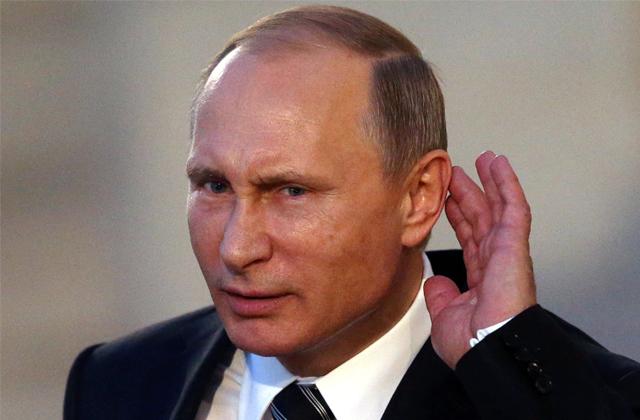 Evil Kremlin kingpin Vladimir Putin has a secret Hollywood hate list — and a file cabinet crammed with dirt-filled dossiers he can use to humiliate and BLACKMAIL Tinseltown's biggest stars if they crusade against Russian outrages.
Top U.S. intelligence sources say the A-listers caught in the Russian dictator's web of extortion include: Tom Cruise, Madonna, Robert De Niro, John Travolta, Goldie Hawn, Kurt Russell, Kim Kardashian, Kanye West, Elton John, Jennifer Lopez, Brad Pitt and Angelina Jolie!
Article continues below advertisement
The secret files are bursting with embarrassing video footage and taped conversations dating back to 2009.
Kremlin creeps are under orders to blackmail celebrities, who take public stands against Russian policies or Putin, with shameful information that could ruin their lives and careers.
"Putin has shrewdly collected sordid secrets on an impressive array of bold-faced Hollywood names who have been politically vocal against him and his policies," says a highly-placed American intelligence source.
"This is a calculated effort to ensure he can control their public rhetoric about Russia."
Putin's spies have secretly recorded politically active celebs in embarrassing situations while visiting Russia, Cuba or other areas where the Kremlin's agents are free to operate.
In one horrifying example, Cuban intelligence took advantage of a May 2016 episode of Keeping Up with the Kardashians by secretly bugging the reality stars in their hotel rooms during a visit to the Communist– controlled island.
Article continues below advertisement
Shockingly, the secret agents reportedly filmed a NEW sex tape featuring Kim and hubby Kanye, says a source.
Cuban ex-pat Humberto Fontova says the regime's agents are under orders "to bug and video tape famous visitors for the purpose of blackmail."
Trained by the Soviet KGB and the East German Stasi, Cuba's spy masters have the goods on just about every celebrity who visited the island since Fidel Castro took over in 1959, charges Fontova, author of Fidel: Hollywood's Favorite Tyrant.
Bugging hotel rooms is standard operating procedure, and only one dirty tactic employed by Putin's shadowy global network of spooks.
Formerly known as the KGB, the Russian Federal Security Service (FSB) collects sensitive data by using sophisticated eavesdropping devices to monitor cell phones, emails and laptops of visiting celebrities, says an expert.
"Many celebrities are becoming political activists, so if they are in Moscow, St. Petersburg or somewhere else, there is a concern that they will be in contact with the opposition," explains Wayne Madsen, a National Security Agency consultant.
Article continues below advertisement
Once enough embarrassing information, photos or tapes of a celebrity in a humiliating situation is collected — that information is used to make them putty to Putin's ruthless agenda.
"Certain celebrities — like Angelina Jolie — who are very active with international causes would be of great interest to the Russians seeking Western propaganda mouthpieces," Madsen declares.
"They do it to celebrities because we live in a celebrity culture … if you can get them to say nice things about Putin that's ten times as important as a politician saying it."
Intelligence sources say gay-bashing Putin played homosexual rocker Elton for a patsy back in 2014.
The Rocket Man singer defied demands by other prominent celebrities to cancel a Moscow concert as a protest to Russia's oppression of the gay community.
After the concert, Putin praised Elton as an "extraordinary person … regardless of his orientation."
But a U.S. intelligence source chillingly notes, "Given Elton's long history of strident support for gay rights, choosing to play in a notoriously homophobic environment makes you wonder if Russian agents put a gun to his head."
We pay for juicy info! Do you have a story for RadarOnline.com? Email us at tips@radaronline.com, or call us at (866) ON-RADAR (667-2327) any time, day or night.