Exclusive
'Married To Medicine' Cheating Scandal: Dr. Jackie's Hubby CAUGHT With Other Woman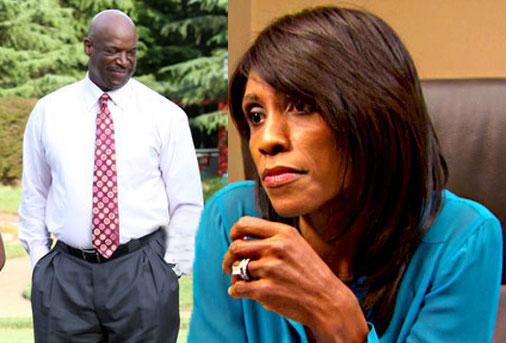 Married to Medicine star Dr. Jackie Walter's husband was busted two-timing her last month, and only RadarOnline.com has the exclusive interview with the other woman at the center of the humiliating scandal.
Curtis Berry was spotted in mid-March in Hilton Head Island with a woman who was definitely NOT his Bravolebrity wife and now the other woman has opened up about their months-long affair.
Natasha Pearson, 27, told RadarOnline.com that she met Berry in late 2016 at a mutual friend's house and they hit it off instantly.
Article continues below advertisement
"We had a few drinks and we began our dating right then," Pearson told RadarOnline.com.
Even more shockingly, she claims, "We had sex that night. We were at the friend's house and he obviously goes over there a lot. It was very comfortable. Curtis was someone I felt like I could talk to..."
The couple started an intense "sexual relationship," she alleges, claiming that they met only in hotels that Berry insisted she put under her name.
"I had no idea he was married," she told RadarOnline.com.
"When I found out that he was married is when he called me and told me about the pictures," which were published on www.MediaTakeOut.com after the couple were spotted in the South Carolina resort town.
"He was in a panic and told me 'I'm married, that's my wife on TV This is an f'ed up situation.' I honestly had no idea Curtis was married. I didn't even know that he was on TV," she insisted.
Article continues below advertisement
Pearson, who is repped by Tara Thomas of the Tara Thomas Agency, told RadarOnline.com that she and the Bravo star's husband only met for sex in Atlanta and "we never had a situation where we were in public here. It never caught my attention that was going on."
She claimed that Berry was in a panic after the photos surfaced and asked her to lie to cover up nature of their true relationship.
"He wanted me to say that we met at a bar in Hilton Head, not that we met in Atlanta. He's making up a story in so many details. I told Curtis 'I cannot go along with it. I can't keep up with your lies for you. I'm not obligated to lie for you!'"
In reality, she claims, "He picked me up on that morning that we went to Hilton Head. He made the reservation. We traveled down there together. We sttayed in the hotel room for three days and two nights."
Pearson said Berry did come clean about being married, but was still trying to convince her that he was worthy of her affections.
"When he called to me to apologize after the pictures came out, he asked me, 'would it have changed anything?' if I knew he was married and I said 'absolutely!' He tried to tell me he didn't think it would have changed anything, that we still would have been seeing each other. But I told him 'absolutely not!'"
MORE ON:
Married To Medicine
Article continues below advertisement
Pearson defended her actions, and explained why she was coming forward as the other woman.
"I want Dr. Jackie to know, you're married to a man who had sex with someone the first day we met," she claimed. "You should know we did have sex that night. I can only imagine what he's told this woman."
"People are saying he left Dr. Jackie for a younger woman, well I'm not younger. He didn't necessarily leave her," she said. "He was probably lying to her as he was with me. Whatever the hell he was going through. His mistake was calling me repeatedly trying to make me go along these stories. He told me there is one story for my wife and one for TV. I hung up on him."
Dr. Jackie's troubles with Berry have been documented on Married To Medicine, but Pearson told RadarOnline.com that he only spoke about the show once he was busted.
"He told me his wife is on this show with some miserable b**ches and now he's just given them ammo to bury her. I was so mad. I said 'You're not even thinking about my life! Do you know how humiliating this situation is for me?'"
"He told me he knows this is a messed up situation. He was trying to save his ass. He was trying to make me out to be a groupie."
Article continues below advertisement
"Please. He is no prize," she continued. "He is no Lebron James. I told him 'I was beginning to like you.' But once this sh*t started that let me know where I stood with you, I don't like you anymore."
The troubles in his marriage have been a continuing storyline on the show, and Berry told Pearson that he feared that this would be the last straw.
"He said he thought Dr. Jackie would definitely divorce him now. He was really remorseful just with the wrong damn person," she said. "He really sounded like he loved this woman. So why the hell would you put yourself in the situation? Men are stupid like that."
"I wanted her to get my message that I'm completely sorry," Pearson claimed. "I didn't know. He is definitely not recognizable. I want her to know I am apologetic about the situation. The situation is crazy."
Dr. Jackie told RadarOnline.com "I have no comment," when asked about her husband's cheating allegations. But days after the pictures of him with Pearson surfaced, she posted a solo selfie on Instagram and wrote: "The devil whispered in my ear "you're not strong enough to withstand the storm"......Today I whispered in the devils ear, "I am the storm"....Good Morning!"
Reps for Bravo declined to comment. Curtis never responded to RadarOnline.com's request for comment.
We pay for juicy info! Do you have a story for RadarOnline.com? Email us at tips@radaronline.com, or call us at 800-344-9598 any time, day or night.