Aaron Hernandez Declared Innocent Of EVERYTHING After His Suicide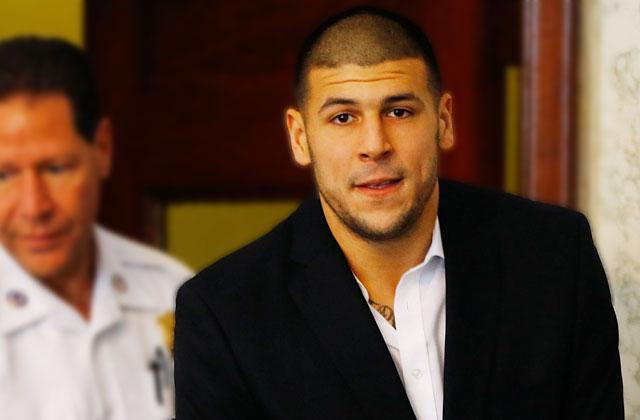 Aaron Hernandez was convicted of murder in 2015 – but he didn't die a guilty man. The former New England Patriots star's guilty conviction will be voided following his suicide.
Chief legal counsel to the Massachusetts Bar Association Martin W. Healy explained how the legal principle "abatement ab initio," meaning "from the beginning," makes him an innocent man despite being found guilty of murdering Odin Lloyd.
Article continues below advertisement
Because he did not exhaust all of his legal appeals, the case reverts to the status at the beginning as if the trial and conviction never occurred.
"Unfortunately, in the Odin Lloyd matter, for the family, there won't be any real closure," Healy told the Boston Globe. "Aaron Hernandez will go to his death an innocent man."
The former NFL star hanged himself in his Souza-Baranowski Correctional Center cell in Shirley, Massachusetts early Wednesday morning. He was found shortly after 3 a.m. and was pronounced dead at UMass Memorial Hospital in Leominster.
Hernandez, 27, was convicted of first-degree murder in 2015 and sentenced to life in prison without parole. He was also found guilty of unlawful possession of a firearm and ammunition.
Lloyd's sister Olivia Thibou exclusively told RadarOnline.com of the suicide, "I think at this point it speaks for itself. There's a mix of emotions."
The suicide comes after Hernandez was acquitted on Friday in the double murder of Daniel de Abreu and Safiro Furtado in a 2012 drive-by shooting.
Article continues below advertisement
But was it really a suicide? Hernandez's lawyer is launching his own investigation into his death.
"The Baez Law Firm will participate in its own examination into this tragic event and update the media and public on its findings when they become available," Jose Baez told RadarOnline.com in an exclusive statement.
He claims there was "no indication" that he was planning to take his own life.
"The family and legal team is shocked and surprised at the news of Aaron's death," he continues. "There were no conversations or correspondence from Aaron to his family or legal team that would have indicated anything like this was possible."