'Deadliest Catch' Star Sig Hansen's Daughter Accuses Him Of Molestation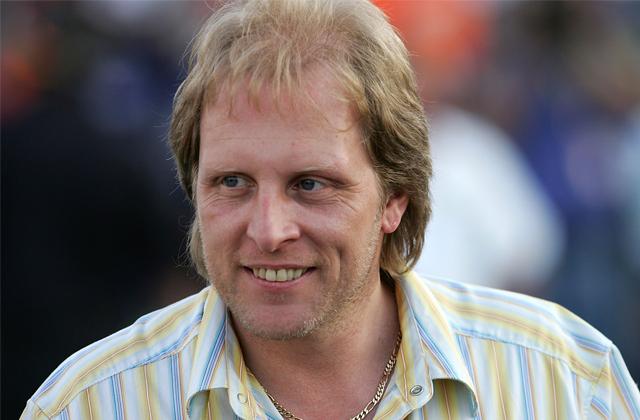 Deadliest Catch star Sig Hansen has reportedly been slapped with a lawsuit by his grown daughter who says her father sexually abused her when she was two years old.
Melissa Eckstrom, who is now 28 and an attorney, filed court documents in Seattle, Washington claiming that Hansen, 50, molested her in 1990, after he had separated from her mother.
However, the gritty Discovery Channel sea captain has staunchly denied Eckstrom's accusations, saying it's "an old-fashioned shakedown" attempt.
Article continues below advertisement
In legal papers published in the Seattle Times, Eckstrom, estranged from her father for most of her life, contended that she battled eating disorders, depression, anxiety and suicidal thoughts as a result of the alleged abuse.
"I have memories of my father hurting my genital region. Memories of being in a room alone with my father and crying out in pain," Eckstrom wrote in the court declaration.
The legal papers include Eckstrom's claim that her mother, maternal grandmother and aunt found traces of abuse on her after her father began having private visits with her.
Eckstrom says in the legal filing that her mother and other relatives noticed in 1990 after she returned from a visit with her father that her rectum seemed "blue or discolored."
She then remembers saying during a medical examination that "daddy puts his finger in my potty-pot."
According to the court papers, a deputy prosecutor wrote a letter to Eckstrom's mother in August 1990, saying that "the information at hand suggests that Mr Hansen has acted in a sexually inappropriate manner" towards his girl.
Article continues below advertisement
But the prosecuting attorney's office declined to file criminal charges back then because they felt it wouldn't be able to prove to prove the case "beyond a reasonable doubt," according to the Seattle Times report.
Although the court documents were filed in November 2016, the case has only now been made public after Eckstrom decided to reveal her identity.
However, Hansen told the Seattle Times that his daughter's claims were false, saying, "'This is nothing more than an old-fashioned shakedown. It's a completely frivolous lawsuit full of lies that my ex-wife made up to take away my daughter, and still uses to try to extort money from me. It's blackmail."
He alleges that Eckstrom and her mother threatened to speak with the media after he refused to give her $300,000 to pay for law school. Eckstrom denies Hansen's charges.
Hansen gave up his parental rights to Eckstrom after the divorce. He is now married to his second wife, June, and adopted her two daughters.
Reality show fishing captain Hansen was at the heart of Deadliest Catch drama last year when he suffered a heart attack in March. Hansen's co-star, Captain Tony Lara, died at 50.
Article continues below advertisement
As RadarOnline.com has reported, the Hollywood Reporter accused the show of fakery and staging scenes. And some think because of all the tragic incidents, Deadliest Catch is the most cursed reality show ever!
The state Court Of Appeals in Washington must now decide whether Hansen will face trial based on Eckstrom's claims.
UPDATE:
Sig Hansen told RadarOnline.com, "I'm a pretty plain-spoken guy, and to me, this is nothing more than a shakedown. The allegations are completely false, rehashed lies my ex-wife Lisa Eckstrom used nearly 30 years ago to take away my daughter, and has continued to try to use to extort money from me. The fact is, decades ago I was exonerated of these allegations after a full court trial. My ex-wife Lisa took me – and worst of all, my parents – to court for this back in 1990, making these baseless claims. We were fully exonerated after a prosecuting attorney, a judge, court-appointed experts, a guardian ad litem and team of other child experts all agreed that these claims were pure fiction. I cooperated 100 percent, including taking a polygraph test that also confirmed my innocence. The tragedy is that my ex-wife Lisa has poisoned my relationship with our daughter through years of vile lies. Lisa has spun a web of deceit, depriving my daughter and me of a healthy, loving relationship. To me, that is the definition of child abuse. This is the third time the Eckstrom family has threatened to publicly rehash lies about me unless I pay them a pile of money, and I finally said enough is enough. If you've got something, bring it, because it was BS then, and it is BS now."
We pay for juicy info! Do you have a story for RadarOnline.com? Email us at tips@radaronline.com, or call us at (866) ON-RADAR (667-2327) any time, day or night.