Say 'I Love You' This Valentine's Day With The Ultimate Gift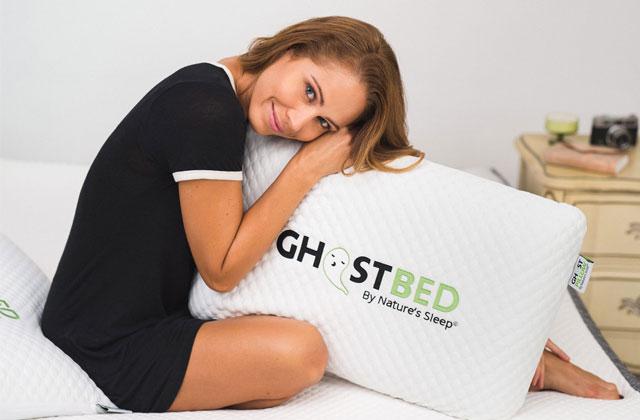 It's time to find the perfect gift for that someone special in your life. And what's better than a present that is not only great for the bedroom, but also ensures sleep perfection? So look no further than GhostPillow, by Nature's Sleep, the same guys who introduced the GhostBed!
This revolutionary patent pending product, which is the first real technological breakthrough in decades for a pillow, is ergonomically designed to adjust to your neck and head to achieve ideal spinal alignment. It also has an all cotton skrim, which feels like having a pillowcase under your pillowcase, and an embroidered removable cover for easy care. An added benefit is its performance fabric, which is cool to the touch and wicks away moisture on the Phase Change side.
Article continues below advertisement
And the GhostPillow even features the newest thermo sensitive technology, as it senses heat and adjusts to keep you cool and comfortable throughout the night.
Supportive, yet plush, the GhostPillow provides supernatural comfort and is made of solid pure gel memory foam.
Talk about transforming the sleep industry! And on top of all those amazing features, there's a special from Nature's Sleep for the holidays. You will get three free GhostPillows with the purchase of a GhostBed mattress, which boasts a top layer of premium latex and a comfortable layer of pure gel memory foam — which helps give a person the comfort and support they need for a goodnight's sleep.
And ordering from the innovative mattress company has never been easier: You can order online and get it delivered right to your home in their signature designer boxes.
So do yourself and your partner a favor for Valentine's Day this year. GhostPillow ships within 24 hours with free shipping, and includes an industry-leading 20-year warranty and 101-night-free trial period. Check them out here.
Pay monthly for the things you need today, no credit required... https://www.zibby.com/customers