Exclusive
Hitting The High Notes! Mariah Carey CAUGHT Shopping For Pot Before NYE Meltdown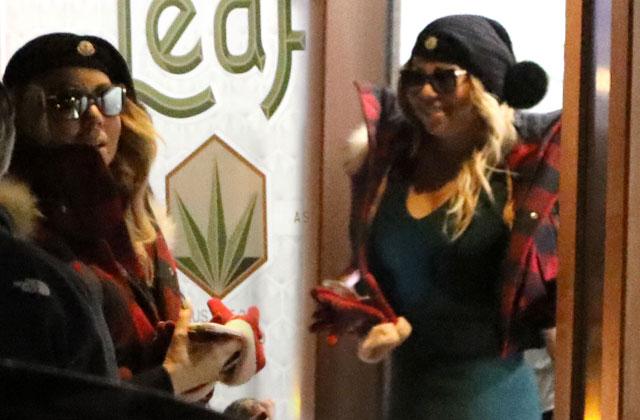 Just days before her New Year's Eve meltdown, Mariah Carey was shopping for weed at a pot shop in Aspen, Colorado. And RadarOnline.com has learned it wasn't her first time!
In an exclusive interview with RadarOnline.com, Jesse Miller, co-owner of The Original Leaf in Aspen, said the pop diva made herself at home on a Christmas Eve visit. Indeed, she had already stopped in once before.
"Her first visit, she just walked in. And honestly nobody recognized her, none of the other shoppers," Miller said. "My budtender recognized her, and helped her, and told her next time to call if she wants to shop unimpeded."
Article continues below advertisement
According to Miller, it's not uncommon for celebs to shop for weed in Aspen, where marijuana is legal for recreational purposes.
"The concierges at the hotels know that if somebody is going to be pestered walking down the street, we'll close our doors and do a private shopping for 20 to 30 minutes, if they call in and request it," he said.
Miller doesn't know exactly what type of weed Carey bought on Christmas Eve, but said it was proprietary, available only at his store. Some of his most popular creations have colorful names like "Amafu's Poison," and "Silver N' Gold."
As RadarOnline.com previously reported, Carey has faced a backlash after her disastrous New Year's Eve performance on live tv. But Miller doesn't think the cannabis contributed to her troubles.
"As someone in the industry, I think it's a ridiculous assumption, because I know all those kinds of people that have been in here and partake in this stuff, and for the most part, from stagehands to superstars, everybody uses cannabis," he claimed.
Article continues below advertisement
Of course, he could not confirm whether she partook in her purchase.
As RadarOnline.com reported, Carey's camp has their own opinion as to what happened, reportedly believing she was "SABOTAGED" before her performance.
But before the drama went down, Miller says Carey was "super-friendly" to everyone in his store, and he even got some personal pictures with the singer before she left.
He's seen his fair share of celebs come in and out looking to score, catering to everyone from X Games artists to the Wolf of Wall Street himself, Jordan Belfort.
As for Carey? Miller was unimpressed.
"Mariah?" he said, "Who gives a s**t. Call me when Snoop Dogg comes in!"