Lisa Vanderpump Faces Off With Lisa Rinna & Eileen Davidson Over Last Season's Bad Blood!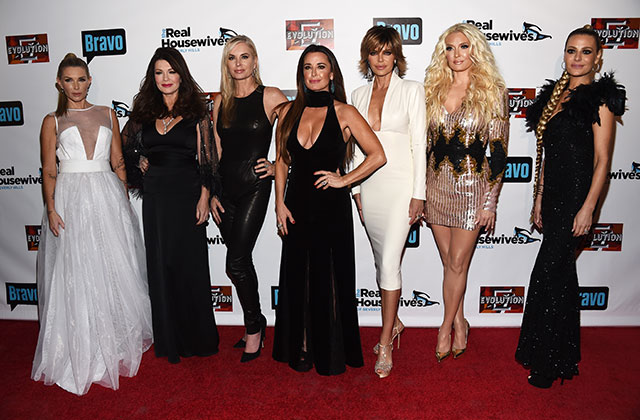 Another fiery Real Housewives of Beverly Hills season is underway and lucky number seven promises to be one of big travel and big drama!
We finally meet the new wife, Dorit Kemsley, and her accent proves to be more bizarre in each and every scene.
The 40-year-old was born in Connecticut but grew up in Europe and is of Israeli descent. Her husband, PK, is English and a talent manager whose clients include permanent house-guest Boy George.
Article continues below advertisement
She's a businesswoman, who dabbled in swimwear design in 2013, has two kids, and a casual staff of at least five rotating people at all times.
All the other wives seem to dusting off their diamonds and ready for this season of feuding, drama, and gossip.
Erika Girardi threw an epic Studio 54-themed bash for her 45th birthday and as we all know, the best confrontations always go down at parties and dinners.
Lisa Rinna and Eileen Davidson had their backs up because they haven't resolved their bad blood with Lisa Vanderpump, which came to a head on the Dubai trip last season.
Even LVP's bestie Kyle Richards admitted, "She does hold onto things for a long time."
Vanderpump confessed before the party she wasn't looking forward to seeing Rinna and Davidson — "I had a really miserable time in Dubai. Rinna kept going on at me saying I told her to say something about Yolanda Hadid's health, which wasn't true. Rinna was just unusually aggressive. And Eileen was just backing her up."
Article continues below advertisement
But LVP did get the last dig in when the threesome came face-to-face at Erika's soiree. She said she might give Rinna's faux long, dark wig a "tug" later on.
"I think it would be well-deserved," she said, only half-joking.
But Rinna didn't back down, per usual. She said in her confessional, "Oh good, game on … We all know what went on, you can't change that, but you can change how you react to it."
Vanderpump might be the "villain" this season but she did promise she won't go down without a fight. "I'm coming back and I'm stronger than ever," she warned. Let the games begin.
The Real Housewives of Beverly Hills airs Tuesdays 9 pm ET on Bravo.